Cal freshmen lead in 95-77 exhibition win over Beijing Normal, Lutje Schipholt earns a double-double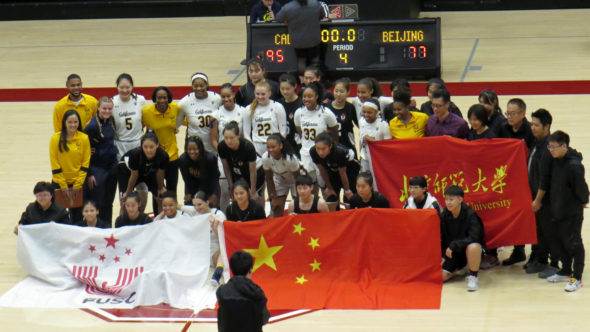 STANFORD, Calif. — In her first outing as Cal's head coach, Charmin Smith maneuvered her troops to overcome a slow start beset by jitters before defeating Beijing Normal 95-77 in an exhibition matchup.
"I think we played around with some rotations, and some were better than others," Smith said. "And you know, they have some really good shooters. And I imagine [Beijing Normal] probably played together more than this group has that is so young with the four freshmen. So, it was challenging at first but I think we did find a groove and we had some people come in and do really well for us."
The game took place at Stanford because of power shutdowns across the Bay area implemented by Pacific Gas and Electric due to a heightened fire risk from winds and dry conditions.
Starters for Cal included a mix of classes: freshman guard Leilani McIntosh, redshirt senior guard Sara Anastasieska, junior forward Alaysia Styles, senior guard/forward Jaelyn Brown and redshirt senior center Chen Yue.
Cal's sluggish beginning enabled Beijing Normal to finish the first quarter with a 21-17 lead. Styles began the second quarter scoring with a second-chance layup, beginning a run that led to two ties before the Bears overcame the visitors for good. Free throws from Lutje Schipholt gave Cal that advantage and they did not trail for the remainder of the contest.
The Bears outscored Beijing Normal 28-16 in the second quarter. Lutje Schipholt led her team at the break with 14 points plus eight rebounds.
The visitors could not pick up enough momentum to overcome their opponent in the second half, getting outscored 21-17 in the third quarter and 29-23 in the last.
Overall, Beijing Normal shot better than Cal, going 49 percent from the field compared to Cal's 44 percent. However, Cal took 80 shots while Beijing Normal only took 55. Cal also pulled down 47 rebounds compared to 28 by their opponent.
Five Bears finished in double figures, led by two first years. Guard Leilani McIntosh led her team with 19 points plus four assists. Lutje Schipholt was especially impressive with a double-double of 18 points and 11 rebounds. Brown scored 16 points and accumulated seven rebounds. Styles contributed 12 points plus five rebounds and freshman guard Jazlen Green scored 11 points.
Smith praised the performance of the newcomers.
"They're phenomenal, you know it's really great that they're freshmen. They're just kind of tapping into what their potential could be at this level. They're going to play a lot of minutes for us and they're going to be a lot of what we do this season for sure."
The game held sentimental value for Yue, who enjoyed the opportunity to play with some of her childhood and high school teammates.
"I think it was a special moment for her," Smith said. "I'm really glad that this game was scheduled. She thanked her teammates in the locker room after the game. She's given so much to the program and been so selfless and is just such a great teammate. I'm glad that this could be a cool day for her."
Stanford is set to play Beijing Normal Tuesday. Cardinal head coach Tara VanDerveer, her staff and players attended Sunday's matchup. Smith, who played under VanDerveer and was an assistant at Stanford for three years, had a good showing at her alma mater in front of her mentor.
The Bears will host an open practice and tip off event for fans Saturday, Nov. 2 at 12:00 noon at Haas Pavilion. The event was rescheduled from Oct 26. The team's last exhibition is the following day, Sunday, Nov. 3 against NAIA school Vanguard at 2 p.m. PT. The Bears open the regular season on the road at Harvard on Nov. 8.
When your kinda sorta first game as a head coach is in front of your mentor. ???? https://t.co/MqDR0SBkAh

— Charmin Smith (@21charmin) October 27, 2019