Stanford looks to exact revenge vs. Gonzaga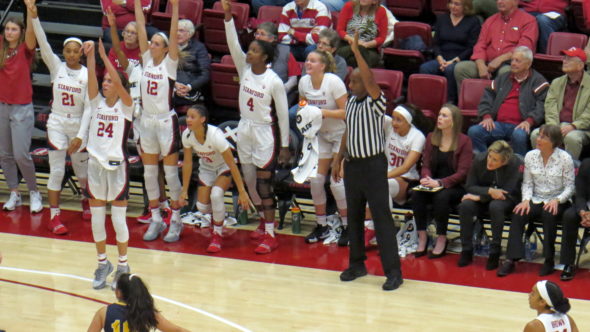 Gonzaga (2-0) at No. 3 Stanford (3-0)
5 p.m. PT/8 p.m. ET
Live stream || Audio
Series: Stanford leads the series, 8-2. Gonzaga won the last two regular-season games.
STANFORD, Calif. – No. 3 Stanford looks to exact revenge on the Gonzaga Bulldogs Sunday evening at Maples Pavilion. While the home team leads the overall series between the teams, 8-2, the Zags hold the edge in the last three games, 2-1.
The first-ever time Gonzaga beat Stanford happened Nov. 18, 2016, when the Bulldogs stunned the Pac-12 power in a back-and-forth battle. In the contest, Gonzaga shot 50 percent from the field to Stanford's 37.9 percent.
The next season during the first round of the NCAA tournament, the Cardinal downed the Zags 82-68 in a season that saw Stanford advance to the Sweet Sixteen.
However, Gonzaga took the next contest, a 79-73 win in Spokane on Dec. 2, 2018.
Now the onus is on Stanford to prove their mettle and their early season national ranking. This year, with a deep roster that is sixth in the country in scoring offense, averaging 93.0 points per game, they are a dangerous opponent. In their last outing, they capped their 3-0 start with the third straight 90+ scoring game. The win marked the first time in nearly 18 years that Tara VanDerveer's program accomplished that feat.
The Cardinal are also 12th nationally in 3-point field goals per game (10.3), 13th in 3-point percentage (.456), 22nd in assists per game (20.0), 11th in rebounds per game (52.0), 12th in assist-to-turnover ratio (1.71), 12th in field goal percentage (.521) and fourth in field goal percentage defense (.243).
Sophomore guard Lexie Hull leads her team with 15.3 points per game along with 1.3 rebounds per contest. However, her twin Lacie earned 19 points plus five rebounds in the team's last outing, a 90-36 rout of Northern Colorado.
Senior guard DiJonai Carrington also averages double-digit scoring at 11.3 points per game along with 5.7 rebounds per contest. Freshmen forwards lead in the rebounding category with Fran Belibi pulling down 9.7 per game and Ashten Prechtel adding 7.3 per outing.
Coming into Maples at 2-0, Gonzaga started the season ranked No. 1 in the West Coast Conference preseason poll for the seventh straight season. The Bulldogs have four players averaging double-digit scoring:
Junior forward Jenn Wirth 17.0 ppg/5.0rpg
Junior guard Jill Townsend 12.0ppg/4.5rpg
Junior forward LeeAnn Wirth 11.5ppg
Senior guard Katie Campbell 11.5ppg
Freshman guard Kayleigh Truong 10.0ppg
Stanford will be the first ranked opponent the Bulldogs face this season.