Cardinal payback: Stanford overcomes Gonzaga in OT, 76-70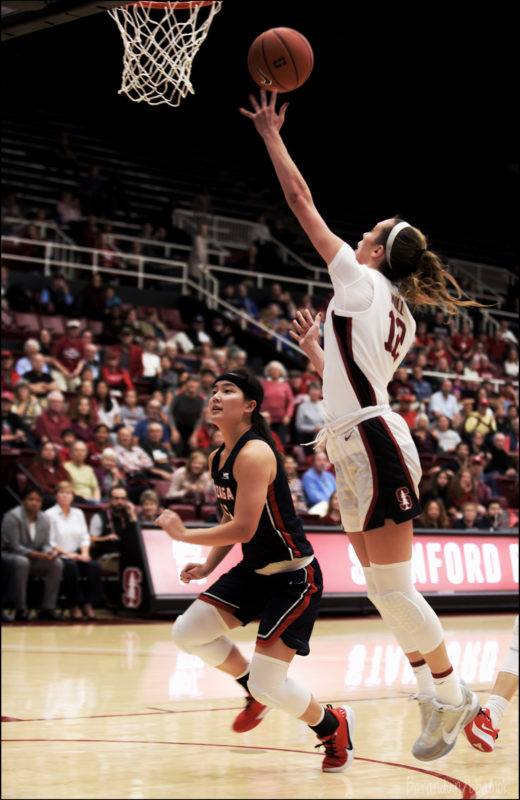 STANFORD, Calif. – In a hard-fought overtime battle, No. 3 Stanford overcame Gonzaga 76-70 Sunday night at Maples Pavilion. The down-to-the-wire contest was a defensive battle that saw several players foul out. It was the first time that the Zags faced a ranked opponent this season. The outcome of the matchup also served as revenge for Stanford. In the last two regular-season contests between the teams, Gonzaga came out on top.
"I thought our team really battled especially in the second half in overtime," head coach Tara VanDerveer said. "You know Gonzaga is an excellent team, Lisa [Fortier] does a fantastic job with their team. And they were extremely aggressive and physical. We had to battle through some bad turnovers, in the beginning, you know missing some shots I think people ordinarily make, but I'm really proud of how our team stuck with it and made plays down the stretch."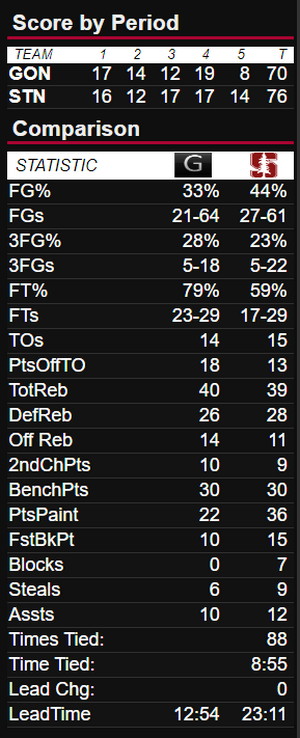 The first quarter saw the Cardinal strike first with a jumper from senior forward Nadia Fingall that started an 8-2 run before the Zags began to retaliate with a balanced effort. It didn't take long for the contest to become a back-and-forth effort as neither squad could build any momentum to run away and build some distance.
Gonzaga led 31-28 at the half with freshman guard Kayleigh Truong leading all scorers with 12 points.
Regulation came down to a defensive rebound with the game tied at 62. Gonzaga worked frantically to score but missed a bucket and Stanford junior guard Kiana Williams corralled the carom.
While at the outset, the overtime period was a topsy turvy affair, Cardinal sophomore guard Lexie Hull, along with Williams, powered Stanford's offense in the final two minutes.
"Lexi made some big shots, big free throws, played great defense work really hard," VanDerveer said. "[Kianna] stayed in there and battled…basically 43 minutes."
Stanford outscored Gonzaga 14-8 in the final five minutes. Overall, neither team shot very well. Gonzaga was 32.8% from the field while Stanford was 44.3%. The Cardinal only made 17 of their 29 free throws (58.6%) compared to 23-of-29 (79.3%) by the Zags. However, the home team won the battle in the paint. Stanford scored 36 points in the paint compared to 22 by the visitors.
Williams finished with 22 points while Hull added 20 plus eight rebounds. Freshman guard Haley Jones was also in double figures with 11 points.
The Zags had four players in double figures with junior guard Jill Townsend leading the way with 18 points plus four rebounds. Fouls hampered her production as she accumulated five and exited at 2:17 in overtime. Teammate, junior forward LeeAnn Wirth, also fouled out in the game as did Stanford sophomore guard Lacie Hull. Wirth, who came into the contest averaging 11.5 points per game scored just two points. Her twin sister Jenn, who leads the team at 17.0 points per game, had three points.
Zags sophomore forward Melody Kempton scored 12 points and pulled down 10 rebounds. Truong also finished with 12 while senior guard Jessie Loera added 10 plus six rebounds.
Gonzaga heads home to face Eastern Washington on Friday. Stanford hosts Buffalo on Sunday.
Social Media Recap
Live from Maples Pavilion, @ZagWBB vs. @Stanford! The Zags have won the last 2 regular-season contests! pic.twitter.com/mVqifYFLfV

— Hoopfeed.com ? (@hoopfeed) November 18, 2019
8:47 Q1 | @lacie_hull from the left wing. ???

?: 5
?: 2#GoStanford pic.twitter.com/k7jE1pn6wL

— Stanford Women's Basketball (@StanfordWBB) November 18, 2019
After back-to-back treys from the Hull twins, 1st Lacie then Lexie, Stanford is up 8-2 early in 1Q over Gonzaga #ncaaw

— Hoopfeed.com ? (@hoopfeed) November 18, 2019
FYI: 3 sets of twins in this game: Stanford sophomores Lacie and Lexie Hull. For Gonzaga: juniors Jenn and LeeAnn Wirth and freshmen Kayleigh and Kaylynne Truong! #ncaaw

— Hoopfeed.com ? (@hoopfeed) November 18, 2019
4:57 Q1 | Stanford has made five of its first nine from the floor. The sisters Hull with eight of the Cardinal's 12 points.

?: 12
?: 6#GoStanford

— Stanford Women's Basketball (@StanfordWBB) November 18, 2019
Tie game, 12 all at 2:45 in 1Q until Lexie Hull makes a jumper for Stanford, but hold up Gonzaga strikes right back with a layup from Melody Kempton. 14 all, 1:46

— Hoopfeed.com ? (@hoopfeed) November 18, 2019
Katie Campbell for threeeee and @ZagWBB takes the lead, over Stanford 17-14, 59.8 secs left in 1Q. #ncaaw

— Hoopfeed.com ? (@hoopfeed) November 18, 2019
https://twitter.com/hoopfeed/status/1196237508167651329/photo/1
Freshman Ashten Prechtel gets things started in 2Q with a layup to give Stanford the lead again, 18-17, over Gonzaga #ncaaw

— Hoopfeed.com ? (@hoopfeed) November 18, 2019
9:46 Q2 | @lacie_hull the feed. @ash10prechtel the finish.

?: 18
?: 17#GoStanford pic.twitter.com/VousTFDhDh

— Stanford Women's Basketball (@StanfordWBB) November 18, 2019
Freshman forward Ashten Prechtel strikes again, a 2nd-chance layup and Stanford up 20-17 over Gonzaga, 7:51 in 2Q #ncaaw

— Hoopfeed.com ? (@hoopfeed) November 18, 2019
20 all, 5:29 in 2Q, these teams are fighting hard, a real defensive contest here. Gonzaga at Stanford #ncaaw

— Hoopfeed.com ? (@hoopfeed) November 18, 2019
2 FTs from Ashten Prechtel and the Cardinal up 22-20, 4:56 in 2Q. The freshman forward has 8pts/4rebs so far. #ncaaw

— Hoopfeed.com ? (@hoopfeed) November 18, 2019
Each time one team gets a few points ahead, the other strikes back, this one may go down to the wire. Gonzaga leads at the moment, 31-28 as secs wind down in 2Q. #ncaaw

— Hoopfeed.com ? (@hoopfeed) November 18, 2019
Halftime: Gonzaga 31, Stanford 28 #ncaaw Freshman Kayleigh Truong leads all scorers, 12pts. No Stanford players in double figures. @WCChoops pic.twitter.com/3E7aK7sQoj

— Hoopfeed.com ? (@hoopfeed) November 18, 2019
Back-to-back baskets from Stanford freshman Haley Jones, 1pt game, Gonzaga with 37-36 advantage, 4:46 in 3Q #ncaaw

— Hoopfeed.com ? (@hoopfeed) November 18, 2019
Stanford outscoring Gonzaga 15-8 so far in 3Q, leading 43-39 at 2:20 #ncaaw

— Hoopfeed.com ? (@hoopfeed) November 18, 2019
Great 1st half image from @bbamok, @ZagWBB at @StanfordWBB, something about black and white well-shot photos…amazing. #ncaaw pic.twitter.com/RLJl1IKkce

— Hoopfeed.com ? (@hoopfeed) November 18, 2019
End of 3Q: Stanford 45, Gonzaga 43 #ncaaw Gonzaga's Jill Townsend hits a trey to end the quarter, Stanford overcame 3pt halftime deficit, outscored the Zags 17-12 in 3Q pic.twitter.com/gcBsMQz8h5

— Hoopfeed.com ? (@hoopfeed) November 18, 2019
Stanford's defense in the second-half really on point, the pressure leading to some costly errors by the Zags. #ncaaw

— Hoopfeed.com ? (@hoopfeed) November 18, 2019
Gonzaga pushing through, freshmen Kayleigh and Kaylynne Truong are fearless! Kaylynne with a layup to tie the game at 7:53, 45 all in 4Q. #ncaaw

— Hoopfeed.com ? (@hoopfeed) November 18, 2019
This game….Kiana Williams hits a trey to give Stanford the lead at 6:56, the Zags hit right back with a layup from Jessie Loera, 48-47 Cardinal with 5:53 to go in the game. #ncaaw pic.twitter.com/Of4djN3U09

— Hoopfeed.com ? (@hoopfeed) November 18, 2019
And just like that, the Zags take the lead again, 49-48, after free throws from Jessie Loera 5:19 to go at Stanford. pic.twitter.com/6IISJUmQCD

— Hoopfeed.com ? (@hoopfeed) November 18, 2019
Kiana Williams with the sweetest jumper and then helps scramble for a steal, after bodies meet the floor, refs call a foul, 5th for Gonzaga's LeeAnn Wirth. Stanford 52, Gonzaga 49 #ncaaw L. Wirth finished w/2pts/3rebs. Averages 11.5ppg. Sister Jenn Wirth enters the game.

— Hoopfeed.com ? (@hoopfeed) November 18, 2019
Tie game, again. 52 all, 3:20 to go in 4Q. Gonzaga at Stanford.

— Hoopfeed.com ? (@hoopfeed) November 18, 2019
Freshman Fran Belibi comes though with a layup but commits a foul on the other end, Jill Townsend makes her FTs and follows up a little later with a jumper. 56-54 Gonzaga, 2:05 to go.

— Hoopfeed.com ? (@hoopfeed) November 18, 2019
Haley Jones at the line after a foul by Melody Kempton, Jones misses the 1st, makes the 2nd. Not good enough for a lead but Lexie Hull does what she does and hits a three at 1:35. Stanford 58, Gonzaga 56. 1:27 to go.

— Hoopfeed.com ? (@hoopfeed) November 18, 2019
This game officially classifies as a "Fred G. Sanford Special" #ncaaw pic.twitter.com/uo1YTGaKVj

— Hoopfeed.com ? (@hoopfeed) November 18, 2019
One minute to go, Stanford with slim 58-57 lead over Gonzaga….oh hold up, Kiana Williams at the line for the Cardinal after a foul by Jessie Loera, makes her FTs.

— Hoopfeed.com ? (@hoopfeed) November 18, 2019
Jill Townsend, Jill Townsend, Jill Townsend. For threeeeeee. Tie game, 60 all, Gonzaga at Stanford, 47.6 secs to go.

— Hoopfeed.com ? (@hoopfeed) November 18, 2019
Stanford guard Lacie Hull fouls out with 16.9 secs left, crowd NOT agreeing that she fouled Jessie Loera. Tie game before the FTs, Loera makes both. 62-60 Gonzaga. pic.twitter.com/iPa12Pujmg

— Hoopfeed.com ? (@hoopfeed) November 18, 2019
Stanford guard Kiana Williams with ice in her veins, surveys the landscape and drives to the basket. Success. Tie game, 62 all, 6.1 secs to go. Gonzaga at Stanford. #ncaaw

— Hoopfeed.com ? (@hoopfeed) November 18, 2019
Defensive rebound by Kiana Williams as the Zags frantically try to score and WE ARE GOING TO OVERTIME! Gonzaga at Stanford, 62 all! #ncaaw #FredGSanfordSpecial

— Hoopfeed.com ? (@hoopfeed) November 18, 2019
Lehhhhgo! #ncaaw pic.twitter.com/vzhnvRwznQ

— Hoopfeed.com ? (@hoopfeed) November 18, 2019
.@StanfordWBB's Kiana Williams cool as a cucumber. ? @bbamok pic.twitter.com/feiyLlkoXd

— Hoopfeed.com ? (@hoopfeed) November 18, 2019
Technical foul on Haley Jones early in OT, Zags' Katie Campbell makes FTs, 64-62 Gonzaga. #ncaaw

— Hoopfeed.com ? (@hoopfeed) November 18, 2019
Free throws from Lexie Hull and Stanford back on top, 65-64, Cardinal get a defensive rebound courtesy of DiJonai Carrington who gets fouled by Jill Townsend, her 5th. Oh snap.

— Hoopfeed.com ? (@hoopfeed) November 18, 2019
Timeout at 2:03 in OT. Stanford 65, Gonzaga 64. #ncaaw How we feel covering this game…..like Fran Katzenjammer in "Black Books" pic.twitter.com/oGNbPRiBGW

— Hoopfeed.com ? (@hoopfeed) November 18, 2019
Lexie Hull………that's the tweet.

— Hoopfeed.com ? (@hoopfeed) November 18, 2019
Stanford 69, Gonzaga 64. After a Lexie Hull second-chance layup and fastbreak layup. Whew chile. Less than 2 minutes to go.

— Hoopfeed.com ? (@hoopfeed) November 18, 2019
Earlier this season Stanford coach Tara VanDerveer said Lexie Hull was playing like a woman possessed. Well, the proof is in the overtime. She has 8 pts in OT.

— Hoopfeed.com ? (@hoopfeed) November 18, 2019
38.4 OT | @lexiehulll sticks the jumper. She has eight of Stanford's 11 in the extra period.

?: 73
?: 66#GoStanford pic.twitter.com/zE0iWX2F6F

— Stanford Women's Basketball (@StanfordWBB) November 18, 2019
Anna Wilson at the line for the 2nd time as time winds down, Stanford fans feeling a good vibe.

— Hoopfeed.com ? (@hoopfeed) November 18, 2019
Final: @StanfordWBB 76, Gonzaga 70 OT #ncaaw Kiana Williams 22pts/5asts/3stls, Lexie Hull 20pts/8rebs, Haley Jones 11pts pic.twitter.com/AmodeJldku

— Hoopfeed.com ? (@hoopfeed) November 18, 2019
.@ZagWBB head coach Lisa Fortier compliments @StanfordWBB, being a program that plays them on a consistent basis on their non-conference slate, at home and on the road, loves the matchup: "No one wants to play us…no one wants to come to Spokane." #ncaaw

— Hoopfeed.com ? (@hoopfeed) November 18, 2019