Starting lineup changes help Maryland cruise past Delaware, 99-55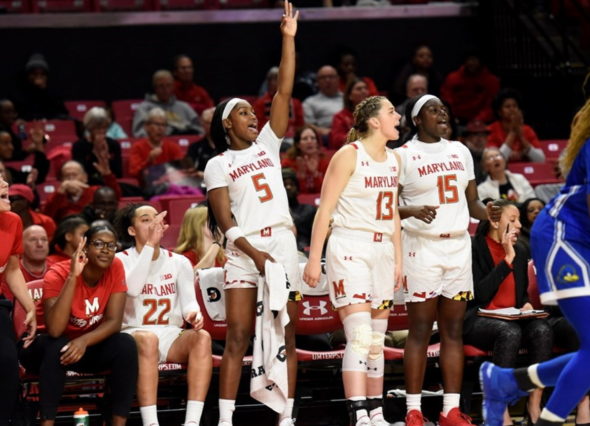 College Park, Md. – Maryland head coach Brenda Frese is focused on building a strong identity through the Terrapin's non-conference slate. The team came together for a 99-55 win over the Delaware Blue Hens Sunday afternoon in the Xfinity Center.
After edging the James Madison Dukes 70-68 Wednesday night, Frese replaced forward Stephanie Jones and guard Diamond Miller with forward Shakira Austin and guard Blair Watson. The coach reconsidered Austin after she scored 11 fourth-quarter points Wednesday and gave the Terps their first lead of the game against the Dukes.
"We evaluated the experience we have and needed on the perimeter defensively," Frese said. "We wanted to tighten up. If we want to go where we need to go, we need to use [Austin's] 6-5 presence inside. We've got to be able to get Shakira where she needs to be on her inside presence."
Sunday, Austin strengthened her role as an asset in Maryland's lineup with ten points, six rebounds, and four assists. Terps guard Taylor Mikesell made her case with consistency with the help of Austin.
Delaware's zone defense didn't adapt against Maryland's 12-of-27 three-point performance. Mikesell shot 8-of-12 from the floor, going an overall 5-of-9 beyond the arc to tie her career-high of 23 points. She credited Austin's assists from the post in finding Mikesell at the right times.
"She sees over the defense and attracts players, so she finds everyone," Mikesell said. "Her passing ability to just makes us a better team."
Freshman guard Ashley Owusu put in a standout performance. She is averaging 15 points and four rebounds in four games. Her efforts helped put Maryland in front early, especially in a sequence where she stole the ball, spun out of traffic and dished out for an open assist to Miller with a defender brushing against her. Against Delaware, she finished with 12 points, six rebounds, and six assists.
"She was a terrific floor general," Frese said about Owusu. "You know she can get everyone involved and make easy plays made for a shooter. You know she can help us score and that's what we need her to do and get everybody involved. I thought she did terrific today."
Defense has been hit and miss in the first three games for the Terps. But it was alive and well early Sunday, with half-court double teams along with loud and clear communication. Xfinity Center's 4,435 fans could hear Maryland senior guard Kaila Charles screaming "Shakira, Shakira!", making sure Austin was alert to protect the rim, resulting in an opportunity for Maryland on the fast break.
Maryland's defense forced Delaware to commit shot clock violations and five-second violations. At halftime, the Terps led 57-24. In addition to holding Delaware to 55 points, Maryland stymied Delaware's performance under the rim, blocking six shots, outrebounding Delaware 45-35 and swiping 13 steals. Maryland's defense resulted in 34 fast break points and 25 of Delaware's turnovers.
Five Terps landed in double figures and Jones came off the bench for 11 points.
Delaware guards Tee Johnson and Jasmine Dickey landed in double figures with Johnson scoring 15 points and Dickey finishing with 14 plus seven rebounds.
Maryland returns to Xfinity Center Wednesday to face George Washington. Delaware has a week hiatus and travels south to face Central Florida Nov. 24.