Cal finishes non-conference play on a high note with 72-53 victory over Grand Canyon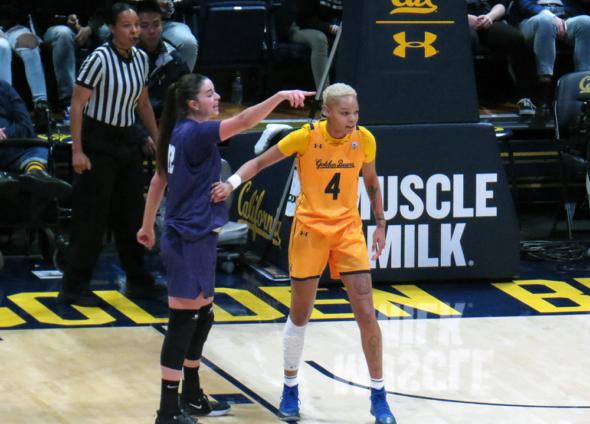 BERKELEY, Calif. – With an administrative technical foul assessed to Grand Canyon before tipoff, Cal began its contest against the Lopes with an unusual advantage. Senior guard/forward Jaelyn Brown hit both free throws awarded to the Bears and gave her team a 2-0 lead before the tip.
Brown said "it was kind of weird to shoot free throws before the beginning of the game" but she delivered and set the tone for her team. The momentum stayed with Cal until the final buzzer for a 72-53 victory. The Bears improved to 8-3 while Grand Canyon fell to 5-6.
"This is a good way to close out a decade," Cal head coach Charmin Smith said about the triumph. "You know, we talked about trying to get some momentum heading into the new year, heading into Pac-12 play. And I think we did that. I think the players are really listening and trying to the best of their ability to do what we're asking them to do."
Cal's victory ended GCU's three-game win streak and gave the Bears a positive entry into the conference season after losing to nationally-ranked Kentucky right before the Christmas holiday on Dec. 21.
With six points in the first quarter, Brown led her team early and Cal outscored their opponent 19-13 in the first ten minutes. While things seemed rosy for the Bears as they entered the second quarter, Grand Canyon exhibit grit in the period, getting within two points twice, largely due to jumpers from freshman guard Jade Holland. However, after the second time that GCU moved within a deuce, Cal went on a 10-2 run that gave the Bears their first double-digit lead, 31-21, with 2:26 left in the quarter.
At halftime, Cal had a 36-24 advantage. Junior forward Alaysia Styles led all scorers with 11 points plus four rebounds. Jaelyn Brown was also in double figures with 10 points plus five rebounds. Jada Holland had eight points for Grand Canyon at the break.
The Lopes began the third quarter on a high note with a three-point jumper from freshman guard Tavia Rowell which put the Lopes within double-digits. The teams traded baskets until 7:01 when Cal called a timeout as they led by nine points, 40-31.
When the teams resumed play, Styles promptly made a layup to give her team a double-digit advantage again, 42-31. The Lopes never got within double digits again as the Bears ran away from GCU and entered the fourth quarter with a 58-38 lead.
Taking absolute control after halftime was a point of emphasis for Cal when they heard from their head coach in the locker room at the break.
"At halftime, we had a twelve-point lead and my message was not to give them any hope, not to give them any momentum, to put the hammer down, so to speak, and really punish them," Smith said. "We didn't start the second half well against Kentucky, we came out and turned it over in the first three possessions, I think. So, I wanted to improve from the previous game and really show that we're making steps to get better."
Overall, the Bears shot 40.7% (24-59) from the floor compared to 37.0% (20-54) by GCU. In addition, Cal converted 22 of 26 free throws, compared to 10 for 13 by the Lopes. The Bears also outpaced GCU in points from turnovers, 18-8, and second-chance points, 13-6.
Four Cal players finished in double figures including Styles who scored 18 points and pulled down seven rebounds. Brown added 16 points plus six rebounds. Freshman guard Jazlen Green contributed 15 points, three rebounds, and four steals.  Senior center CJ West earned a double-double of 12 points plus 10 rebounds.
Senior forward Da'jah Daniel paced the Lopes with a double-double of 14 points plus 13 rebounds. Holland finished with 14 points. GCU is a very young team with four freshmen, eight sophomores, one junior, one senior and a graduate student. They open Western Athletic Conference play hosting CSU Bakersfield Saturday, Jan. 4.
Cal begins its Pac-12 campaign with a home contest Friday at home against Washington. Two days later the Bears host Washington State.
Note: Grand Canyon failed to designate five starting players at least ten minutes before the scheduled starting time. When teams fail to do this, they get penalized with a technical foul.