Maryland opens conference slate with 70-55 win over Michigan behind Kaila Charles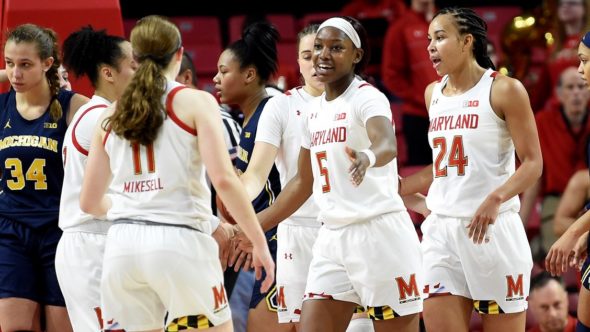 College Park, Md. – Before Maryland kicked off their Big Ten conference slate against Michigan, head coach Brenda Frese gathered her senior class of Blair Watson, Shakira Austin, Sara Vujacic, Stephanie Jones, and Kaila Charles.
"Set the tone," Frese said.
It wasn't about game tempo or a focused attitude, but for the freshman class entering their first-ever conference battle. Frese's reminder lit a fire under guard Charles, who led the Terps past the Wolverines 70-55 at the Xfinity Center.
"She played like the All- American that she is," Frese said.
Charles is quite familiar with what it takes to win in the Big Ten and embodying a leadership role for a young Maryland team against Michigan. Her 6-1 height and mobility were defensive assets against Michigan. She also cleaned up on the boards with seven offensive rebounds.
"I made a conscious effort to have that great energy and effort to bring the team along and just be a good leader," Charles said.
Ugly shooting stints hindered Maryland's chances of running away with a lead, shooting just 10-of-31 from the floor. As the offensive engine, Charles led the charge with 13 points and six rebounds as Maryland led 30-24 at halftime.
Michigan's 4-0 run at the beginning of the third quarter put Maryland's six-point lead in jeopardy, but Charles picked up an offensive rebound for an easy lay-up, which steadied Maryland's ship.
Younger Terps found more comfort throughout the game especially freshman Ashley Owusu who struggled to find a rhythm in her first conference game with four points and four rebounds at the end of the third quarter.
She finally emerged in the final quarter to record ten points and four rebounds. Maryland could breathe easy in the fourth quarter, outscoring Michigan 28-17 in the final box and finding their biggest lead.
"We kept it really close, but obviously the margin for error, especially against the top teams in the country is really slim," Michigan head coach Kim Barnes Arico said about the contest overall.
Charles' team-high of 23 points helped her leap over Christy Winters-Scott as ninth overall on Maryland's scoring list with 1,865 career points. Throughout her four seasons, Charles witnessed Maryland stay atop of the conference while adapting to Frese's schemes. Her newest mimics Texas Tech's defense under Chris Beard which helped them reach the 2019 Men's NCAA National Championship against Virginia.
Frese even invited back former Terps Alyssa Thomas and Brianna Jones, Stephanie's older sister, back to practice to sharpen Maryland's rebounding and ball pressure, two things already consistent in Maryland's bag of tricks.
A smothering man-to-man defense, successful midcourt traps, and five first-quarter steals helped Maryland control the pace of the game. Aggressive defense has its consequences. Maryland racked up 18 fouls, with Owusu and Jones earning four fouls individually.
"Their aggressiveness or ball pressure made a big difference for us on the defensive end," Frese said. "Quite honestly, I think that's why our offense has been slower. We've spent way more time on the defensive end because we knew we needed it. We're building for March, so you can see it all come together."
Aside from Charles, three other players landed in double figures with Austin totaling 10 points and six rebounds.
Sophomore guard Amy Dilk led Michigan with 18 points and two rebounds with sophomore forward Naz Hamilton earning 15 points and seven rebounds on that night. Hamilton scored 12 of her 15 points in the second half. Barnes Arico lauded Hamilton's transition into her second season and how she handled pressure on the road in Michigan's Big Ten opener.
"Everybody's going to double every time she touches the ball, so I think she's trying to score in these moments now," Barnes Arico said. "She's handling that transition, but I was really happy she didn't get discouraged and was able to have a great night."
Michigan heads home to host Penn State on Tuesday, New Year's Eve.  Maryland travels to the Chicago area to face Northwestern on the same day.