Kiana Williams reaches career milestone and Stanford's "tag-team play" takes down Tennessee, 78-51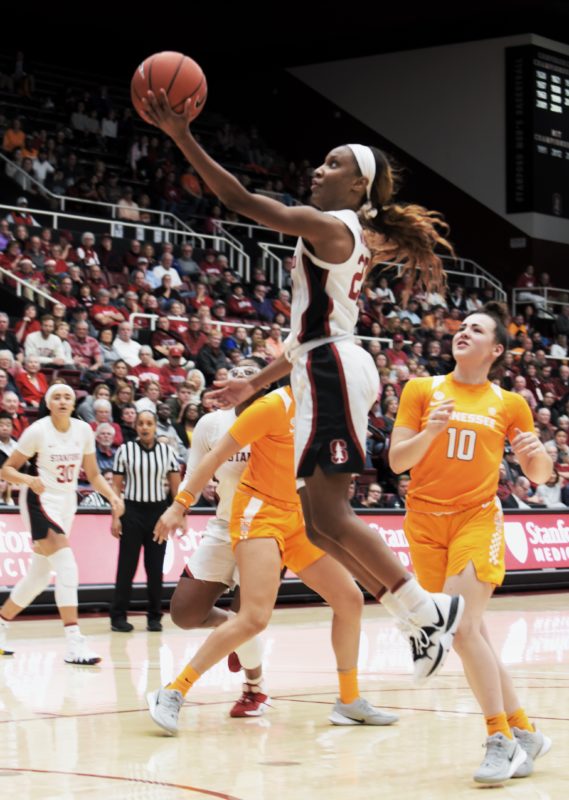 Team comparison || Social media recap
STANFORD, Calif. – Stanford junior guard Kiana Williams joined the 1,000-point club Wednesday night when she led her teammates in a decisive 78-51 victory over No. 23 Tennessee (8-2).  She hit the milestone at the free-throw line with 5:42 left in the fourth quarter. She became the 41st player in program history to reach the mark. At the time, the game was well out of reach for Tennessee and her free throws put her team up 65-46. Stanford (10-0) remains undefeated with just two games left in non-conference play.
"Anytime you play Tennessee…you have to do a lot of preparation," Stanford head coach Tara VanDerveer said postgame. "I think our team worked very hard to get ready for Tennessee. They have an excellent team. They are very big, very athletic. And I thought they played well, and our team just really stepped up to the challenge. I'm very proud of how [Kiana] led the way with her assists. We took care of the ball better. You know, we made some big shots."
In the initial few minutes of the first quarter, the Lady Vols went back and forth with the Cardinal, trading baskets. Tennessee junior guard/forward Rennia Davis started off on a good note with a jumper to get the Lady Vols in the scoring column first. Nadia Fingall answered right back with a trey for Stanford. With 4:49 left in the quarter, the teams were in a dead heat at 12 all. However, Stanford rattled off eight straight points and went into the second quarter with an eight-point advantage, 20-12.
Both teams started slow offensively in the second quarter. In the first few minutes, they only had a layup each between them. Stanford hovered at a double-digit lead throughout the period, outscoring the Lady Vols a slight 14-12. At the break, the home team led 34-24.
Eight players scored for the Cardinal in the first half. Freshman guard Haley Jones and Williams had seven each while freshman forward Ashten Prechtel paced her team in rebounds with six to go along with her four points. Davis and freshman guard Jordan Horston led the Lady Vols with eight points each at halftime.
The Cardinal shot 50% (8-16) from the field in the first half while the Lady Vols made 24% (5-21) of their shots.
The third quarter began at a sluggish pace with bad passes and missed shots in the mix. But the action picked up midway through the period. Tennessee's Davis, sophomore guard Rae Burrell, and junior center Kasiyahna Kushkituah fought to get the Lady Vols within striking distance of Stanford but the Cardinal's depth coupled with a run in the last two minutes was too much for the visitors.
In addition, the officials assessed Tennessee head coach Kellie Harper with a technical foul with 1:55 left in the third quarter after she, in her words, "was yelling about a call." Stanford's Hannah Jump made both the of the awarded free throws. Heading into the last period, the Cardinal led 58-40.
In the fourth quarter. Stanford earned a 20-point lead at 7:04 as they looked to close out the game in dominant fashion. Fans had a celebratory moment for Williams when the announcer Betty Ann Hagenau let them know that the junior entered the record books. Trusted reserves had a chance to get some minutes including senior guard Anna Wilson who had back-to-back baskets that included a trey late in the game.
Overall, ten players scored for the home team. Williams led all scorers with 19 points plus four rebounds and seven assists. Sophomore guard Lexie Hull added 11 points plus nine rebounds and Prechten had a near double-double of 10 points and eight rebounds. She also blocked three shots.
VanDerveer was pleased with the balanced scoring effort.
"I thought we had everyone contribute. I was really proud of how everyone on our team came in and just played. We were able to play what I call tag-team play, a lot of people and play with good pace."
Davis was the only Lady Vol in double figures with 14 points plus six rebounds. Kushkituah finished with seven rebounds to go along with her five points.
Stanford shot 42.6% (29-68) from the field overall compared to 27.8% (20-72) by Tennessee. In addition, the Cardinal bench outscored the Lady Vols bench 32-22.
In just her first year at the helm of Tennessee, Lady Vol alumna Harper was blunt in her assessment of what her team needs to work on in the immediate future, especially on their West Coast trip.
"I think there are some great opportunities for us to learn and maybe mature a little bit," she said. "I think there are areas that we need to grow as a team."
She also stated that Tennessee's offense "is a big deficiency."
"It's not shocking….We've known that this is something that we needed to work on. We can start making some strides. I think our players understand that."
VanDerveer is optimistic that Harper is on the right track to keeping Tennessee among the elite programs in the nation.
"I'm really happy for her to be at Tennessee," VanDerveer said. "She's going to do a great job. I told her I'm going to root for you for every game except for tonight. We want every team we play, we want them to be very successful. She's got real talent. She just figuring things out. It's a new place, a new staff, there's probably some culture things that she wants to change. She'll do a great job."
The Lady Vols continue their road trip with a game at Portland State on Saturday, Dec. 21 at 7 p.m. PT/10 p.m. ET. The game will be streamed free on Pluto.tv.
Stanford heads to the Lone Star state for a game at Texas on Sunday at noon Central Time. The game will be aired on ESPN2.
Notes: The margin of victory (27) was the largest in program history for Stanford vs. Tennessee and the lowest point total for the Lady Vols against the Cardinal. Tennessee still leads the series vs. Stanford, 25-12 while the Cardinal has won the last two contests.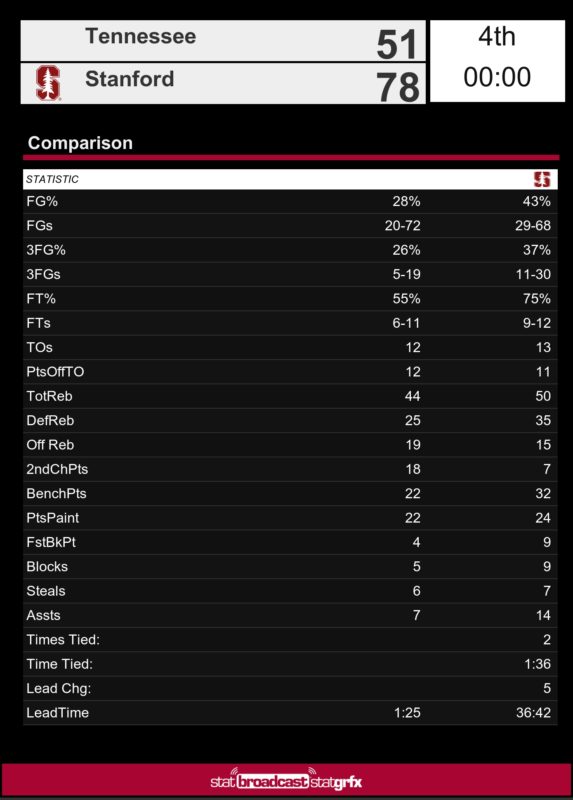 Live from Maples: @LadyVol_Hoops at @StanfordWBB #ncaaw pic.twitter.com/rtVMEwmkFu

— Hoopfeed.com ? (@hoopfeed) December 19, 2019
Teams exchanging baskets to start, Stanford 8, Tennessee 7, 6:47 in 1Q #ncaaw

— Hoopfeed.com ? (@hoopfeed) December 19, 2019
Haley Jones with a layup to give Stanford a 16-12 lead, 2:33 in 1Q #ncaaw

— Hoopfeed.com ? (@hoopfeed) December 19, 2019
Another freshman scores, Ashten Prechtel makes a jumper to give the Cardinal a 6pt lead over the Lady Vols, 18-12, 1:42 left in 1Q #ncaaw

— Hoopfeed.com ? (@hoopfeed) December 19, 2019
End of 1Q: Stanford 20, Tennessee 12 #ncaaw pic.twitter.com/243bfPG6mq

— Hoopfeed.com ? (@hoopfeed) December 19, 2019
Stanford ended the first quarter on a 10-0 run capped by a layup from Alyssa Jerome. Cardinal shooting 50% (8-16) while the Lady Vols are 24% (5-21) #ncaaw

— Hoopfeed.com ? (@hoopfeed) December 19, 2019
Kasiyahna Kushkituah ends Tennessee's drought early in 2Q, makes 1-of-2 FTs, Stanford 20, Tennessee 13, 8:03 in 2Q #ncaaw

— Hoopfeed.com ? (@hoopfeed) December 19, 2019
Hannah Jump for threeee and Stanford has a double-digit lead over Tennessee, 25-15, 6:29 in 2Q. Timeout Lady Vols. TV: Pac-12 Bay Area/Pac-12.com. The pregame numbers: https://t.co/eoNuleOIhq #ncaaw

— Hoopfeed.com ? (@hoopfeed) December 19, 2019
Tennessee within 5 after starting 2Q on an 8-5 run, 25-20 Stanford….well not anymore after Kiana Williams drains a trey for the Cardinal, 28-20 Stanford, 3:48 #ncaaw

— Hoopfeed.com ? (@hoopfeed) December 19, 2019
Back-to-back jumpers from Kiana Williams and Stanford back up in double digits, 30-20, 2:50 #ncaaw

— Hoopfeed.com ? (@hoopfeed) December 19, 2019
Kasiyahna Kushkituah worked hard in the paint for a layup, makes her FT as well, helps Lady Vols to inch closer, 32-24 Stanford, less than a minute to go in 2Q #ncaaw

— Hoopfeed.com ? (@hoopfeed) December 19, 2019
Halftime: Stanford 34, Tennessee 24 #ncaaw Freshman Haley Jones was the last to score in the quarter with a 2nd-chance layup for the Cardinal. Eight Stanford players in the scoring column. pic.twitter.com/2v5FIxirXc

— Hoopfeed.com ? (@hoopfeed) December 19, 2019
Some first half b/w images from our game photographer @bbamok ? of @LadyVol_Hoops at @StanfordWBB #ncaaw pic.twitter.com/mAMQnuNRoE

— Hoopfeed.com ? (@hoopfeed) December 19, 2019
Slow start offensively for both teams in 3Q, just a layup from each. Stanford 36, Tennessee 26, 7:16 #ncaaw

— Hoopfeed.com ? (@hoopfeed) December 19, 2019
Technical foul on Kellie Harper at 1:55 in 3Q: Stanford's Hannah Jump makes the FTs, Cardinal 52, Lady Vols 35 #ncaaw

— Hoopfeed.com ? (@hoopfeed) December 19, 2019
End of 3Q: Stanford 58, Tennessee 40 #ncaaw

— Hoopfeed.com ? (@hoopfeed) December 19, 2019
After a trey from Nadia Fingall, the Cardinal lead by 20, Stanford 62, Tennessee 42, 7:02 in 4Q #ncaaw

— Hoopfeed.com ? (@hoopfeed) December 19, 2019
With FTs at 5:42 in 4Q, Stanford junior guard Kiana Williams hit 1,000 points for her career! Congrats @Kiana__W! #ncaaw

— Hoopfeed.com ? (@hoopfeed) December 19, 2019
Stanford freshman Fran Belibi leaves the game at 2:38 in 4Q with her 5th foul. She finished with 7pts/3rebs. #ncaaw

— Hoopfeed.com ? (@hoopfeed) December 19, 2019
Stanford leads Tennessee 76-49 after a trey from Anna Wilson, about a minute and a half to go… #ncaaw

— Hoopfeed.com ? (@hoopfeed) December 19, 2019
Stanford's Anna Wilson with the hot hand, back-to-back baskets for the senior guard as the game winds down. #ncaaw

— Hoopfeed.com ? (@hoopfeed) December 19, 2019