Maryland makes quick work of Iowa, 93-59, takes sole possession of first place in Big Ten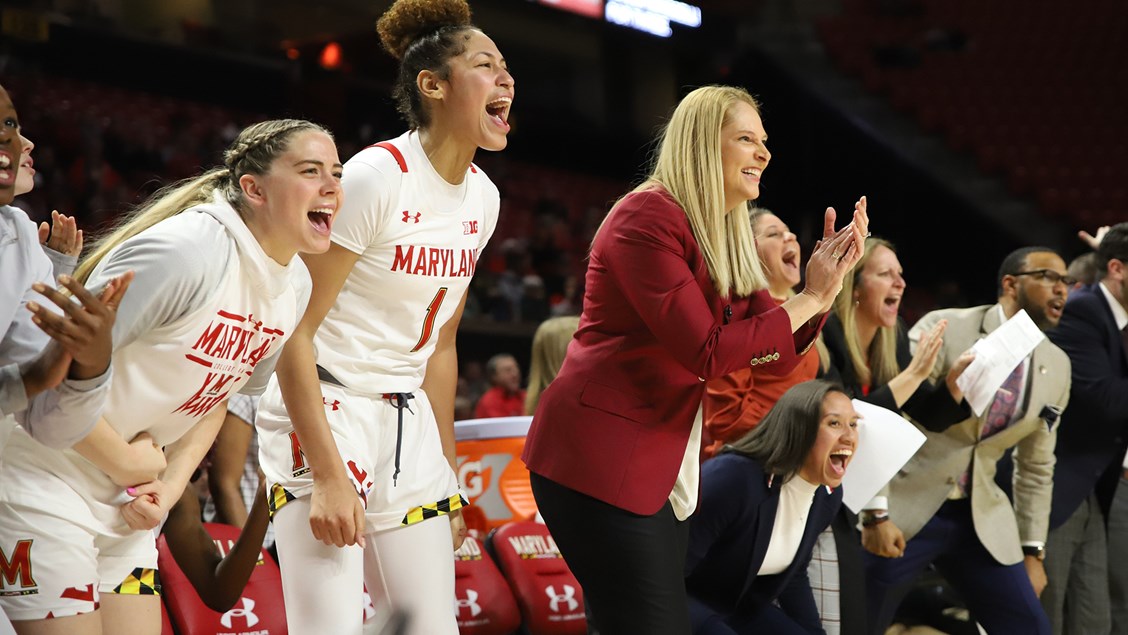 COLLEGE PARK, Md.— Before today's matchup against the Iowa Hawkeyes, Maryland head coach Brenda Frese said that her Terrapins are now a player-led program, in contrast to when Iowa defeated Maryland 66-61 back on Jan. 9.
"We're a totally different team now," she said after their win against the Rutgers Scarlet Knights this past Sunday. "Since that Iowa loss, it's now a player-led team and it's a beautiful thing."
The team's new identity shined in the complete destruction of the Iowa Hawkeyes for a 93-59 win in the Xfinity Center.
Maryland snatched control of the game early in the highly anticipated match. Fantastic displays of a gritty, tenacious defense shattered Iowa's offensive opportunities in an 8-0 run to start the quarter.
Iowa's four jump balls, three shot-clock violations, and 12 turnovers were the perfect recipe for the Terps to go on another damaging run in the second quarter. Iowa broke a three-minute silence with junior guard Alexis Sevillian's lay-up with 6:16 left in that frame. Maryland outscored Iowa 23-9 in the second quarter.
Each Terp played a role. Freshman Ashley Owusu, sophomore Taylor Mikesell, and senior Kaila Charles took charge. The guard trio facilitated Maryland's offensive game. Senior guard Blair Watson was the defensive general she's been all season with four steals at the half. With everything clicking, the Terps stacked an impressive 48-23 halftime lead.
Maryland's dominance shined in the second and third quarters. Iowa did not score their first baskets until six minutes left in both frames. Forward Shakira Austin made the most of the third quarter with 13 points in six minutes.
"I was just a lot more patient," Austin said. "My footwork was everywhere it needed to be. My teammates kept finding me and I just kept that same energy for the rest of the game."
Maryland took Iowa head on while still driving them out of their offensive sets. Owusu shined in this task. Her versatility in her shot selection and efficiency helped the Terps create space against Iowa. She dominated in the fast break, rushing Iowa to the rim and finding her teammates in their sweet spots. This is Owusu's fourth straight game scoring ten points or more.
Five Terps scored in double figures. Kaila Charles had a game-high of 21 points with nine rebounds. She also crossed the 1,900-point career mark during the win. Currently, she has 1,907 in her career, along with 895 rebounds
"It means my teammates have done a great job finding me and encouraging me to play hard," Charles said about the accomplishment. "It means a lot to me."
Forward Stephanie Jones finished with a perfect 8-of-8 from the floor against Iowa while mobile in the paint and cleaning up around the rim. Mikesell sunk all four of Maryland's three-pointers while the team went 5-of-14 from the floor. Jones and Austin combined for a backcourt total of 36 points while opening up Maryland's opportunities for 58 points in-the-paint.
"With the two of them, [Iowa] didn't have an answer," Frese said of Jones and Austin. "They were getting wherever they wanted inside."
Losing the last three matches against the Hawkeyes could've spilled doubt in their minds, but the Terps zeroed in when it mattered most and took clear possession of first place in the Big Ten.
Maryland can breathe now after suffocating Iowa with a 24-point loss. Now, in first place in the Big Ten, the team extended its winning streak to ten straight conference wins. Only four games remain until the regular season ends, and with the blazing trail the Terps are on, there seems to be no stopping in sight.
"The courage that they've taken from that loss on January 9 to where they are now is completely them," Frese said. "They bought in. This is what it looks like for Maryland: defense, transition offense [and] sharing the basketball. Seeing how elite they are, you want to keep them on this."
Hawkeyes sophomore forward/center Monika Czinano led her team with 15 points and seven rebounds. Senior guard Kathleen Doyle scored ten points and collected four defensive rebounds.
Maryland turns its attention to a Penn State visit on Sunday. Iowa looks to recoup when they host Wisconsin on Sunday.