Maryland rolls over Rutgers 79-50 for ninth straight victory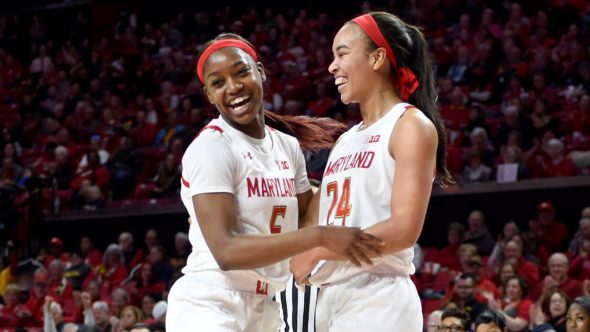 COLLEGE PARK, Md. – The Maryland Terrapins defeated the Rutgers Scarlet Knights 79-50 in front of their largest crowd (9,239) this season at the Xfinity Center.
Maryland (20-4, 11-2) took off for on 6-0 run to begin the game, implementing their classic, destabilizing defense.
"They've got players that are now coming into their own," legendary Rutgers head coach C. Vivian Stringer said about the Terps. "I think they're a stronger team defensively. I think they are much more confident in their ability to shoot."
During Maryland's 12-4 run, sophomore guard Mikesell became the focus of attention for Rutgers (17-6,7-5). Her play gave Maryland opportunities in the first quarter. Later in the period, when Maryland was on a 14-0 run, Mikesell's corner three during a fast break sequence lifted them to a 22-8 lead. The Terps are quicker and smoother with Mikesell in their mix.
Her offensive weapons shifted Rutgers' attention from senior guard Kaila Charles and guard Ashley Owusu who also made noise on the perimeter.
"Obviously I don't know how you guard us with our inside-outside play," Maryland head coach Brenda Frese said, "I think [the team] is in a great rhythm of finding each other. I think when Ashley [Owusu] gets off on the court it really helps Taylor when you talk about her ability to slide in transition."
Maryland had tight control with a 44-26 lead at halftime. They ran their offense in the paint for the remainder of the game. The Terps benefitted from their pressing defense in the third quarter. It prevented Rutgers from clicking on all cylinders.
Maryland made the most of their visits to the free-throw line, cashing in 25-of-29 visits to the charity stripe. The Terps earned their highest free throw percentages this season, including Owusu going 7-8 from the line. In their three-point efforts, Maryland went 6-of-19 beyond the arc and 5-of-13 at halftime.
"I don't think we ever got started," Stringer said. "We wanted to press but we're really short in that department right now."
Rutgers senior guard Khadaizha Sanders scored a team-high of 15 points and five rebounds. Guard Arella Guirantes finished with 13 points and seven rebounds.
Four Terps landed in double digits with Charles leading with a game-high of 16 points and eight rebounds including six offensive boards. Owusu was not far behind with 14 points of her own and nine assists that afternoon. She's found her niche in working the entire floor in transition while powering through opponents to the rim.
"I'm mostly comfortable in transition," Owusu said. "Just keeping my head on the swivel and being able to locate my teammates."
This victory marked Maryland's 20th win over the season and 16th straight season with at least 20 wins. The Terps have a big test Thursday night in the Xfinity Center against the Iowa Hawkeyes. There's a lot up for grabs for both teams. The match will likely determine the winner of the Big Ten regular-season title. Iowa owns the tiebreaker after defeating Maryland earlier this year.
Last season, Maryland would have claimed their first Big Ten tournament since 2017, but Iowa guard Megan Gustafon's monstrous breakout performance of 45 points and 10 rebounds held off that attempt. This season, Maryland's last loss is at Iowa, a close 66-61 contest on Jan. 9. The Terps are 0-3 against the Hawkeyes in the last three games.
"We're excited about the matchup," Frese said. "It's the next opportunity for us to get better. It didn't sit well with how we played at Iowa."
A win against Iowa would be Maryland's sixth against a ranked opponent and give them a ten-game winning streak, their longest since the undefeated season when they joined the Big Ten in 2014. The highly anticipated game begins at 6 p.m. ET and will air on the Big Ten Network.*
"We're a totally different team," Frese said. "I've said this all along since that Iowa game. It's now a player-led team. It's not being led by me anymore, which is a beautiful thing. You see the results of where that's been taken. Iowa is a really, really good team. They're veteran-led, they have two seniors that went to the Elite Eight last year, so they're not going to come in here and let their guard down. They're a very talented team that we're going to have to play extremely well."
*Fans can watch at FoxSports.com or the Fox Sports app using their cable login information.