UCLA survives Cal in overtime 74-70, completes hard-earned Bay Area sweep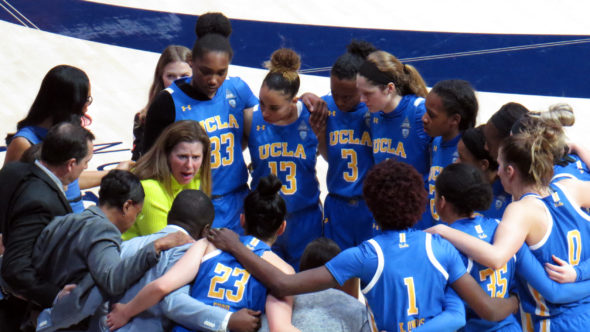 BERKELEY, Calif. – The tenth-ranked UCLA Bruins (21-2, 10-2 Pac-12) completed an impressive sweep of the Pac-12's Bay Area schools Sunday afternoon after topping the Cal Bears 74-70 in overtime at Haas Pavilion. UCLA came to Berkeley on a high note as they took down No. 6 Stanford on Friday, 79-69, a win that gave head coach Cori Close her 100th Pac-12 victory.
Across the bay at Cal (9-14, 1-11), the last-place team in the conference, things did not get easier. The Bears clawed back from a double-digit deficit to tie the game at the end of regulation and sent the contest into an extra period.
"It is really hard to get a win in this conference and on the road," said Close postgame. "We found a way to make that happen and we're thankful for that."
At the outset, the Bruins were in control, winning the tip. Led by redshirt junior guard Natalie Chou, a transfer from Baylor, UCLA raced out to an 11-point lead over the unranked Bears before the end of the first quarter.
Heading into the second frame with a 22-14 advantage, it wasn't a stretch to predict that the Bruins were poised for a more relaxed path to victory than what they experienced two nights before at Stanford.
However, Cal, reloaded with players that have been injured for several games (senior posts CJ West and Chen Yue), proved to be a nearly insurmountable hurdle in UCLA's plan for an undefeated weekend.
Freshman forward Evelien Lutje Schipholt led the offensive charge for the Bears, beginning the second quarter with a layup. She also made the last baskets of the period, a layup and a free throw. Cal outscored the Bruins 18-14 in that quarter, but the visitors maintained the lead at halftime, 36-32. Freshman guard Charisma Osborne was the most prolific shooter for UCLA in the second period, contributing 10 points. She also led all scorers at the break with 13 points plus two rebounds and two assists.
The third quarter was another closely played ten minutes, with the teams trading baskets. With a deficit, Cal needed to do more than exchange made shots, they needed to find some momentum. With a 52-47 advantage going into the last quarter, UCLA only needed to hold off the Bears to protect or extend their five-point lead. Initially, that appeared to be the ensuing scenario.
Four minutes into the fourth quarter, UCLA's lead increased to eight and stayed in that range until the last four minutes when Cal went on a 9-2 run beginning with a turnaround jumper from senior guard Sara Anastasieska. Freshman guard Cailyn Crocker evaded UCLA for a driving layup in the paint and about a minute later, fellow first-year guard Leilani McIntosh did the same. With the game tied at 63 following free throws by Cal's West, UCLA had chances to take the game. But, missed jumpers by junior forward Michaela Onyenwere. Chou and senior guard Japreece Dean sealed their fate for an overtime battle.
The frantic overtime included two ties, the last one coming at 1:37. UCLA's Onyenwere broke the tie with a jumper and Cal took a timeout. UCLA played stellar defense in that last stretch, preventing Cal from getting a good shot and caused, what looked like pure chaos by the Bears: panic-ridden dribbling and sloppy ball handling.
Onyenwere finished with a game-high 21 points. She was a perfect 5-5 from the free-throw line. Osborne scored 17 points and pulled down four rebounds. Chou added 12 points and six rebounds.
For Cal, Brown led her team with 17 points and eight rebounds. Crocked contributed 12 points while CJ West earned a double-double of 11 points and 12 rebounds. McIntosh also scored 11, adding to her seven rebounds and six assists.
Even in the loss, there were some positives for the Bears. They grabbed a season-high 55 rebounds and four players finished in double figures including two freshmen.
Cal head coach Charmin Smith said she didn't expect to outrebound the Bruins.
"What we did know was that if we didn't keep them off of the glass, we had no chance," Smith said. "So, that was more of the mindset and the mentality, and I love how aggressive we were."
Defeat may sting, but with talented freshmen holding ranked teams to the fire, the future looks bright for Cal.
"I think both teams played extremely hard and gave a ton of effort," Smith said. "Unfortunately, we came up just a little bit short, but I'm proud of how we battled and how we competed against a really good team."
Close also praised Cal.
"You know, give a lot of credit to Cal for their attack mentality, their confidence of their young team, the way they found their go-to players, the way they established [CJ] West inside," Close said. "They did so many good things."
UCLA heads home to host Oregon on Friday and Oregon State on Monday. Cal goes on a road trip to play Colorado on Friday and Utah on Sunday.