Oregon's potent recipe in 93-61 win over Cal: Erin Boley's 3-point daggers, Ionescu's triple-double, Hebard's double-double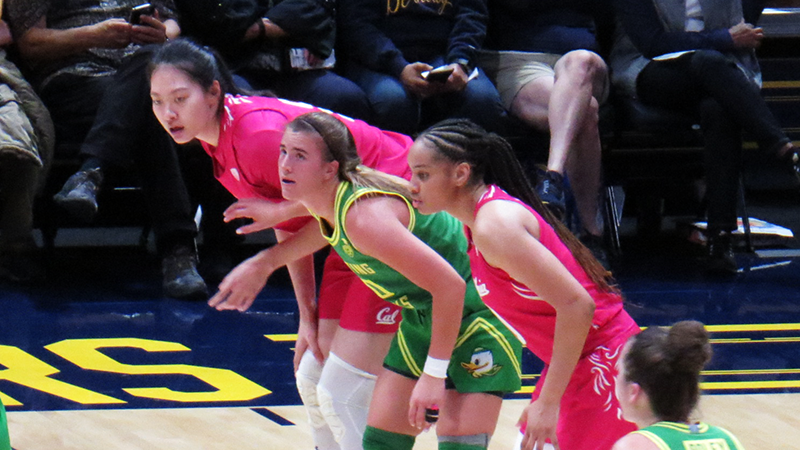 BERKELEY – As Golden State Warriors superstar Stephen Curry sat courtside with his daughters, the No. 3 Oregon Ducks (25-2, 14-1 Pac-12) enjoyed a Bay Area homecoming for senior guard Sabrina Ionescu with a 93-61 win over Cal at Haas Pavilion Friday night. Ionescu, who is from nearby Walnut Creek, finished with the 25th triple-double of her career, tallying 17 points, 11 rebounds, and 11 assists. The feat further sealed her status as the all-time NCAA leader in that category for both women and men.
The Bears (10-16, 2-13) put up a valiant effort, but the veteran-laden Ducks were too much for their Berkeley-based Pac-12 counterparts.
Coming into the game, Oregon averaged a 28.8 scoring margin in wins. They also outrebound opponents by 10.5 caroms. The rout of Cal included characteristic displays of seamless offensive executions, largely orchestrated by Ionescu, excellent three-point shooting from Erin Boley, and dominance on the boards.
After a close first quarter that ended with Oregon leading 23-19, the Ducks begin the second period on an 18-0 run to begin putting Cal firmly in the rear view.
While the Bears shot a respectable 53.3% from the floor in the first quarter, the percentage plummeted in the second stanza to 12.5% (2-16). With junior forward Erin Boley making trey after trey, plus rebounds from Ionescu and senior forward Ruthy Hebard, Oregon outscored Cal 24-9 in the second quarter to go into halftime with a 47-28 lead.
The balanced Ducks have a myriad of offensive weapons that can decimate elite teams with ease. While the veterans Ionescu, Hebard, and junior forward Satou Sabally are used to scoring in double digits in every outing while attracting double and triple teams, Boley is just as deadly with her 3-point shooting prowess. She proved that against Cal going 8-of-9 from beyond the arc and earning a team-high 24 points.
"When Erin Boley is making shots like that, we're getting her looks, we become really difficult to guard," Oregon head coach Kelly Graves said. "That gives Sabrina, and Minyon [Moore] and Satou, really good playmakers, a lot of room to operate. And, it gives Ruthy more room inside."
Sabally and Hebard also finished in double figures. Hebard earned a double-double of 20 points and fifteen rebounds while Sabally contributed 16 points plus four rebounds.
Graves expressed pride that, on a team with so many prolific scorers, that they deferred to the player who had the most efficient offense in the moment.
"I think our team is unselfish enough which is what I'm most proud of, to keep feeding the hot hand," Graves said. "We passed up some good shots to get it to Erin for an even better shot on a night that she was shooting well. So, that's a mark of a really mature team and an unselfish team."
Sabally announced her intentions to declare for the WNBA Draft after this season, going pro along with Ionescu and Hebard. She will most likely be selected in the draft's first round with them.
While Cal's young squad had an insurmountable uphill battle in battling to come back against Oregon, they never stopped fighting. First-year head coach Charmin Smith discussed the team's growth since losing 81-44 on the road to the Ducks back in mid-January.
"You know, Oregon they're a beast," Smith said, "and I was proud of how we fought. I'm proud of the growth that we've shown since playing them in Eugene, and, you know, we're going to keep fighting and keep getting better every day."
Cal senior guard/forward Jaelyn Brown led her team with 26 points plus six rebounds. She earned her 1,000th career point in the contest, a milestone to be proud as it came against the No. 3 team in the country. Freshman guard Cailyn Crocker also finished in double figures for the Bears with 15 points.
Looking ahead, the weekend doesn't get easier for either team. Cal hosts Oregon State on Sunday at 2 p.m. PT (Pac-12 Bay Area, Pac-12 Oregon). Oregon heads to No. 4 Stanford for a Monday night game at 6 p.m. PT (ESPN2).
If Oregon wins at Stanford, the Ducks will clinch a share of the Pac-12 regular-season title. Oregon sits at the top of the conference standings with the Cardinal one game behind.
Fans here at Haas Pavilion excited to see @StephenCurry30 just chillin' at the @OregonWBB at @CalWBBall game with his girls. #ncaaw #nba pic.twitter.com/NpGBQ06M3T

— Hoopfeed.com ? (@hoopfeed) February 22, 2020