Led by Kiana Williams, Stanford edges Oregon State 63-60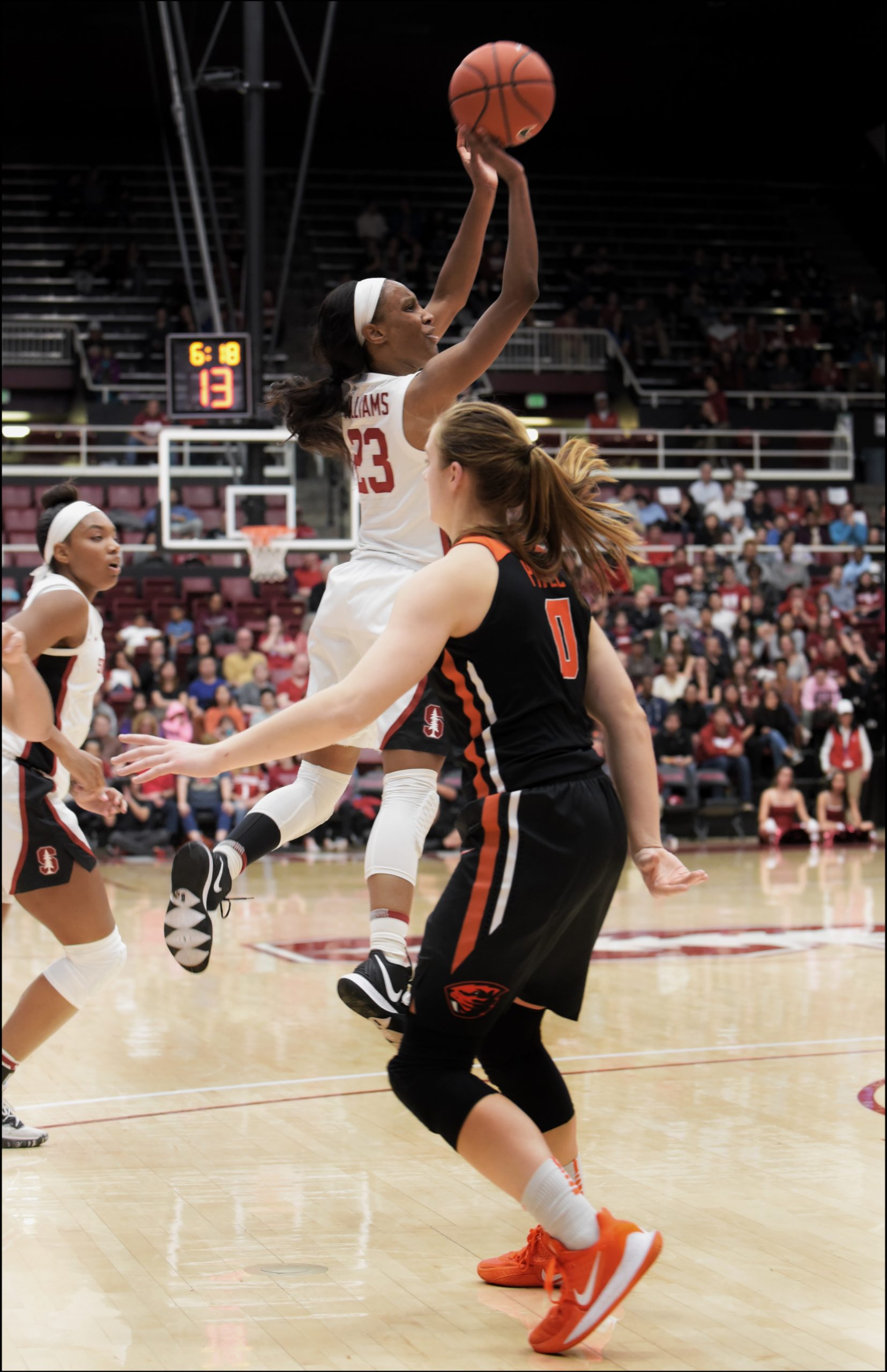 STANFORD, Calif. – The Stanford Cardinal (24-3, 13-2 Pac-12) held off the Oregon State Beavers (19-8, 7-8 Pac-12), 63-60, at Maples Pavilion, Friday Night.
"Tonight's game points to how good our league [Pac 12] is, and how many great players we have," Stanford head coach, Tara VanDerveer said. "Oregon State has a tremendous team, and we're really excited to come out with a win."
The first half of the contest was close with both teams leading by at least three points during the initial 20 minutes of play. Stanford was on top by two after both quarters, despite zero attempts at the free-throw line, while Oregon State was 6-6 from the charity stripe.
In the second half Stanford extended the lead to double-digits, 12 points in the third quarter and 14 in the fourth. However, the Beavers managed to chew into the advantage and reach a three-point deficit with a little more than 17 seconds left in regulation.
The Cardinal's tenacious defense prevented Oregon State from converting a game-tying trey, and when the final buzzer went off, Stanford maintained the three-point lead and earned the crucial victory.
"They took away our first option," Beavers' coach Scott Rueck said. "We wanted to get off a clean three."
Cardinal junior guard Kiana Williams continued her outstanding play with a team-high 24 points, following up from her career-high 29 points at Colorado last Sunday that included a game-winning three at the buzzer. Although she was the only Cardinal in double digits, several other teammates contributed in a big way.
Senior guard, Ana Wilson tallied eight points (3-3) and four rebounds within 17 minutes of court time.
Shooting more, outside of practice kind of helped with that," Wilson commented about her scoring performance. "I got to shoot the ball, I got to be more confident; that's what I'm trying to do."
Three other players notched six points: Sophomore guard Lexie Hull, junior forwards, Alyssa Jerome and Maya Dodson.
Dodson was making her Maples debut for the season as a starter, and the third game overall, after being out most of the season with an injury.
"Maya is a difference-maker," VanDerveer said. "She changes things for us."
Her elder teammate seemed to concur.
"Seeing her play is phenomenal," said Wilson "She's been supporting us all year and is always at practice. She's been working extra hard."
Oregon State finished with three players in double figures, while two garnered double-doubles.
Redshirt junior guard Destiny Slocum scored a game-high 26 points for the second time this season versus the Cardinal. Senior Guard, Mikayla Pivec, dropped 13 points, 10 assists, and three assists, despite shooting a paltry 23% from the field. Freshman forward/center, Taylor Jones, was impressive across the board, earning 14 points, 12 rebounds, 5 blocks and 2 steals, while shooting 55% from the floor.
"Taylor did a great job inside and we kept inching closer," Pivec said. "There's a lot of season left."
Even the opposing coach was glad to see Maya Dodson back on the court, while simultaneously acknowledging the team's top scorer.
"It was nice to see Dodson back. I'm happy for her," Rueck said. "Kiana is Kiana and she had a good night."
Coach VanDerveer was not too happy with the nine-point output in the fourth quarter but seemed to have a remedy.
"We didn't make some shots that were makeable shots. We missed some free throws when we were at the free-throw line," uttered VanDerveer. "We've got to get more flow into our offense; a lot of it comes down to making shots."
Stanford hosts No. 3 Oregon on Monday, February 24 at 6 p.m. PT (ESPN2). Oregon State heads across the Bay to Berkeley, taking on Cal, Sunday, February 23 (Pac-12 Bay Area, Pac-12 Oregon).