The 2020 WNBA Draft: Sabrina Ionescu goes No. 1 as Oregon has three players picked in first round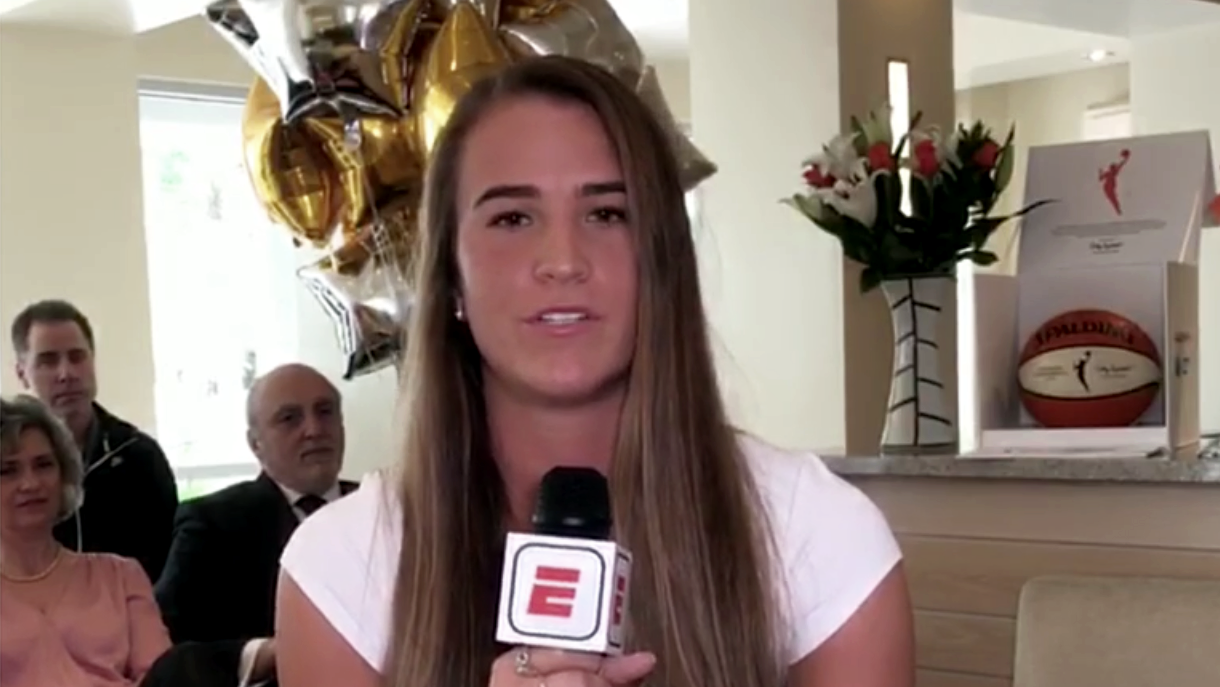 To no one's surprise, Oregon guard Sabrina Ionescu became the No. 1 pick in the 2020 WNBA Draft, heading to the New York Liberty. The history-making athlete is the first-ever No.1 pick in franchise history. Her college teammates, forwards Satou Sabally and Ruthy Hebard, also went in the first round. Dallas selected Sabally as the No. 2 pick and Hebard went to Chicago at No. 8. The trio became the first three Ducks taken in the first round.
"I'm looking to do everything that I possibly can to get better in every aspect, whether that's scoring, defending, rebounding, passing," Ionescu said about becoming a pro with the Liberty. "I'm really just excited to be playing against professionals and learning from them and just seeing where that takes me."
She begins her pro career after becoming one of the most decorated women's basketball athletes in history.  She is Oregon's all-time leader in points, three-pointers, assists, triple-doubles and double-figure scoring games. The NCAA's all-time leader in career triple-doubles swept this past season's player of the year awards (Wooden, Naismith, Wade, and AP) and is a three-time Pac-12 Player of the Year.
"It's a historic night for the New York Liberty,"  Liberty general manager Jonathan Kolb said. "Sabrina is a generational player whose resume speaks for itself and we are thrilled to have her as our first-ever No.1 pick. We look forward to adding her to the Liberty family, as we work to re-establish ourselves as one of the top teams in the league for years to come."
Since the draft was a virtual affair due to the coronavirus pandemic, draftees participated in the telecast via live streams, most of them from their homes. Sabally, a native of Germany, joined in from the Oregon campus while she simultaneously had a webcast going on with her family in Berlin.
"It means a lot," Sabally said of being selected second overall. "It means a lot to me, my family and the Oregon community. It means so much to the German community. I'm just so happy and I can't wait to get to Dallas."
Indiana chose Baylor forward Lauren Cox as the No. 3 overall pick. Atlanta made Texas A&M guard Chenneday Carter the fourth selection. Princeton's Bella Alarie became only the third Ivy League player to get drafted, going to Dallas at No. 5.
Full Draft Board
Round 1
Pick
Team
Player
1
New York Liberty
Sabrina Ionescu, Oregon –  Guard
2
Dallas Wings
Satou Sabally, Oregon –  Forward
3
Indiana Fever
Lauren Cox, Baylor –  Forward
4
Atlanta Dream
Chennedy Carter, Texas A&M –  Guard
5
Dallas Wings
(From Phoenix)
Bella Alarie, Princeton –  Guard/Forward
6
Minnesota Lynx
Mikiah Herbert Harrigan, South Carolina –  Forward
7
Dallas Wings
(From Seattle – via Connecticut, Phoenix)
Tyasha Harris, South Carolina –  Guard
8
Chicago Sky
Ruthy Hebard, Oregon –  Forward
9
New York Liberty (From Dallas – via Las Vegas)
Megan Walker, Connecticut –  Forward
10
Phoenix Mercury
(From Los Angeles – via Connecticut,
TRADED to New York for Shatori Walker-Kimbrough)
Jocelyn Willoughby, Virginia –  Guard/Forward
11
Seattle Storm (From Connecticut)
Kitija Laksa, TTT Riga (Latvia) –  Wing
12
New York Liberty (From Washington)
Jazmine Jones, Louisville –  Guard
Round 2
Pick
Team
Player
1
New York Liberty (From Atlanta)
Kylee Shook, Louisville –  Forward
2
Indiana Fever
(From New York – via Minnesota)
Kathleen Doyle, Iowa –  Guard
3
New York Liberty (From Dallas)
Leaonna Odom, Duke –  Forward
4
Minnesota Lynx (From Indiana)
Crystal Dangerfield, Connecticut –  Guard
5
Atlanta Dream (From Phoenix)
Brittany Brewer, Texas Tech –  Forward
6
Phoenix Mercury (From Minnesota)
Te'a Cooper, Baylor –  Guard
7
Seattle Storm
Joyner Holmes, Texas –  Forward
8
Los Angeles Sparks (From Chicago)
Beatrice Mompremier, Miami –  Forward
9
Dallas Wings (From Las Vegas)
Luisa Geiselsöder, Germany –  Center
10
Los Angeles Sparks
Leonie Fiebich, Germany –  Shooting Guard
11
Connecticut Sun
Kaila Charles, Maryland –  Guard/Forward
12
Washington Mystics
Jaylyn Agnew, Creighton –  Forward
Round 3
Pick
Team
Player
1
Atlanta Dream
Mikayla Pivec, Oregon State –  Guard
2
New York Liberty
(TRADED to Minnesota for Stephanie Talbot)
Erica Ogwumike, Rice –  Guard
3
Atlanta Dream (From Dallas)
Kobi Thornton, Clemson –  Forward
4
Indiana Fever
Kamiah Smalls, James Madison –  Guard
5
Phoenix Mercury
Stella Johnson, Rider –  Guard
6
Chicago Sky
(From Minnesota)
Japreece Dean, UCLA –  Guard
7
Seattle Storm
Haley Gorecki, Duke –  Guard
8
Chicago Sky
Kiah Gillespie, Florida State –  Forward
9
Las Vegas Aces
Lauren Manis, Holy Cross –  Forward
10
Los Angeles Sparks
Tynice Martin, West Virginia –  Guard
11
Connecticut Sun
Juicy Landrum, Baylor –  Guard
12
Washington Mystics
Sug Sutton, Texas –  Guard