Despite obstacles, Baylor's Cox, Cooper and Landrum are primed and excited for WNBA draft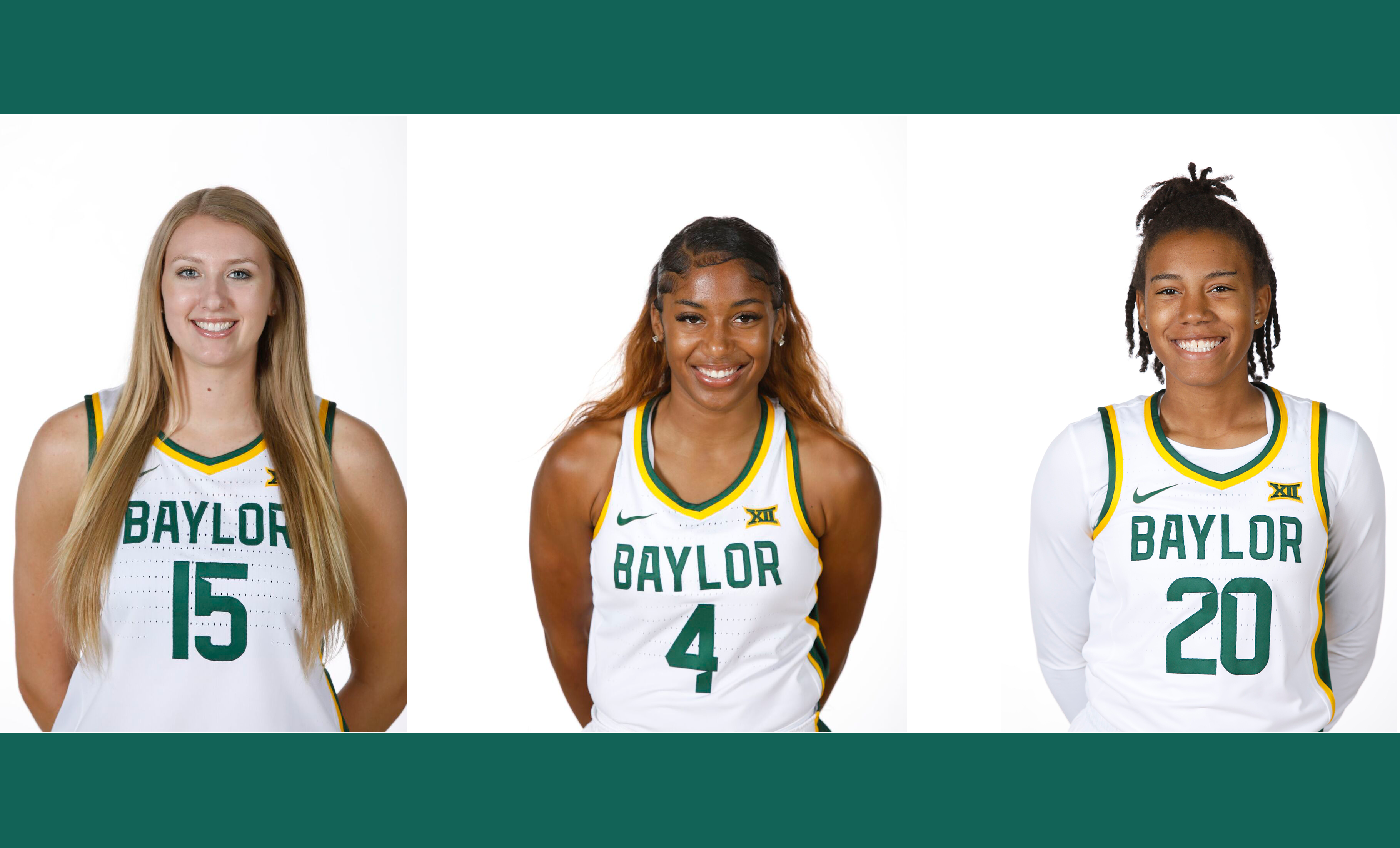 2020 WNBA Draft, Friday, April 17, 7 p.m. ET, ESPN/ESPN App || Draft Order
It's possible that Baylor will have three players selected in Friday's WNBA draft: Lauren Cox, Te'a Cooper and Juicy Landrum.
Cox, a 6-4 forward, and the most decorated of the three, is certain to be a top-five pick. Cooper, a 5-8 guard who arrived at Baylor as a graduate transfer from South Carolina, is also predicted to go in the first round. Landrum, also a 5-8 guard, will most likely be selected in the second or third round.
While the trio has not been able to practice in a gym to hone their skills since the abrupt end to the NCAA season due to the coronavirus pandemic, they have kept their spirits up while working out at home. Unfortunately, they will not be able to attend an actual draft in person since it will be a virtual event, but they are still excited about it.
Initially, it was a hard transition from the sudden end of the season and not being able to play in the Big 12 and NCAA tournaments, to feeling optimistic about the draft.
"The hardest part about it was playing in my last game and not even knowing it," Cox said. "When we found out that news, I cried for a couple of days, just trying to process everything it was a lot of different emotions. So, it was definitely hard."
For Cooper, not being able to play in the postseason was hard to swallow given the promising prospects of the team.
"I believe we would have went very far," she said.
In weeks after the canceled season, Cox, Cooper, and Landrum have done what they can to stay fit and prepare for getting selected, even in trying circumstances.
"For me, it's hard to work on basketball skills, especially like shooting and stuff because you can't really get in the gym," Cox said. "And I mean, shooting outside is always good, but you have to factor in wind and sun in your eyes, that kind of thing. So, it's hard to get some good quality shots up when you have factors like that. But I've been doing everything that I can to stay in shape. I've been lifting to keep my body strong."
Cooper and Landrum spent their time in a similar manner.
"I'm the same as Lauren," Cooper said. "I've been doing everything and I can to stay in shape and work out."
With shelter-in-place orders all around the country, Landrum limits her workouts to bodyweight exercises and workouts on the web because "it's kind of hard to go jogging."
Since the Dallas Wings have the No. 2 pick in the draft, it's highly likely that Cox could end up playing less than 30 miles from her hometown of Flower Mound.
No matter where they end up in the draft order, if all three Baylor players are picked, it would mark the first time in program history that Baylor had three selections in one draft. Previously, the Bears had two selections in 2002, 2013, 2017 and 2019.
Round 1
| | |
| --- | --- |
| Pick | Team |
| 1 | New York Liberty |
| 2 | Dallas Wings |
| 3 | Indiana Fever |
| 4 | Atlanta Dream |
| 5 | Dallas Wings (From Phoenix) |
| 6 | Minnesota Lynx |
| 7 | Dallas Wings (From Seattle – via Connecticut, Phoenix) |
| 8 | Chicago Sky |
| 9 | New York Liberty (From Dallas – via Las Vegas) |
| 10 | Phoenix Mercury (From Los Angeles – via Connecticut) |
| 11 | Seattle Storm (From Connecticut) |
| 12 | New York Liberty (From Washington) |
Round 2
| | |
| --- | --- |
| Pick | Team |
| 1 | New York Liberty |
| 2 | Dallas Wings |
| 3 | Indiana Fever |
| 4 | Atlanta Dream |
| 5 | Dallas Wings (From Phoenix) |
| 6 | Minnesota Lynx |
| 7 | Dallas Wings (From Seattle – via Connecticut, Phoenix) |
| 8 | Chicago Sky |
| 9 | New York Liberty (From Dallas – via Las Vegas) |
| 10 | Phoenix Mercury (From Los Angeles – via Connecticut) |
| 11 | Seattle Storm (From Connecticut) |
| 12 | New York Liberty (From Washington) |
Round 3
| | |
| --- | --- |
| Pick | Team |
| 1 | Atlanta Dream |
| 2 | New York Liberty |
| 3 | Atlanta Dream (From Dallas) |
| 4 | Indiana Fever |
| 5 | Phoenix Mercury |
| 6 | Chicago Sky (From Minnesota) |
| 7 | Seattle Storm |
| 8 | Chicago Sky |
| 9 | Las Vegas Aces |
| 10 | Los Angeles Sparks |
| 11 | Connecticut Sun |
| 12 | Washington Mystics |