With many questions unanswered, the Connecticut Sun and other teams are hopeful for a successful WNBA season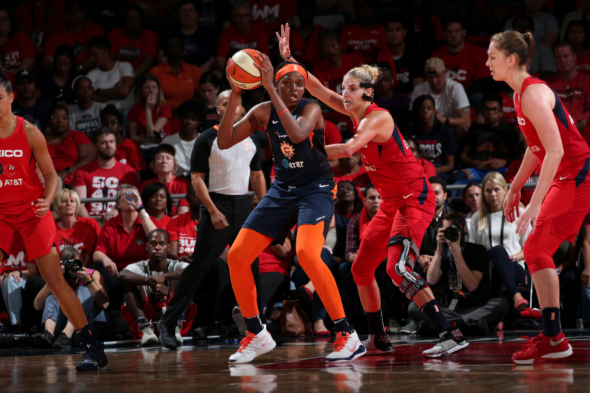 With a truncated season on the horizon due to restrictions imposed by the coronavirus pandemic, WNBA teams are in the midst of making unprecedented decisions for the near future. Teams are strategizing on how to keep players safe while maximizing fan engagement when teams are isolated in a single location for a 22-game season that is scheduled to begin in late July at IMG Academy in Bradenton, Florida.
Staying Connected to Fans
Shortly after the league revealed its plan for the season Monday afternoon, the Indiana Fever announced that the franchise would provide a free live stream of its games for fans. While the Connecticut Sun has not finalized the details of its partnership with NESN, the team's regional broadcast partner, Sun vice president Amber Cox did say that the team expected to have something similar for fans along with other initiatives to amplify the team's reach while sequestered in a bubble environment.
"We fully intend that partnership to continue as the announcement came out yesterday, and we start those conversations and get the schedule," Cox said. "I perceive that fans all over New England will have the ability to watch the NESN as they did last year."
Keeping Social Justice Awareness on Tap
Over the past month, a number of players have used their platform to bring awareness to social justice issues and the pervasiveness of systemic racism in the United States. More than a few, along with coaches, joined peaceful protests against police brutality in light of several recent murders of African Americans at the hands of police officers. The league began posting messages via social media about current events on May 29 with "The time for change is now. Enough is enough" on Twitter.  WNBA commissioner, Cathy Engelbert, addressed player activism in an appearance on ESPN's SportCenter Monday night.
"You know what I've heard from them is…let's think about how strong our voices can be. Let's think about what this platform looks like. We have one of the most diverse leagues in professional sports, 80% black women, and all of our players are really, really actually looking forward to the platform that they can launch from IMG Academy around social justice and their voice."
However, as the WNBA works out logistics for the season, it is unclear how they plan to actually integrate social justice initiatives into a very short season from a location in Manatee County, Florida.
Player Health and Opting Out
With Florida seeing record numbers of daily COVID-19 cases over the last few days, it is understandable that players would have a reason to be concerned about health and safety issues, especially those who will arrive with their children and a caregiver (the guests who are approved by the league to stay in the bubble).
While details about the exact nature of how the bubble at IMG Academy would restrict the number of people interacting with players, coaches and league staff, it remains to be seen whether the implemented measures will be enough to keep attendees from coming into contact with an infected local worker or anyone else carrying the virus.
Discussions between the league and the player's union led to an agreement that players at a high-risk for contracting the virus could skip the season while getting paid a full salary. Other players have until June 25 to let the league know if they intend to play this summer (those players will not be paid if they opt out).
"We will be very supportive of them," Sun head coach Curt Miller said. "These are unprecedented times and a lot goes individually into each person's decision."
All players will undergo a medical exam before arriving in Bradenton, giving teams at least a month to get athletes to the location and hold training camps before play begins July 24.
"I think obviously one of the reasons for the opt-out date, being what it is, is that it still gives us an opportunity to add someone to your roster in time to get through the medical testing that is necessary to arrive at a single site," said Miller about the timing of testing and getting healthy players to Florida.
As of Tuesday, no players have announced opting out. Athletes will have a chance to get medical and safety questions answered during a Zoom call with league physicians this week.
Logically, it seems that if a player has to leave Bradenton, that teams could look to the waiver wire for a medically-cleared replacement, or in Miller's words "anyone that, you know, can make the transition to join us quickly is fair game." Nevertheless, since nothing has yet been set in stone for the season, that process may be up for tweaking as well.
What's Next
The league's announcement was a relief to many, players and fans alike. However, there is still a great deal of uncertainty, from finalizing an agreement with IMG Academy to providing details on media coverage and broadcasts. Players still have to travel from wherever they are now in the world to get to Florida. And although Sun center Jonquel Jones is less than 400 miles from Florida at home in the Bahamas, she is subject international travel restrictions and the significant decrease in flights into the U.S. As of now, most travel restrictions are for those traveling from China, Iran, certain parts of Europe and Brazil.
"Twenty-two games is really all we know," Cox said. "How we get there and what that looks like, I think it's still all TBD. That's what we moved to next after yesterday."
Note: At the time of initial publication, Hoopfeed had reached out to the leadership of the Women's National Basketball Players Association, the union representing players, several times over the span of a few weeks. There was no reply from the union. On 6/18/20, the union responded with the following statement.
The WNBPA supports a return to play where player safety is the first priority. The league has committed not to start the season unless the WNBPA and all stakeholders are satisfied that the appropriate health and safety protocols are in place. Continuing conversations and assurances from league doctors have helped to address some concerns.

As the league rolls out the final details of its plan, we are hopeful that we see a 2020 Season that provides a time for the players in The W to lift each other up and be at the forefront of necessary conversations on race, diversity and social justice that our communities, the country, that we all need in this moment – like right now.