WNBPA receives award from Jobs With Justice, Layshia Clarendon outlines ideas for player-led social justice initiatives in acceptance speech
Layshia Clarendon outlines ideas social justice initiatives for the 2020 season
Recently, the Women's National Basketball Players Association (WNBPA), the union representing the WNBA, received two awards in recognition of the organization's contract negotiations this year that resulted in a historic collective bargaining agreement that improved pay, benefits and working conditions for players.
The most recent accolade comes Jobs with Justice, a workers' rights nonprofit. The WNBPA received JWJ's Eleanor Roosevelt Human Rights Award.
"The WNBPA's success is a reminder that like Eleanor Roosevelt wisely said; we should not carry the torch of workplace democracy alone. We must take collective action to sustain justice for all."
New York Liberty guard, and the first vice president of the WNBPA Layshia Clarendon (California) accepted the award on behalf of players with a videotaped message. The video also laid out some preliminary ideas that players have discussed to continue recent social justice initiatives in light of international protests against police brutality after the murders of several African-Americans by police officers. Below is a transcript of Clarendon's speech.
---
Hi, I'm Layshia Clarendon of the New York Liberty, and I represent the WNBPA, the WNBA players. And when the Jobs for Justice organization reached out to us this year to honor us with the 2020 Eleanor Roosevelt award. We were floored, and honored and humbled in so many ways. They talked about the CBA, what we've done this past year, and negotiated the historic CBA for women's sports, so thank you. We are so honored to accept with open arms. Probably more than that. It's not simply receiving this award. It's another award that we're having the opportunity to receive.
This really propels social justice initiatives that we already wanted to do, for this season, solidifies, reminds us why we do this work. And why we've always stayed close to the ground with this work, and made it not about the recognition, but about the impact that we want to have as players from a grassroots level.
We're in this moment in time where you're starting to hear this rallying cry, right, called Black women. It's like the world has finally awakened to the superpower, that Black women are, the amazingness that we are, the leadership that we bring, how forward thinking we've always been. So, there's been this rallying cry to follow Black women, our league is 80% Black women. We have a lot of queer women in our league. And it's not merely because our league is 80% Black woman and the statistics match up. It's because our league has always done the work we have always been on the forefront of social movements. We were among the first to stand to kneel with Colin Kaepernick, but didn't always get the credit for it. Similar to Black women in history.
Have a #BlackLivesMatter Court
Some ideas we have this season, for some social justice initiatives and how we think we can make a really big impact. So, we know players have a platform we have this moment and we know with the WNBA's return to play we will have 144 players, all in one site, which literally never happens. And so we think there's such a powerful moment to capitalize on you know having a #BlackLivesMatter court, having a court that has this symbol, it has these words that are so impactful is so meaningful, how you're seeing everywhere at this moment that people are finally catching up to, to try and help realize how much Black lives have not mattered in this country, to make that a known statement. And so that is one awesome idea that players are really rallying behind.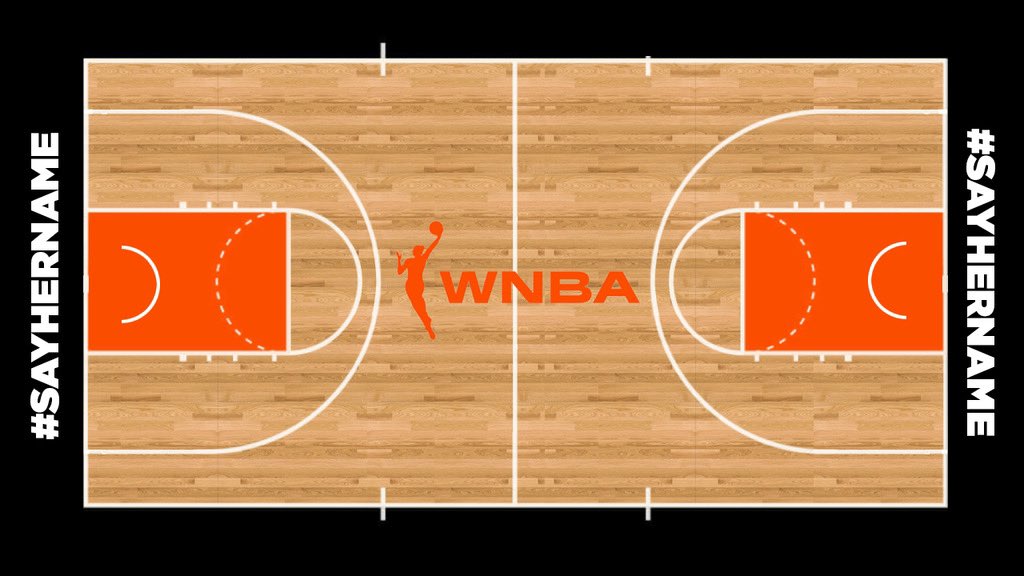 Dedicate the Season to Breonna Taylor
Another one is, we know that Black women always show up right for Black men. We have to often choose maybe our race over gender. And so, we're the ones marching for numerous men who are murdered and we're finally, finally, finally seeing people stand up for Black women. We're finally seeing the light click on a little bit. We're finally seeing like we can have a march for Black trans women that have been murdered at higher rates we're finally seeing people wake up to the pain and the struggle that we've endured. So another initiative we want to do or another idea would be to possibly like dedicate the season to Breonna Taylor, to, you know, hashtag say her name because there's so many of us that are still forgotten, there's so many stories that go untold similar to how our stories go untold. And we see Breonna Taylor, EMT literally murdered in her home like that's for Black woman what Black men feel for George Floyd. We feel that could have been us. And so, dedicating the season to say her name would be a phenomenal. You know a nod and a phenomenal. Just push from our end that 'we see you, we see each other, like that 80% of us that are out there on the court that play, that make up this,…we see you and every Black woman and a Black trans woman out there that is forgotten.' Sandra Bland never got justice. So many so many names that have never received justice that we see you.
Produce a Podcast
And other ideas are potentially having like a podcast…we're in the clean side in the bubble, having you know educational programs where it's so important to make sure people understand and know the history behind these movements and understand the history behind policing. And so, you have to educate people. One, so there's a big opportunity there and then you figure out how to catalyze, kind of put into action. What people now know and organize and to make the effort so we want to make sure that there's an opportunity for players, of course, to be involved in very specific initiatives around Black Lives Matter and raising awareness and staying close to the ground.
And we're actually having opportunity to work with Alicia Garza who is phenomenal, one of the founders of Black Lives Matter and so making sure we're connecting with her, staying close to the ground and the grassroots level to be engaged. But also, to make sure players have an opportunity to get involved in, you know, different lanes. Some people immigration is [what] they're super passionate about. For some people it's voting. For some people it's houselessness and poverty, some people it's the school to prison pipeline. So making sure we have such a wide range of people who have passions, but so many of us I would, I would argue, you could argue 144 of us truly do care about some type of initiative some type of social justice work that we get an opportunity to get involved….We have a huge election coming up and we know voter suppression has been a way to keep people out of office to keep, you know, the diversity of this country from taking their voice back. And so that's going to be a huge, huge initiative this year to that we fight to make sure we can have, you know, a fair fight as Stacey Abrams always says, when we go to the polls we get opportunity for people to be able to have mail-in voting, all while we're in the middle of a pandemic.
And so, we are so, so honored to receive this award and know that it is, it will not go in vain. We will keep doing the work as we always have done the work. Thank you and appreciate it.