League commissioner confident about Seattle-Minnesota semifinal series resuming after postponement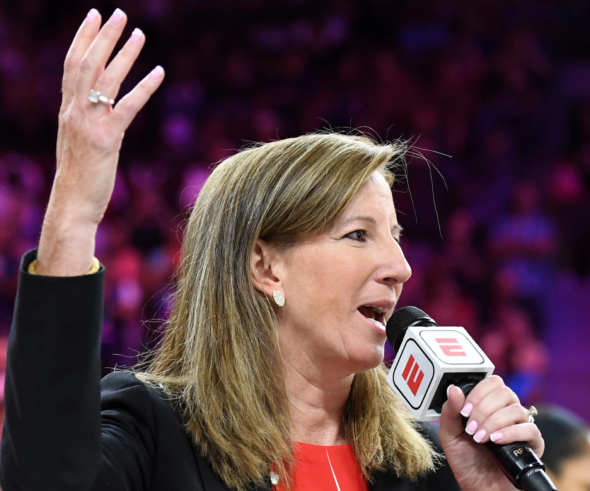 League Update, 6:47 p.m. ET: "All Seattle players are now cleared to play for tonight's game."
---
With a strong emphasis on following the advice of medical professionals and scientists, WNBA commissioner Cathy Engelbert addressed media via a teleconference on the status of COVID-19 testing in the league's bubble at IMG Academy in Bradenton, FL, following the postponement of the first game of the Seattle-Minnesota semifinal series this past weekend.  The rescheduled game is today following game two of the Connecticut-Las Vegas series.
Sunday afternoon, as the Sun and the Aces played the first game of their best-of-five semifinal series, the league announced several players from the Storm received inconclusive COVID-19 test results. The WNBA postponed the game "out of an abundance of caution," and players underwent isolation.
"We feel very good about having Seattle and Minnesota play tonight," Engelbert said on the call about resuming the Storm-Lynx series.
"One thing that some of you have heard me say probably is that with all the challenges we've had this year, this virus is, again, one that every day gets reset to zero," she said. "Even as I speak now, we could be getting results back that throw something else out of kilter that has nothing to do with what happened Sunday. We evaluate each one based on the facts and circumstances at the time and consult with experts."
Since Sunday, two of the three players who had inconclusive results have tested negative after additional testing. According to the league, there is another player "who most recently tested negative and is awaiting the results of a second test taken 24 hours apart from the first, pursuant to the WNBA health and safety protocols."
Player guests who enter the bubble must follow a 7-day stay-at-home order and receive a negative test result before they arrive at IMG. Upon arriving in Bradenton, they undergo testing again and go into a 7-day quarantine with daily testing before joining their party.
Not much has changed in the way the league handles safety protocols for COVID-19, according to Engelbert.
"As far as modifications, I would say obviously as the science has evolved and we continue to update our medical protocol if we get additional tools and things like that, we've made modifications," she said. "But we've pretty much stuck with the main health and safety protocols that we put out to the teams in late June and into July. Quite frankly, they've worked so, we haven't changed a whole lot. Our testing regimen has been similar. We've added some tools to that toolkit, but everything else has been similar."
The Sun beat the Aces 87-62 on Sunday. They resume their series today at 7 p.m. ET, followed by a 9 p.m. ET contest between the Lynx and the Storm. Both games will be televised on ESPN and in Canada on TSN5.