Lynx ousted in semifinals sweep by Storm but have much to look forward to in 2021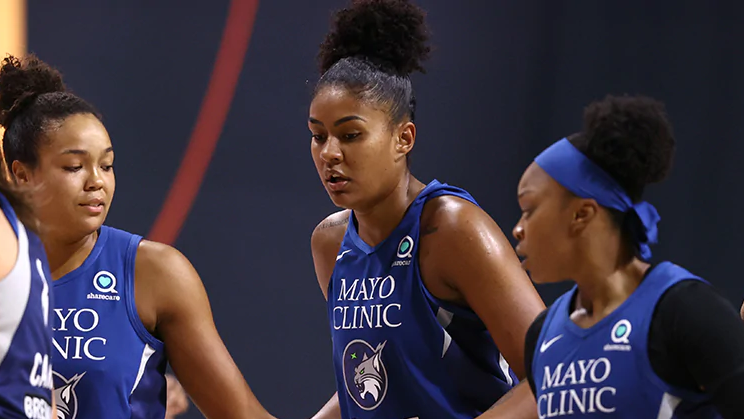 Earlier this season, a reporter asked Cheryl Reeve earlier this season if this year's Seattle Storm is reminiscent of her Minnesota Lynx teams that won four WNBA titles in seven years.  She answered affirmatively.
Reeve's "Core Four" group had four perennial All-Stars, future HOFers, a solid starting unit that was the envy of the league.  "We rode that group we had until the wheels fell off," recalled Reeve.
Seattle, on the other hand, has at least two future HOFers – Sue Bird and Breanna Stewart, and three complementary talents. Sunday afternoon, when the Storm and the Lynx met in game three of their best-of-five semifinal series, Seattle took control early and won 92-71, capping a 3-0 sweep.
"Stewart imposed her will on the game. (Bird) set the tone, and was in control of the game," Reeve said of Stewart's game-high 31 points, and the 16 points and nine assists from Bird.
Minnesota finished their Wubble season among the final four teams, making the semifinals for the eighth time in franchise history as the fourth seed and the league's fifth-youngest roster.  They did it without All-Star center Sylvia Fowles for all but six games because of an injured calf. They did it with a rookie starting point guard, two second-year players, and a roster that only six players were on the team a year ago.
Despite concluding on a three-game losing streak, "This is a special season, a special group and accomplished a lot together," Lynx reiterated.
Instead of the Core Four, perhaps a new "Core Three" has emerged.
Crystal Dangerfield won Rookie of the Year, and became the first time a second-round draft won the honor. She led Minnesota in scoring (16.2 points per game) and assists (3.6 per game), and started 19 of 21 games.
Last year's ROY, Napheesa Collier averaged nearly 15 points in the playoffs, including a team-high 22 in Sunday's loss. Brazilian forward Damiris Dantas averaged 18 points per game and had 16 points on Sunday – both players' respective games matured a great deal this summer.
Looking forward, next season, the Lynx can have a formidable frontcourt with a healthy Fowles back.  A Dangerfield-Odyssey Sims starting backcourt is intriguing, along with Rachel Banham as sixth woman or spot starter.
Second-year forward Bridget Carleton perhaps played herself into the team's nucleus, but she is a restricted free agent, and another club might lure her away. And it's too soon to pull the plug on 2020 first-round pick Mikiah Hebert Harrigan, who's still learning the pro game.
In addition, if 2019 draftee Jessica Shepard can regain her hard-hitting form she displayed before severely injuring her knee, Minnesota will be hard-pressed to be shortsighted by preseason predictors next year.
"You never come back exactly the same," stated Reeve in her GM tone. "There will be some people who won't be here (next season)."
That could mean guard Shenise Johnson, who will be an unrestricted free agent.  The veteran guard battled injuries all season and rarely showed her former self.  Ditto for guard Lexie Brown, who has been too up and down in her two years on the club.
The Lynx still needs another scorer, a sure-fire shot that can be counted on each night or another big.  Reeve says there's money to go after a top-notch free agent, but Minnesota's free agency history over the years has been spotty at best.
Another long off-season looms, but based on this year's performance, Minnesota's near future appears bright.
"Who knows what 2021 will look like," Reeve concludes.
Charles Hallman is the Twin Cities longest-tenured beat writer, covering the Lynx since its inception for the Minnesota Spokesman Recorder