Led by Damaris Dantas, Minnesota Lynx survive Phoenix to advance to semifinals of Playoffs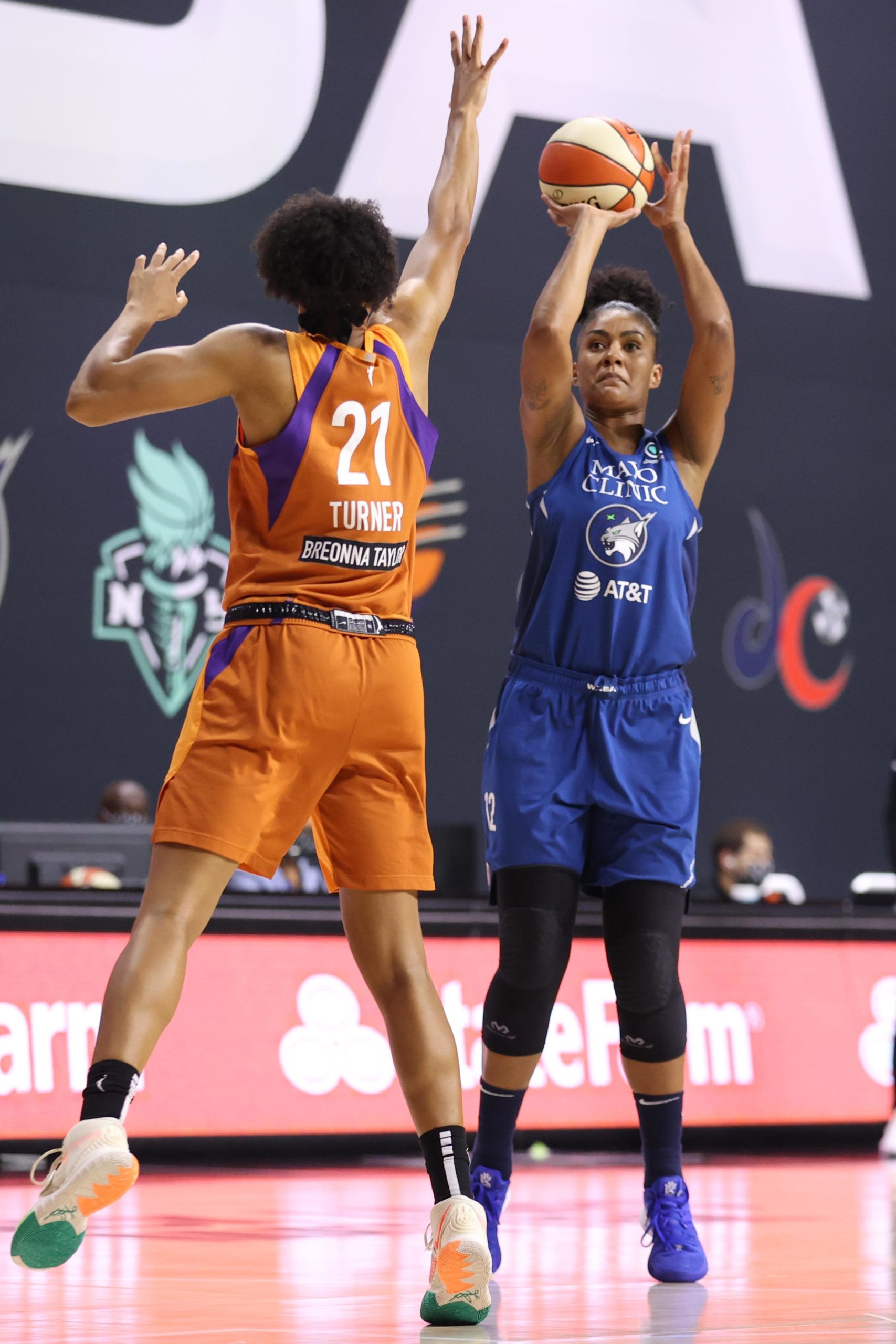 Whenever Minnesota and Phoenix get together, whether it's the regular season or a one-game, go home knockout, Ringo Starr's 1973 hit easily comes to mind:
You know it don't come easy.
On the 188th day since Breonna Taylor was shot and killed in her bedroom and the officers responsible for her death have not been arrested, Minnesota improved to 6-0 vs. Phoenix in postseason games after Thursday's 80-79 Lynx win in a second-round playoffs elimination game.
The winners erased a 12-point deficit, the 10th time that Minnesota has done so, and largest deficit in a playoff game since they came back from 13 down against the Mercury in 2014.
It wasn't easy as Minnesota's first half on Thursday was at times unwatchable.  "We got through the first quarter and we handled that second quarter miserably" and found themselves trailing at the half, 46-37, explained Coach Cheryl Reeve.
Crystal Dangerfield, who just hours before was honored as this year's Rookie of the Year, had a forgettable first half:  0-for-6 and only two made free throws.  The 5-5 guard told reporters afterward that nerves, along with Phoenix's harassing defense got the best of her.
"Crystal got better in the second half," Reeve said of the rookie's 15 second-half points, including nine in the fourth quarter, finishing with 17.
"Getting the award, winning the game, I am really excited," said Dangerfield.
Minnesota overcame a game-high 28 points from Phoenix's Diana Taurasi, including two converted four-point plays after getting knocked down as she nailed treys.
"I did my best to guard her.  She is real hard to guard," admitted Lynx guard Odyssey Sims of Taurasi.  But Reeve praised her guard's defense nonetheless, which included 10 deflections and four steals, the first Minnesota player since Sylvia Fowles in the 2017 Finals to have four steals.
"Her best stat line was her 10 deflections," praised Reeve.
The Lynx defense stiffened in the second half, limiting Phoenix to 33 points while outscoring them by 10 (43-33).
"It was our defense that won the game," stated Reeve.
But perhaps the defensive play of the game, at least for the Lynx came with 14 second left and hanging on to a one-point lead – Minnesota doubled Skylar Diggins-Smith at the baseline as she drove to the basket.  That stop became a Mercury turnover seconds later, giving the ball back to the Lynx with eight seconds left.
Damiris Dantas, who led Minnesota with 22 points, missed her only free throw attempts of the night, which gave Diggins-Smith a final try, but she misfired a 26-footer as time expired.
"It was a team effort," noted Dangerfield.
Rachel Banham led Minnesota reserves with 11 points in 15 minutes and shot 5-for-7 from the field.
Minnesota now faces Seattle Sunday (3 p.m. ET) in the best-of-three semifinals.
"There was a lot of emotions after a win like that," Reeve surmised about her young club.  "But we are not there yet."
"I didn't want to go home," concluded Sims.
Quick bit: Fowles in her first game back from a calf injury scored six points and grabbed four rebounds.  But the veteran center's rust from not playing for nearly a month clearly was evident Thursday, and she showed some rare frustration during the contest.  "It's not easy to come back," Reeve told a reporter who asked about Fowles' status.  "Sylvia has to be on the floor to help us."
Charles Hallman is the Twin Cities' longest-tenured beat writer, covering the Lynx since its inception for the Minnesota Spokesman Recorder.