Stanford freshmen show up and show out in season opener rout of Cal Poly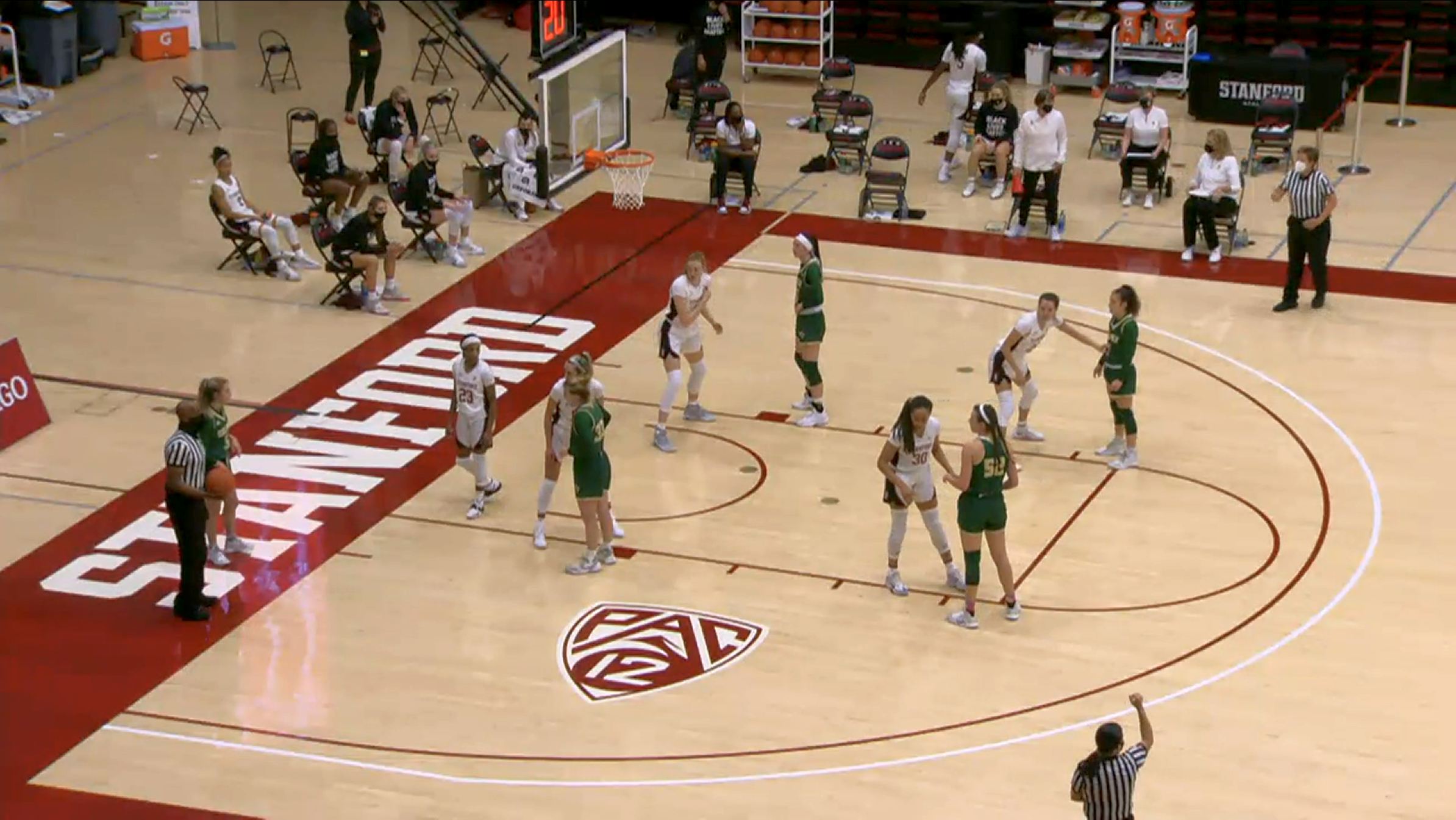 STANFORD, Calif. – With four returning starters and the nation's sixth-best recruiting class of three heralded freshmen, No. 2 Stanford is deep. Expectations are high for the Cardinal as they entered the season with their highest preseason ranking since the 2009-10 season.
During their season opener, Stanford routed Cal Poly 108-40, led the usual suspects: Junior guard Lexie Hull (19 points) and senior guard Kiana Williams (13 points, four rebounds), finished in double figures. However, the Cardinal also had valuable contributions from sophomore guard Haley Jones (16 points, 10 rebounds), returning from an injury that ended freshman her season after 18 games. But this year's freshman, led by Cameron Brink, made their presence known in a big way.
Brink, a 6-4 forward and a 2020 McDonald's All-American, nearly had a double-double in her debut with 17 points and nine rebounds in 17 minutes. Taking on point guard duties, guard Jana VanGytenbeek, had nine points and four assists in her first college game. Australian sensation, guard Agnes Emma-Nnopu, added eight points and an impressive seven rebounds to start her college career.
Hull attributes the trio's ability to acclimate to the Stanford program quickly to the team's veteran members' leadership: forward Alyssa Jerome, fifth-year guard Anna Wilson, and Williams. The three held small group conference calls with the freshman throughout the summer to prepare for the transition to college.
"I think it really comes down to the upperclassmen leadership in Alyssa, Anna, and Kiana and everybody in practice," Hull said about the freshman. "You see everybody coaching them, not only the coaches, we're coaching them on the side, and they're listening and learning really quickly. Before we could get on the court, they were in Zoom sessions with some of our assistant coaches learning the plays, learning our offense. So, they've really just soaked up our offense really fast. And that's something that is really hard to do on such a different schedule like this year."
Jones, who showed no signs of her injury as she tallied her double-double, is no stranger to the high expectations put on elite freshman as she came to Stanford as the No. 1 player in her class. She expects success for the newcomers this season.
"I have really high expectations for them, just from practice and even coming in this year," Jones said. "I think we all know how good that they are. And they all bring something very different to the game. So for Jana, she's been learning the point guard, which is one of the hardest positions to play because you're coming in, you have to be vocal, and you have to control the whole floor."
Jones also analyzed the play of Brink and Emma-Nnopu.
"Cam was being aggressive just as she should be. She was getting on the glass. She was finishing around the rim, which was exciting. She was running the floor….And then Agnes was getting on the glass. She made good decisions with the ball. She hit her three, which was awesome. And I think just for Agnes, her rebounding the ball is truly special. I don't think I've ever seen someone rebound the way that she does and just go after the ball like that."
While Stanford head coach Tara VanDerveer was not surprised by the freshmen's performance, she admitted that things don't always go as planned, even with talented players. She explained in comparing how she meticulously prepared for piano recitals but didn't perform as expected on the day of the actual event.
"They play with great poise," she commented about the first years. "They're ballplayers, you know, all three of them. And they've gotten great, great help from the upperclassmen."
With uncertainty hanging over the season due to the coronavirus pandemic, VanDerveer and the players are grateful to have the opportunity to get on the floor.
"I'm just really excited that our team got to play…and it was really fun to see everybody out there. She also thanked Cal Poly (0-1) for "staying healthy so that we could play them."
Stanford's previously scheduled second non-conference game vs. Pacific was canceled Wednesday afternoon. Stanford released the following statement:
After consultation with the Pac-12 Conference, Stanford University, University of the Pacific and the West Coast Conference, the Nov. 29 scheduled game between Stanford and Pacific has been canceled.

The decision was made after a suspension of team activity within the Pacific women's basketball program following a positive COVID-19 test.
The Cardinal begin Pac-12 play on Dec. 4 against Washington State.
Cal Poly senior forward Sierra Campisano led her team with 13 points and six rebounds. The Mustangs begin conference play in the Big West on Dec. 10, hosting New Mexico State.