With a young roster and newcomers, Maryland focuses on building consistency and taking advantage of depth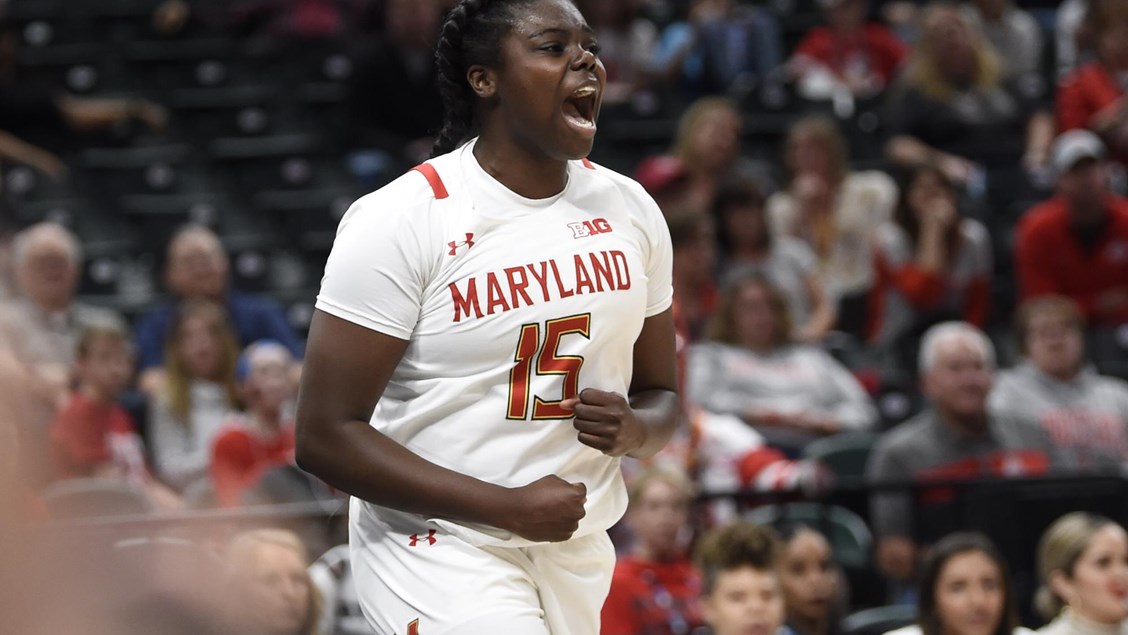 During Maryland's virtual media day on Thursday, head coach Brenda Frese's Zoom background was a picture from the last time they'd taken the floor. Confetti fell for Maryland after breezing past the Ohio State Buckeyes 82-65 in the Big Ten Championship.
That conference tournament took place four days before the NCAA cited Covid-19 as a public health threat and canceled all post-season play. Maryland was on a roll. Covid-19 interrupted a seventeen-game winning streak and conference and regular-season Big Ten championships for the Terps.
"When you sign up to come to Maryland, you know it's about winning and championships," Frese said about her team's success.
Unprecedented times won't have Frese treating the 2019-2020 season success as a one-hit-wonder.
During practice, after she slips on an Under Armour mask, she works toward building consistency for winning. The goal: a multi-faceted offense and sturdy defense to win games creating a blueprint will keep Maryland ahead during the 2020-2021 season.
The Terps are ranked No. 12 in the AP preseason poll and come second to No. 15 Indiana in the Big Ten Coaches preseason rankings. The Hoosiers return four of their starters. Frese believes her team can create a new scoring engine in hopes of staying among the elite.
"Everybody on this roster can score," she said. "When you go to the depth that we have, every single person can score the basketball. I'm excited for each and every one of them to have their opportunity this season.
Maryland's core returners, such as the 2020 Big Ten Freshman of the Year Ashley Owusu, will be an integral piece in that engine. She averaged 12 points, 1:2 turnover ratio, and started in 16 of the 32 games she played in. Owusu is on the Naismith Trophy Watch List and the Wade Watch List.
Owusu's class counterparts Diamond Miller and Faith Masonius, join her in taking their places on the floor. During their Big Ten tournament run, the sophomores stood out with their playmaking ability and defending the perimeter.
"Ashley and Diamond at the guard position have really shown ownership of taking over and making plays for this team, and it's been great to see that jump," Frese said.
Amid the ongoing uncertainty due to the pandemic, Maryland has created some off-court consistency that will benefit them in the long run.
"The chemistry on this team right now is where we'd be during January after you've spent time traveling together," Frese said. "They've been forced to keep their own bubble, and they've done a tremendous job on campus by sticking together."
Mandatory Wednesday night Zoom calls bloomed into impromptu group FaceTimes. Social distancing mandates turned into lounging six feet apart from teammates in the pool. Players get a first look at their teammates' life situations, such as freshman guard Taisiya Kozlova, who hasn't seen her Russian parents in over a year. The Terps have taken advantage of the adversity and engineered chemistry that will spill into how they work together.
"We're understanding everybody's life experiences and what they're going through," freshman guard Angel Reese said. "We're building that [chemistry] that way and coming together as a team, and it actually is helping a lot."
Reese entered Maryland as the number two player in the country but isn't swayed by old expectations. She's erasing her jitters, removing societal pressures, and focusing on bringing a national championship to her hometown.
"I'm in college now," Reese said. "I have to rebrand myself and remake myself. It's a fresh start."
The Baltimore-born point guard is equipped with a stellar two-way performance, relentless attack, and efficiency around the rim. Reese understands the responsibility of a freshman point guard: climbing the ranks and using her abilities as a pure basketball player to morph into Frese's needs for a winning team.
"I haven't had a freshman come in with the leadership qualities, vocalness, confidence that Angel comes in with," Frese said. "When we made teams had them go against each other, 98 percent of the time her teams never lost."
Frese also snagged transfers forward Chloe Bibby and guard Katie Benzan during the offseason. Bibby began her new basketball chapter after her former coach, Mississippi State's Vic Schaefer, left to fill in Texas' head coaching vacancy.
Before the season ended, Bibby averaged 9.1 points and 4.8 boards per game while adding depth at the perimeter as a three-point shooter. Her contributions at Maryland will be diverse, considering the Bulldog's pair of Final Four appearances and a regular-season SEC championship during her time with her former squad.
"Chloe is the only player to play in a Final Four game," Frese said. "She knows that Final-Four championship-style mentality that's needed on our roster. She extends that with three-point range, rebounding, and level of toughness of playing in the SEC."
Benzan, a three-time All-Ivy First honoree, transferred to Maryland after three seasons at Harvard, averaging 13.7 points with 3.3 rebounds, 4.1 assists per game. The Ivy League teams will not play at all this season. Her Harvard-honed talents are beneficial to the young squad.
She splits her time as a learner of Maryland's systems and a teacher of traditional basketball. The balancing act makes Benzan aware of her role as a vocal leader on the court to steady her contributions.
"Coach wants me to be a vocal leader," Benzan said. "I'm just ready to help my teammates succeed. Whether it's by leading them by example, I want to enjoy the year no matter how difficult it could become."
Frese's primary responsibility is building her team daily while knowing the season can abruptly end.
A fifteen-minute walk separates Maryland's basketball arena, the Xfinity Center, from the Cole Field House, where Covid-19 cases have engulfed Maryland's football team. Basketball season is a week away, and the turf Terps current circumstances are a close reminder of how fragile this season is.
"Every practice we get, we cherish," Frese said. "We're so close [to tipoff] right now that we're looking forward to it. You can't take a game or a practice off, so you don't know when it can ever change. We have to stay in the present tense."
Maryland will travel to Florida to participate in the 2020 Gulf Coast Showcase #BeachBubble, taking on the Davidson Wildcats in their season kickoff on November 27 at 2:30 p.m. E.T. Maryland will face ranked opponents such as No. 25 Missouri State and No. 14 Arkansas in the tournament.
"I'm really excited to get to Florida," Frese said. "But then I have to stop that thought and just focus on today."