Mya Hollingshed has a career day as Colorado topples No. 1 Stanford in overtime, 77-72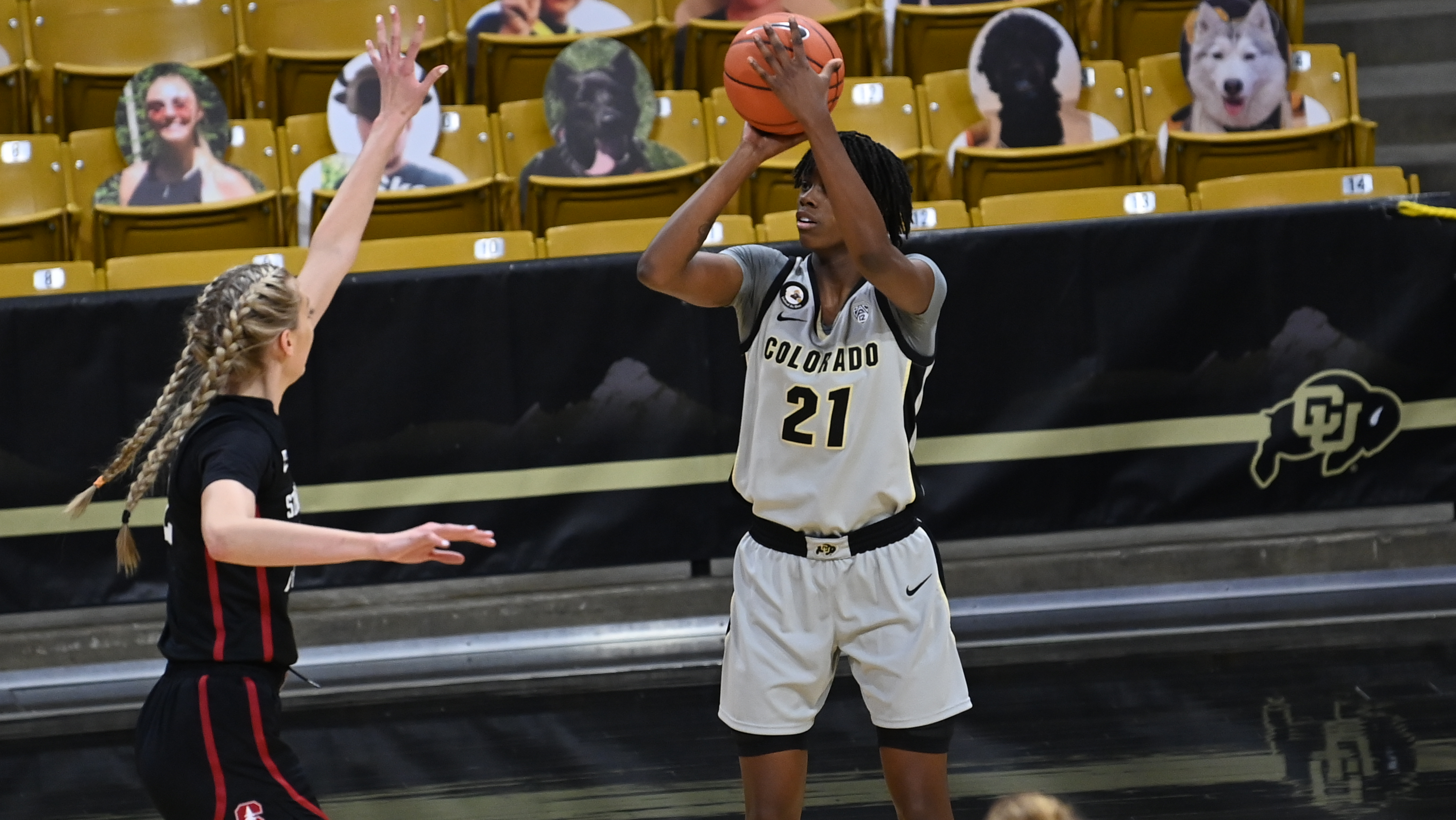 For the first time in program history, Colorado (6-6, 4-5 Pac-12) beat a top-ranked team with a 77-72 overtime triumph over No. 1 Stanford (11-1, 8-1) Saturday afternoon in Boulder. Led by senior forward Mya Hollingshed, who finished with a career-high 32 points plus 10 rebounds, Colorado outscored Stanford 10-5 in overtime to seal the historic win.
"We just really had the right mindset going into this game," Buffs head coach JR Payne said. "There was no fear. We were excited for the opportunity. We didn't start out necessarily the way that we wanted, but our team rallied and really dug in and stayed really positive with each other and with themselves and just continued to compete on every single possession."
In 2015, while coaching at Santa Clara, she also led an unranked team to a big win over the Cardinal. For her current squad, the victory also marked the first time ever that the Buffs, as a Pac-12 team, beat Stanford. The last time Colorado beat Stanford was in 2002 when the Buffs were in the Big 12.
The win's historic nature was not lost on Payne, who was happy for her players who had a chance to experience toppling a No. 1 team.
"It means a lot for all of us who have been here, especially to someone like Mya Hollingshed, who has been here for four years," Payne said. "And they haven't been the easiest years. There's been those close games that we thought we could have won and didn't or been so close."
On Sunday, Colorado gave the Cardinal their toughest test of the season, scoring more against the top team in the country than any other squad so far this season. Previously, no team had scored more than 63 points vs. Stanford.
While the visitors owned the first quarter, the Buffs came back strong as the first ten minutes ticked down and matched their opponent point for point in the second period, as both teams put up 15 points each. Heading into halftime, Stanford had a slim 32-29 lead.
As the teams battled in the second half, excellent defense from both squads reigned, along with some key three-point shots from Colorado freshman guard Frida Formann that helped her team stay neck and neck with Stanford. Formann's shots and offense from Hollingshed, junior forward Peanut Tuitele, and sophomore guard Jaylyn Sherrod were monumental in the waning moments of overtime.
Last season Colorado suffered defeat in two nail-biters against Stanford. Sherrod was happy to get a win finally against the Pac-12 power: "It was time we put together 40 minutes of solid basketball."
Formann and Tuitele joined Hollingshed in double figures. Formann finished with 15 points plus 6 rebounds, while Tuitele added 10 points and 8 rebounds.
Stanford head coach Tara VanDerveer praised Colorado and commented on her team's defensive failures against Hollingshed.
"They played very inspired basketball," VanDerveer said. "We had two really close games with them last year, games that easily could have gone either way. And I think this game was kind of the third game like that, where this game could have gone either way. But we really did not defend Hollingshed worth a darn. I mean, she had her way with whoever was guarding her."
Stanford had three players in double figures, led by junior guard Lexie Hull with 19 points and five rebounds, sophomore guard Haley Jones (16 points, 7 rebounds), and freshman forward Cameron Brink (13 points, 7 rebounds). Fifth-year guard Anna Wilson pulled down 10 rebounds for her team.
Stanford, a team that has not been able to play on its home court since November due to a health mandate prohibiting contact sports in Santa Clara County, travels to Los Angeles next for games against UCLA (Jan. 22) and USC (Jan. 24) next weekend.
Colorado goes on the road for games at Arizona State (Jan. 22) and Arizona (24).