Kim Mulkey leaves Baylor after 21 years and three national championships, heads to LSU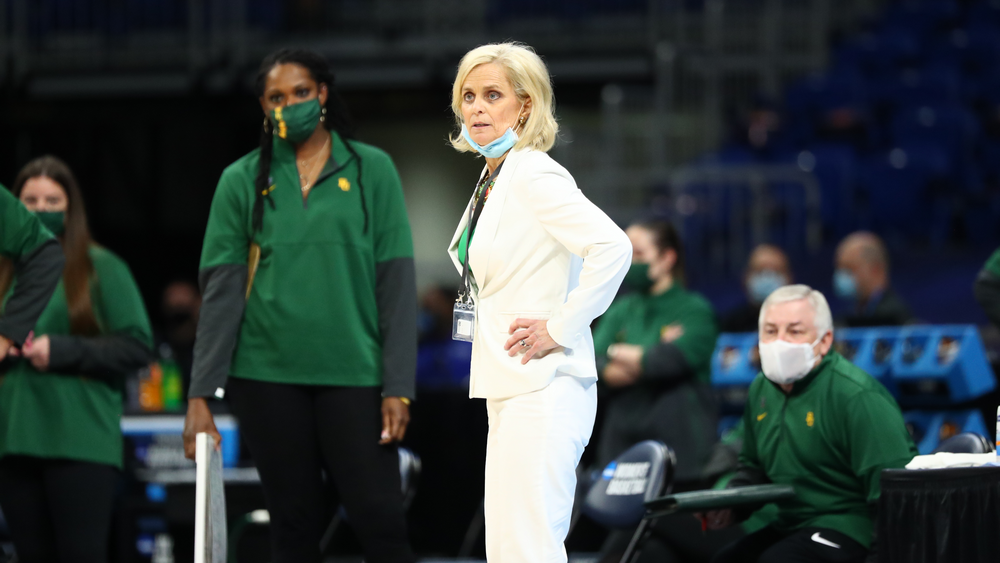 After 21 years and three national championships, Kim Mulkey leaves Baylor to take over the Louisiana State program. The Hall of Fame coach, who led the Lady Bears to unprecedented heights and solidified the program as a perennial national contender, takes the reins of a program in her home state after former head coach Nikki Fargas resigned. According to an Associated Press report, Fargas is set to become the president of the WNBA's Las Vegas Aces.
"Under Coach Mulkey's leadership, Baylor women's basketball has won every Big 12 Conference regular-season title since 2011 and added 11 Big 12 tournament titles, bringing home 23 Big 12 trophies during her 21-year career," Baylor Vice President and Director of Intercollegiate Athletics Mack B. Rhoades IV said. "The 2005 NCAA Championship showed the world Baylor could compete at the highest level nationally, and she added two more national championships in 2012 and 2019, placing Baylor alongside UConn, Tennessee and Stanford as the only programs to win three national titles. She did all of this while achieving a 100 percent graduation rate among student-athletes who started and finished their collegiate careers at Baylor.
From the LSU release:
After three national championships as a head coach, two as a player, and one as an assistant coach, Kim Mulkey is coming home.

Mulkey, the most successful player-turned-coach in college basketball history, has been named head coach of the LSU women's basketball team, Director of Athletics Scott Woodward announced on Sunday.

A native of Tickfaw, La., Mulkey comes to Baton Rouge as the most accomplished head coaching hire in LSU history. She returns to Louisiana as a six-time national champion and nine-time Hall of Famer who is set for induction into the Naismith Memorial Basketball Hall of Fame in May.

"Kim Mulkey is a champion and a Hall of Famer, and we are thrilled to welcome her home," said Woodward. "Her accomplishments are unprecedented, her passion is unrivaled, and her commitment to winning in all aspects of life – in the classroom, on the court, and in the community – is unparalleled. We look forward to working with her as she instills that championship culture at LSU."

Mulkey will be introduced at a press conference on Monday at 5 p.m. in the Pete Maravich Assembly Center. Fans are invited to attend her introductory press conference.

Mulkey, who also won an Olympic Gold Medal in 1984, is the only person in college basketball history – men's or women's – to win national championships as a head coach, assistant coach and a player. She's one of just three coaches (Bobby Knight and Dean Smith) in college basketball history to win national titles as a player and a coach.

In taking over for the Tigers, Mulkey becomes the eighth head coach in LSU women's basketball history. Mulkey, who became the fastest coach in Division I history to reach 600 wins (needing only 700 games) in 2020, brings an overall head coaching mark of 632-104 to LSU. Her 600 wins in 700 games bettered the previous mark held by Adolph Rupp of Kentucky, who needed 704 games.
Kim Mulkey's coaching record:
YEAR
SCHOOL
POSITION
RECORD
POSTSEASON
2020-21
Baylor
Head Coach
28-3
NCAA Elite 8
2019-20
Baylor
Head Coach
28-2
Big 12 RS Champions
(No postseason due to COVID-19)
2018-19
Baylor
Head Coach
37-1
NCAA Champion
2017-18
Baylor
Head Coach
33-2
NCAA Sweet 16
2016-17
Baylor
Head Coach
33-4
NCAA Elite Eight
2015-16
Baylor
Head Coach
36-2
NCAA Elite Eight
2014-15
Baylor
Head Coach
33-4
NCAA Elite Eight
2013-14
Baylor
Head Coach
32-5
NCAA Elite Eight
2012-13
Baylor
Head Coach
34-2
NCAA Sweet 16
2011-12
Baylor
Head Coach
40-0
NCAA National Champions
2010-11
Baylor
Head Coach
34-3
NCAA Elite Eight
2009-10
Baylor
Head Coach
27-10
NCAA Final Four
2008-09
Baylor
Head Coach
29-6
NCAA Sweet 16
2007-08
Baylor
Head Coach
25-7
NCAA Second Round
2006-07
Baylor
Head Coach
26-8
NCAA Second Round
2005-06
Baylor
Head Coach
26-7
NCAA Sweet 16
2004-05
Baylor
Head Coach
33-3
NCAA National Champions
2003-04
Baylor
Head Coach
26-9
NCAA Sweet 16
2002-03
Baylor
Head Coach
24-11
WNIT Finals
2001-02
Baylor
Head Coach
27-6
NCAA Second Round
2000-01
Baylor
Head Coach
21-9
NCAA First Round
1999-00
Louisiana Tech
Associate Head Coach
31-3
NCAA Elite Eight
1998-99
Louisiana Tech
Associate Head Coach
30-3
NCAA Final Four
1997-98
Louisiana Tech
Associate Head Coach
31-4
NCAA National Runner-Up
1996-97
Louisiana Tech
Associate Head Coach
31-4
NCAA Sweet 16
1995-96
Louisiana Tech
Assistant Coach
31-2
NCAA Elite Eight
1994-95
Louisiana Tech
Assistant Coach
28-5
NCAA Sweet 16
1993-94
Louisiana Tech
Assistant Coach
31-4
NCAA National Runner-Up
1992-93
Louisiana Tech
Assistant Coach
26-6
NCAA Elite Eight
1991-92
Louisiana Tech
Assistant Coach
20-10
NCAA First Round
1990-91
Louisiana Tech
Assistant Coach
18-12
NCAA First Round
1989-90
Louisiana Tech
Assistant Coach
32-1
NCAA Final Four
1988-89
Louisiana Tech
Assistant Coach
32-4
NCAA Final Four
1987-88
Louisiana Tech
Assistant Coach
32-2
NCAA Champions
1986-87
Louisiana Tech
Assistant Coach
30-3
NCAA National Runner-Up
1985-86
Louisiana Tech
Assistant Coach
27-5
NCAA Elite Eight
Louisiana Tech Record: 430-68 (.863)
Baylor Record: 632-104 (.859)