WNBA Releases 2021 Schedule; Regular Season Begins Friday, May 14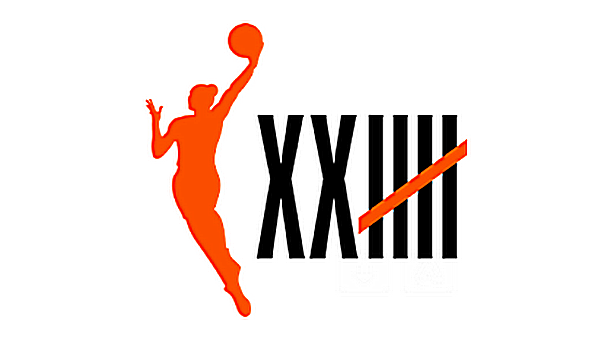 The WNBA's commemorative 25th season tips off on Friday, May 14 beginning a weekend slate where all 12 teams will see action. The league marks the season with a campaign called Count It, special Nike-designed uniforms, and a redesigned Wilson basketball. Per a league release: "Count It signifies that the WNBA is not done 'counting' achievements because there are many more to come as WNBA players continue to excel and defy expectations. The WNBA Draft takes place this week on Thursday at 7 pm ET and will be televised on ESPN.
The first game regular-season game on Friday, May 14 features the New York Liberty hosting the Indiana Fever at Barclays Center at 7 pm ET. Other games that evening include Connecticut vs. Atlanta (7:30 pm ET); Phoenix vs. Minnesota (9 pm ET); Dallas vs. Los Angeles (10:30 pm ET).
Saturday's games:
Chicago vs. Washington, 1 pm ET
Las Vegas vs. Seattle, 3 pm ET
Sunday's games:
New York vs. Indiana, 2 pm ET
Phoenix vs. Connecticut, 7 pm ET
More on the season from the league:
Due to the ongoing pandemic and the Olympic break, instead of the originally planned 36 games, the 2021 regular season will see each team play 32 games – 16 at home and 16 on the road.
Each team will play three games apiece versus 10 opponents, and two games – one home and one away – against one team from the opposite conference.
The regular season, currently scheduled to conclude on Sunday, Sept. 19 and be followed by a traditional playoffs and Finals format, will include a break from July 15 through Aug. 11.
The schedule also incorporates steps to reduce the number of trips teams take, including the use of a "series" model whereby, in some instances a team is scheduled to play twice in one market, with those games being scheduled consecutively.
Information on fan attendance during the 2021 WNBA season will be provided by individual teams in conjunction with league and federal, state and local health and safety protocols.
Additionally, the WNBA recognizes that it may be necessary to postpone or cancel some games due to the pandemic and has, where possible, built flexibility into the schedule and is prepared to adjust as necessary.
Select elements for the WNBA's historic 25th season include the inaugural Commissioner's Cup, the WNBA All-Star Game, selection of The W25, the greatest game-changing players since the league's inception in 1997, and the unveiling over the second half of the season and playoffs of the WNBA's 25 Greatest Moments ranked from No. 25 through No. 1. Details on these season elements will be forthcoming.