Dynamic trio of Laney, Ionescu and Onyenwere give the New York Liberty an electric start to the season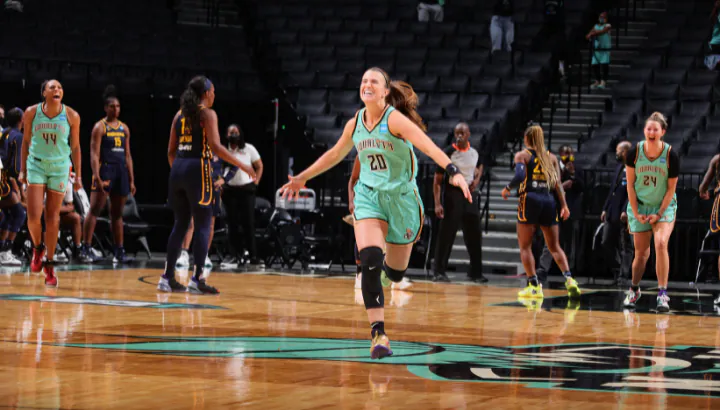 Opening Night Results
| | | | | | |
| --- | --- | --- | --- | --- | --- |
| | Q1 | Q2 | Q3 | Q4 | FINAL |
| LIBERTY | 26 | 21 | 21 | 22 | 90 |
| FEVER | 21 | 21 | 17 | 23 | 87 |
Betnijah Laney, Sabrina Ionescu, and rookie Michaela Onyenwere made a good impression on opening night as the New York Liberty kicked off the 2021 WNBA season in a new location, Barclays Center, in front of a limited capacity of 1,139 fans. In the 90-87 win over the Indiana Fever, Ionescu hit the game-winning shot, nailing a trey. She said she dreamed about such a moment the night before.
"I actually had a dream about it last night," Ionescu said postgame. "I try not to think about basketball too much before the game because I get nervous. But I 100% had a vision of hitting the game-winner. And when we were tied, I was smiling because it was too good to be true. I'm glad my coaches and team believed in me, and I'm just so happy to get this win."
Ionescu, along with Laney and Onyenwere, led New York in a close contest that saw Indiana come close to winning in the last minutes of the last quarter after being tied with the home team, 47 all, at halftime. The Fever even outscored the Liberty 23-22 in the final ten minutes.
There were two lead changes in the final frame. Indiana entered the last ten minutes down by four points, a deficit that increased to eight points before the visitors began to claw back with balanced scoring production from Jessica Breland, Kelsey Mitchell, Teaira McCowan, and Jantel Lavender.
With a layup from Lavender at 1:56, the Fever took the lead 82-81. A jump shot from Mitchell increased the advantage to three. Then it became the Ionescu show. With two made free throws and a 25-foot buzzer-beating three-pointer, the second-year guard sealed the deal for the Liberty.
Onyenwere, a product of UCLA, began the game on a high note with a trey herself, scoring seven points in the first quarter and accumulating double digits (10) by the break. She finished with 18 points and five rebounds.
When asked if he had qualms about starting a rookie, New York head coach Walt Hopkins was not flummoxed.
"If anybody in the league isn't scared of starting a rookie, it's me," Hopkins said. "Basically, my whole team was rookies last year. Michaela earned it. She earned it. She allowed us to play the way that we want to play, both our ability to slash, guard bigger players and her ability to knock down the three. So, it was a pretty easy decision at the end of the day, just from a matchup perspective and in terms of the players we're missing right now. But yeah, she stepped up really, really big for us."
Onyenwere had the best rookie debut in Liberty history. Previously, Kia Nurse held the New York rookie debut scoring record with 17 (Aug. 20, 2018, at Chicago).
Ionescu was also impressed with her former Pac-12 foe: "She was an absolute killer. I've played against her for many years in the Pac-12 and I am so happy that she's on our team."
Laney was also on fire, as the veteran who arrived at the Liberty in the offseason put the team on her back during many moments with 11 first-quarter points and 20 by halftime. The WNBA's 2020 Most Improved Player led all scorers with 30 points plus five rebounds.
"She's a really, really special addition for us," Hopkins said. He added: "She's a really good leader, really good teammate, extremely coachable. We lucked out that she chose us in free agency."
Ionescu, who only played three games last season before a season-ending ankle injury, picked up where she left off when she was averaging 18.3 points per game. Against the Fever, she put up 25 points, dished out 11 assists, and pulled down six rebounds, a fitting feat for the NCAA's all-time leader in triple-doubles.
For Indiana, Mitchell led her team with 23 points and four rebounds. McCowan added a double-double of 22 points plus 16 rebounds.
Stats Digest
Points in the Paint: Fever 50 (25/50), Liberty 26 (13/26)
2nd Chance Points: Fever 22 (10/18), Liberty 5 (2/5)
Fast Break Points: Fever 16 (7/9), Liberty 13 (6/7)
Biggest Lead: Fever 4, Liberty 11
Lead Changes: 10 Times Tied: 11
Notes
New York's victory is the team's first opening night win since 2017 (Washington Mystics 87-76).
New York shot 47.0% from the field and 50.0% from beyond the arc. The team also shot 83.3% from the charity stripe.
The Liberty had 28 rebounds, 20 assists, 5 steals, and 2 blocks.
Officials: Fatou Cissoko-Stephens, Randy Richardson, Blanca Burns.
Injuries: New York – Leaonna Odom (left Achilles), Jocelyn Willoughby (left Achilles surgery/out for season); Indiana – Lauren Cox (right knee/not with the team), Aaliyah Wilson (left foot/not with the team).