Lynx preview: Sylvia Fowles and Minnesota are revved up; key questions this season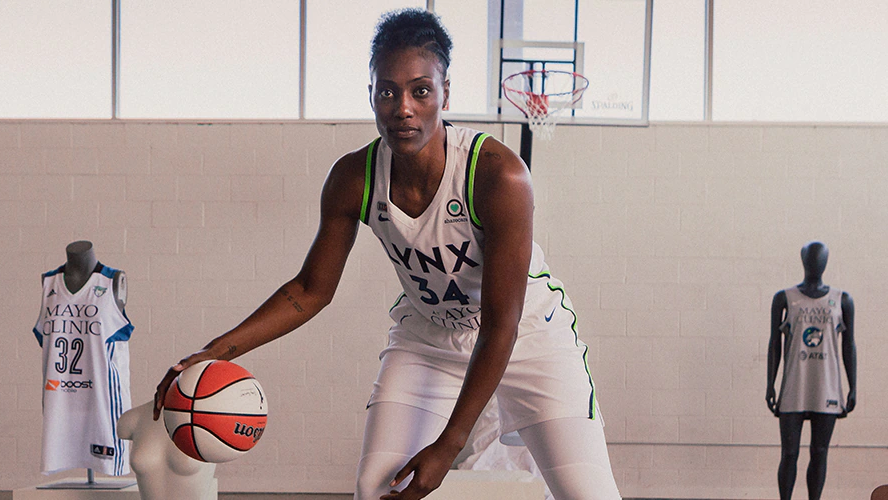 Sylvia Fowles can't wait for the 2021 season to begin.
The three-time Defensive Player of the Year and the league's all-time rebounding leader only played seven games last season due to a calf injury, the first time the 6-6 center missed games since she joined Minnesota in 2015.
"I am healthy," she recently declared to reporters during the team's media day.
As one of the league's dominant post players, Fowles is expected to revert to her old scoring self – she is 513 points away from reaching 6,000 career points.  Minnesota head coach Cheryl Reeve said that she hopes to limit the veteran's minutes, keeping her fresh throughout the season, much to Fowles' chagrin. But the LSU alumna admits that she isn't getting younger.
"I might not have to do too much scoring because I have scorers around me," said Fowles proudly.
During the offseason, the Lynx was among the league's active clubs in free agency.  They signed shooting guard Kayla McBride from Las Vegas and guard/forward Aerial Powers from Washington – both veterans are being counted on to spread the floor. The team also added Natalie Achonwa from Indiana to provide frontcourt support.
"I am looking forward to Natalie's aggressiveness, AP's energy, and K-Mac's shooting ability beyond the arc.  All three players will help me in the inside," Fowles exclaimed.
The Lynx's 2021 top draft pick, Rennia Davis, was having a great camp before being diagnosed with a stress fracture and is sidelined indefinitely. Reeve envisioned the 6-2 rookie forward from Tennessee fitting in and getting minutes, helping to bolster Minnesota's reserves corps, which includes guard Rachel Banham, forwards Bridget Carleton, and Jessica Shepard.
"This is definitely a new situation for me. I don't miss games or practice," admitted Davis.  Contrary to reports that she perhaps injured her foot during postseason play in her senior season, the player instead said she has been dealing with foot pain for most of the season. It only got unbearable after she got to camp.
"I've been playing on it, and it hurt here and there…but it got pretty bad the first and second day of training camp," she reiterated.
As deep and talent-laden the Lynx appears on paper to be this season, looking to improve on last season's surprising fourth-place finish, losing to eventual champions Seattle in the semifinals, the team is still missing key pieces – Napheesa Collier and McBride are finishing up their overseas play and most likely will miss at least two games due to league COVID protocols.
The Lynx re-signed guard Linnae Harper on Thursday.
Minnesota's probable starters:
C – Fowles
F – Achonwa, Damiris Dantas
G – Banham, Crystal Dangerfield
Top reserves – Carleton, Shepard
Here are our four key questions this season for the Lynx:
Can Dangerfield, last season's Rookie of the Year, build on last season's success, as did Collier, the 2019 ROY did. Reeve said she wants the 5-5 guard to recognize defenses better, get the ball to scorers and improve defensively.
Can Dantas, who had the best season in her career, prove that last season wasn't a blip.
How much time will it take to fully incorporate Collier and McBride into the fold and not disrupt the chemistry Minnesota developed during camp. "I think we will be OK," said Fowles.
Can the Lynx, who undertook a serious retool, make a serious run at the championship after a couple of seasons: Oly Fowles remains from the team's four-title winning run.
Minnesota opens the 2021 regular season at home on May 14 against Phoenix with limited capacity for season ticket members and fans at the Target Center. The game will be televised on CBS Sports Network.
"We are so excited to welcome back our fans to Target Center," Lynx president of business operations Carley Knox said. "There's a lot to look forward to this season with the WNBA's 25th anniversary and playing in front of the best fans in the WNBA. We've missed them and the energy they bring to 'our house."
Lynx fans can watch all 32 regular-season games on either Bally Sports North (BSN), Bally Sports North PLUS, ESPN2, ESPN3, CBS Sports Network, NBA TV, Twitter, Facebook, and new this season, Amazon (Prime Video). See the full Lynx schedule here.