A'ja Wilson leads the U.S. over Nigeria 81-72 in Olympics opener, Sue Bird hits assist mark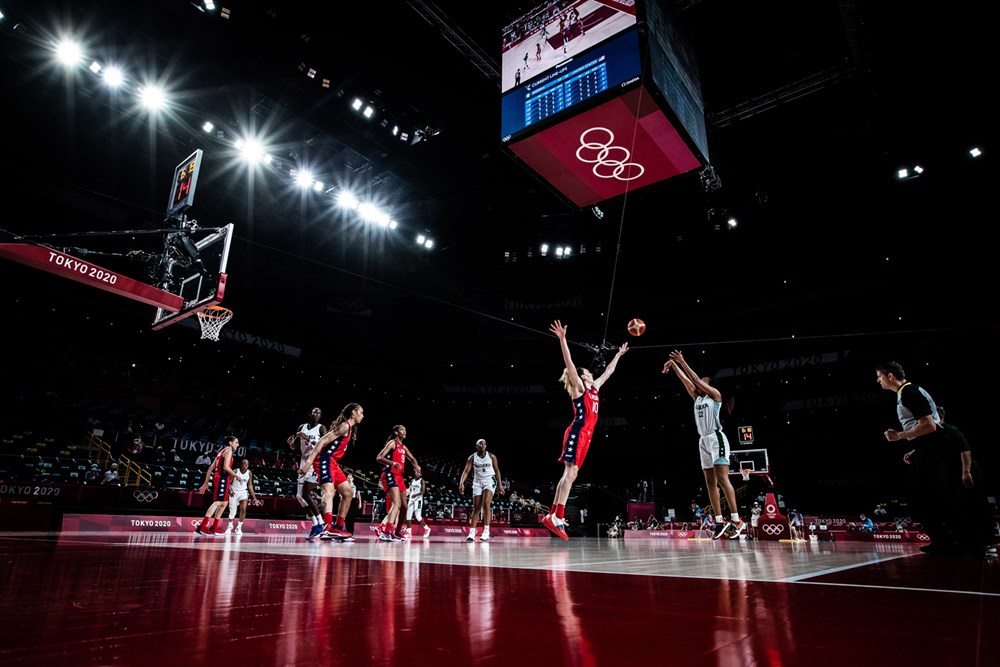 Led by first-time Olympian A'ja Wilson, the U.S. held off a determined Nigerian squad for an 81-72 victory in the first game of the Tokyo Summer Olympics preliminary round for both teams. The victory marked the 50th straight win for the U.S. senior women's national team.
"We knew Nigeria was going to be very tough on us," Wilson said. The U.S. beat the Nigerian team in an exhibtion game last week in Las Vegas before both squads headed for Tokyo.
"They were going to be everywhere defensively, so we just needed to take care of the basketball."
While Nigeria earned a 20-17 lead in the first ten minutes, the second frame was a different story. Even with copious turnovers, the U.S. managed to pull away from D'Tigress and hold their opponent scoreless for over eight minutes. With 17 unanswered points, the U.S. gained a double-digit lead, 37-25, after a trey from Breanna Stewart. The momentum continued. However, Nigeria's Adaora Elonu finished the half with a three-pointer of her own to help her team close the deficit. Heading into the break, the U.S. led 44-32.
Team USA maintained its lead in the third period, outscoring Nigeria 26-18. And while D'Tigress never overtook the U.S. they did manage to get within eight points late in the fourth period. The U.S. responded immediately to keep Nigeria at bay.
"We knew that we had to go out there and play our hardest game and it wasn't gonna be pretty," Wilson said. "We just went out there and tried to communicate. Really focused on the defense as we felt like if we could slow them down and rebound the basketball, then we could just play our game."
Wilson finished with a double-double of 19 points and 13 rebounds. Brittney Griner also earned a double-double tallying 13 points and ten rebounds. Diana Taurasi, returning from a hip injury recovery period, added 10 points. Five-time Olympian and four-time gold medalist Sue Bird dished out an impressive 13 assists. During the game she hit the century mark for assists in her Olympic career, finishing the game with 102.
"Sue is like fine wine and gets better with time," USA head coach Dawn Staley said. Previously, Bird's game-high for assists was nine, feats she accomplished during the Rio Olympics in 2016 and at the London Games in 2012.
 "The significance of it is that I always just try to make the right play at all times," Bird said about her accomplishment.
With her 11th vs Nigeria, @S10Bird reached 100 assists for her Olympic career ??#USABWNT x #Tokyo2020 pic.twitter.com/ZkSJcJMY55

— USA Basketball (@usabasketball) July 27, 2021
Ezinne Kalu paced Nigeria with 16 points and six rebounds. Temple Univesity graduate Victoria Macaulay added 11 points. Former Arizona State standout Promise Amukamara scored 10 points and dished out four assists. Texas A&M graduate Elonu, a member of the 2011 NCAA Division I national championship squad, contributed 10 points.
The U.S. returns to action in Group B on Friday with a game against Japan. Nigeria plays the same day with a matchup against France.
Group A: Canada, Serbia, South Korea, Spain
Group B: France, Japan, Nigeria, USA
Group C: Australia, Belgium, China, Puerto Rico