USA runs past Nigeria 93-62 in final exhibition before Tokyo Olympics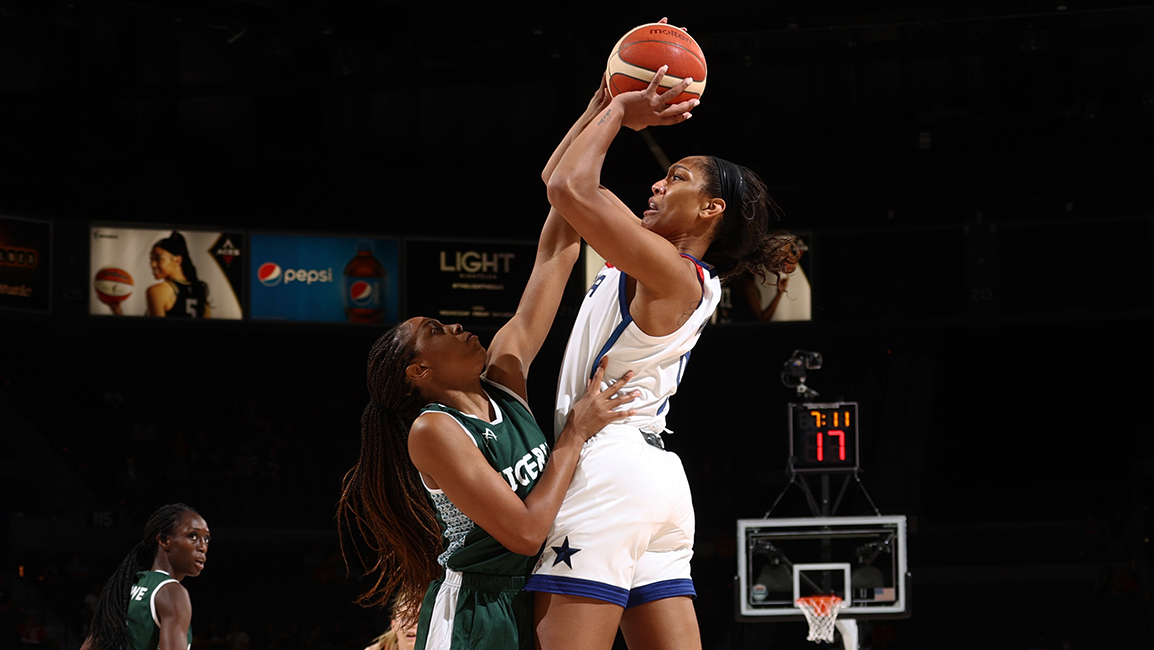 The USA Women's National Team ran past Nigeria 93-62 Sunday afternoon in Las Vegas before heading to Tokyo for the Summer Olympics. The win capped a three-game exhibition schedule for Team USA that included losses to Team WNBA during the league's All-Star Game and a defeat at the hands of the Australian National Team on Friday.
The win against Nigeria's D'Tigress was a welcome relief for head coach Dawn Staley.
"You dropped two games. You got some of the fiercest competitors in the locker room. [It was an] unfamiliar feeling," Staley said. "We had a good practice yesterday when we got a chance to work on some things, sharing the basketball and moving the basketball from side to side and also just getting the ball to our bigs, and once we played inside out, we just got into a rhythm that really helped us throughout the game."
Led by Breanna Stewart, the U.S got off to a fast start on a 14-0 run, outscoring the Nigerians 29-15 in the first quarter shooting at a 50% clip from the field, 80% from the free-throw line, and outrebounding 14-4.
D'Tigress earned plenty of clean looks, but they failed to capitalize with made shots. At the half the, the home team had a comfortable 55-34 advantage. The teams played a close third quarter, however, the U.S still outscored the visitors 18-17 and went into the last frame leading 73-51.
While Los Angeles Sparks forwards and Nigerian-American players Nneka and Chiney Ogwumike have not received approval from FIBA to play for Nigeria, they were listed on the D'Tigress box score and sat on the bench with the visiting team.
USA guard Diana Taurasi missed her third straight game, all the tune-ups for USA Basketball in Las Vegas due to a hip muscle strain. The games in Tokyo will mark her fifth Olympic appearance.
Five USA players finished in double figures, led by A'ja Wilson, who scored 16 points and grabbed ten rebounds.
"Nigeria definitely allowed us to get away from schemes and play, just play basketball the way we know how," Wilson said about the game. "I think we looked very, very good in the beginning. It's still early, and we're still getting used to each other, but when it comes to understanding basketball and just playing, we're very good at it.
Breanna Stewart added had 14 points and six assists; Brittney Griner contributed 12 points plus six rebounds; Jewell Loyd put in 10 points, and Sylvia Fowles scored 10 points.
UCLA product Atonye Nyingifa led Nigeria with nine points.
On the Nigerian side, two-time USA gold medalist Ruthie Bolton joined the team as an assistant coach. Staley, a former teammate of Bolton on USA squads, said Bolton is "someone that truly loves basketball" and lauded her decision to join the D'Tigress staff at the request of head coach Otis Hughley Jr.
"They're so receptive to what she brings to the table."
Olympic Schedule
Olympic women's basketball play begins Sunday, July 25 with preliminary round play that lasts until Aug. 2. The USA opens with a matchup against Japan on Friday, July 30. Nigeria follows that game with a contest against France.
Women's basketball national teams participating in the Olympics:
Group A: Canada, Serbia, South Korea, Spain
Group B: France, Japan, Nigeria, USA
Group C: Australia, Belgium, China, Puerto Rico
Additional Quotes
USA head coach Dawn Staley (University of South Carolina)
Were you pleased with the team's effort today?
Yeah. The energy, the effort, the deliberateness was all apparent today and it just goes to show, getting more and more prep time in will help. I know that they don't like losing and losing will help you focus a lot quicker and get the type of result that we wanted today.
You have about a week once you get to Tokyo to settle in and practice before your first game, also against Nigeria. Are you looking forward to the break to be able to work on some things?
Yes. We're looking forward to it. For some of our players, this is their fifth or sixth game in eight days. So, getting them some rest and getting back to it will help our ability to focus in and prepare for the next two weeks. Because this is why we worked so hard over the last five years, for this moment. And I think we'll seize that moment.
Brittney Griner (Phoenix Mercury)
Does it feel good to be getting ready to hop on a plane with a win?
The win … definitely (having a) 12-hour flight over with a win is definitely better than a loss. And we just wanted to take a step in the right direction before we get over there.
Do you feel the team is starting to gel a little more?
I think this is day four, day five, it's been a whirlwind this week. But we're getting ready, we're only focusing on USA Basketball now. You know, all the WNBA stuff is gone. We're able to just have more days where we can actually mesh together. And those days are really crucial for us because we have a short amount of time. There's no high-lows in the season right now. We have to get on that high and roll with it.
How important was it for you to come out strong today?
Definitely we wanted to set the tone. You know, we play Nigeria first when we get there. So, we definitely want to set a tone. But you know, we can't just say oh, 'we did good now.' When we get there, we have to bring it even more because we know they're going to respond. We have to respect every team that we play.
Jewell Loyd (Seattle Storm)
Does it feel better to close out here in Las Vegas with a win before heading to Tokyo?
Yeah, definitely. You know, no one likes to lose. And so, knowing that we got a win, but also knowing that we played to our standard, our level, makes it a lot easier. We needed a feel-good thing. And this definitely is momentum heading into Tokyo.
You now fly to Tokyo and have about six days of practice before meeting Nigeria again. Will you be even more prepared?
Yeah, definitely. Every day here, regardless of wins or losses, we got better with something. Heading into our practices, we'll work some things out, add more things. And anytime you have a chance to be on the court with each other, it's a plus for us because we didn't have a normal training camp with all of us. But we're excited to be on the court and get better and face them again next week.
A'ja Wilson (Las Vegas Aces)
Did it seem as if your team was clicking a little more today?
Oh yeah. Nigeria definitely allowed us to get away from schemes and play, just play basketball the way we know how. I think we looked very, very good in the beginning. It's still early and we're still getting used to each other but when it comes to understanding basketball and just playing, we're very good at it.
After playing so many games to close out the WNBA season and then the three this week, are you looking forward to getting to Tokyo and getting in some good practices ahead of your opening game?
We're kind of used to this. When it comes to the WNBA schedule, we play a lot. So, the schedule did play a little bit of a factor. When it comes to just practicing all week, we need it.