U.S. continues Olympic dynasty, earns 7th consecutive gold with 90-75 win over Japan
The U.S. finishes Olympic competition in customary fashion, with the gold.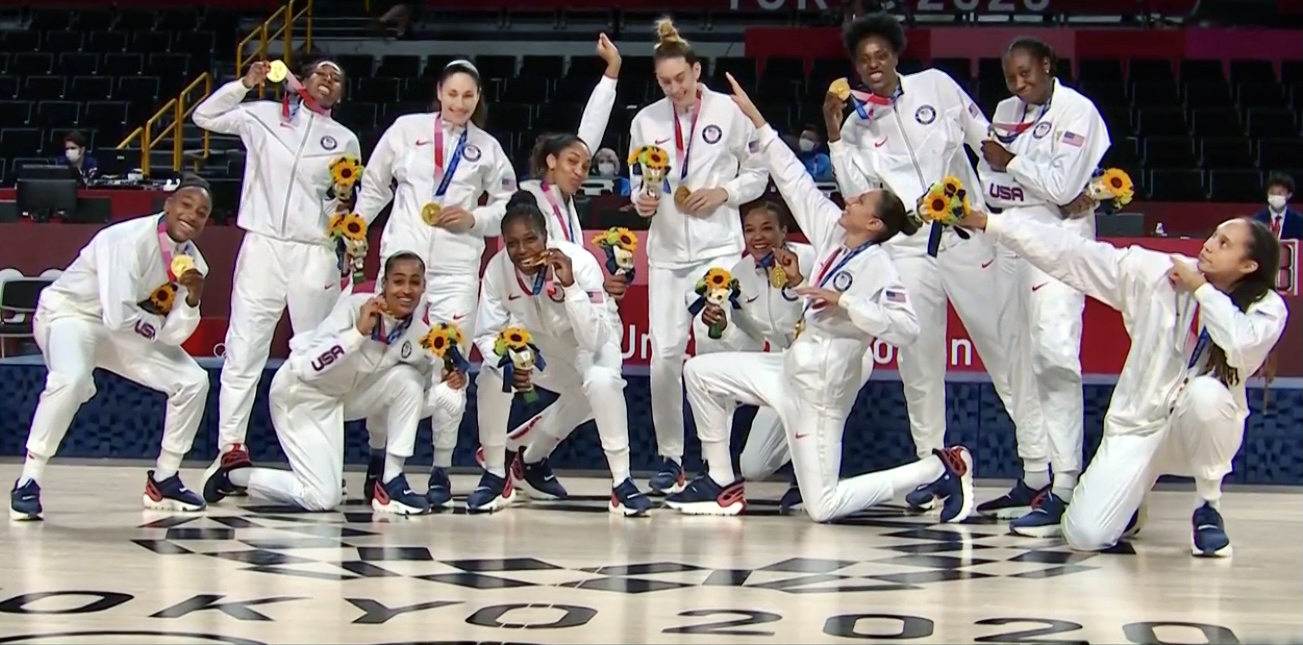 Tokyo 2020 Women's Basketball All-Star Five
MVP – Breanna Stewart (USA)
Rui Machida (Japan)
Emma Meesseman (Belgium)
A'ja Wilson (USA)
Sandrine Gruda (France)
After a close game in the second quarter, the U.S. ran away from host country Japan in the Tokyo Summer Olympics final game for a 90-75 victory. The win gives the USA a record seventh gold.
Guards Sue Bird and Diana Taurasi earned a fifth gold medal, the most of any basketball players in Olympic history. At 40, Bird also became the oldest Olympian to win gold. Sylvia Fowles earned her fourth gold medal in Tokyo.
"To achieve this, I never thought there was a possibility for me," Bird said postgame.
In addition Dawn Staley, a three-time Olympian, etched her Olympic head coaching career with a gold medal.
"I thought we saved our best performance for our last performance," Staley said. "I thought we just did a great job on both sides of the basketball. Japan pushed us and made us focus in a little bit harder. And the fact that it was a gold medal game had an equally focused effort by our players. So happy that we have two legends here, on our team, to to will us into a gold medal game and to get the win."
Staley indicatd that she would not return as the head coach for the 2024 Summer Olympics in Paris.
"I'll say this too, I'm done as well…who else is going to sit on this podium in 2024? Without [Sue Bird and Diana Taurasi], I'm not."
During the contest, USA set a U.S. Olympic women's single-game blocks mark with 12 blocked shots. Brittney Griner led the team with 30 points, five rebounds, and three blocks. A'ja Wilson contributed 19 points, seven rebounds, five assists, and five blocks. Breanna Stewart notched a double-double with 14 points, 14 rebounds, five assists, and three blocks. Taurasi and Bird finished with seven points each. Taurasi also grabbed six rebounds and dished out eight assists.
For Fowles the key to the USA's dominance is the ability to tied to being egoless.
"I think we had to put a lot of egos to the side once we stepped in this thing, because we knew we had one goal, and that was to win this Olympics," Fowles said. "And I think everybody handled themselves well. Everybody put whatever they had to put to the side and just focused on Team USA, and I think we did that well."
Japan medaled for the first time in Olympic history with silver. Previously, over four Olympics, the national team's highest finish was fifth place (out of six) in 1976.
The host team advanced out of Group B preliminary play with an 86-69 loss to the U.S. Japan beat Belgium in the quarterfinals and France in the semifinals.
Japan's Rui Machida set an Olympic single-game assist record in the semifinals with 18. Maki Takada paced Japan with 17 points. Nako Motohashi added 16 points plus five rebounds and four assists.
Taurasi had nothing but good things to say about the Japanese team.
"Japan is in a good spot in basketball. I mean, this team can play. We watched every single game and you can't help but cheer for this team. They play hard. They play together. They play style of basketball that makes you want to watch and the future is really bright for Japanese basketball."
Earlier in the day, France beat Serbia 91-76 for the bronze medal. WNBA player and former UConn standout Gabby Williams led France with 17 points, eight rebounds, and four assists.
The only two basketball players in history to win five Olympic gold medals ? @DianaTaurasi ? @S10Bird ? pic.twitter.com/z8uWg5Sf9o

— USA Basketball (@usabasketball) August 8, 2021
Additional Team USA Quotes
Ariel Atkins (Washington Mystics/Texas/Duncanville, Texas)
What does it mean to you to win this medal?
It really means a lot, especially to do it with the group that we did it with. I've looked up to a lot of these players for a really long time. So to be alongside of them, and actually winning with them is super amazing.
I know it's early, but what is this experience done for you?
I think it's really helped me become a better leader and just being able to learn who I am as a leader and what that means for my team on a day in and day out basis.
Tina Charles (Washington Mystics/Connecticut/Jamaica, N.Y.)
What does your third Olympic gold medal feel like?
It's a blessing. I'm so thankful to be a part of USA Basketball and to have had the experience that I've had with such amazing woman, I get choked up. I get emotional just thinking back on my first World Championship, my first training camp in Ekat (Ekaterinburg, Russia), with coach (Geno) Auriemma, so I'm just thankful to be a part of it.
What do you think was special about this group?
What's special was just Sue (Bird) and Diana (Taurasi). Just the fact that I was able to contribute to three of their five, just being under their leadership, their guidance, just a friendship that was developed over the years. I think that's what made it special. It was just Sue and Diana for me.
What about for you personally outside of Sue and Diana? What was special for you? What will you take from it?
Just being able to be a part of USA Basketball, just being able to make the team, just being able to have these experiences, you know. Nobody remembers the points, your rebounds or anything like that, but it's just all the experiences. And sometimes it's not even the ones on the court. It's the ones off the court. The ones on the bus, in the meal room. So, all that is what I'm going to miss.
Napheesa Collier (Minnesota Lynx/Connecticut/O'Fallon, Mo.)
On the experience:
It was amazing. It was such an unbelievable experience. And I just feel like I'm on a high right now.
What was it like to see this team play?
It was really cool. You know, it felt like we started a little rough when we were in Vegas, but you really saw us kind of come together, and we worked really hard in practices, trying to work on our chemistry and getting together as much as we could. And I'm just so proud of this team and everything that we've been able to accomplish.
I believe you are the youngest player on the roster. Do you want a few more of these?
Absolutely. I mean, I hope to be here for many Olympics to come.
Skylar Diggins-Smith (Phoenix Mercury/Notre Dame/South Bend, Ind.)
What does this gold medal mean to you?
It means a lot. It's just really a combination of, you know, all the years that I've been when USAB, just trying to make this happen. And, you know, it's such a special group that it happened with. We got so much history that's involved in this group of players, and just to be a part of it, you know, this whole experience, it was unprecedented. This whole Olympics was, you know, different how we went about it. But I'm proud of everybody. I'm proud of myself, and I look forward to sharing it with my baby and my family.
I bet you're ready to get home:
Yes, I think we all are, but I'm glad we're leaving with a gold.
What does this do for you personally?
It just means a lot. You know, like I said, it's always been a lifelong dream for me. So, it literally is a dream come true. And so, I don't take it for granted. I have so much gratitude. I'm so grateful to just be on this stage, be a part of this team. And you know, it just motivates me for you know, what's next to come my career, whatever that is.
Sylvia Fowles (Minnesota Lynx/Louisiana State/Miami, Fla.)
How does this Olympic experience compare to your past three?
Somewhat the same, but humbling at the same time, just to see yourself go through that switch of being the youngest and turning into a veteran, and having the younger players under you come in and having to talk more, and all those good things. I can say it definitely has been a whirlwind.
This team has plenty of talent, but what else about this team has allowed it to be so dominant?
People just understanding their role, not taking things personally. I think we had to put a lot of egos to the side once we stepped in this thing, because we knew we had one goal, and that was to win this Olympics. And I think everybody handled themselves well. Everybody put whatever they had to put to the side and just focused on Team USA, and I think we did that well.
Women athletes have won the majority of medals for Team USA overall. And it's just amazing. It's like 63 to 40 or something. Is that something you ever think about?
I don't think about it, but that's a good statistic to know. I'm happy that us women can do it. I think men can do it, too. But I think we do it a little bit better.
I know that the men always get these nicknames of "Dream Team" and "Redeem Team." You guys somehow don't, and yet all you guys do is win. If you had to give a nickname to this team, is there one you can think of?
No. We just roll with what we roll with. We let our talent speak for itself. But I can say that we do have a lot of young talent that's up and coming, so hopefully you'll get to see a lot of that as well.
What was it like to be around Diana Taurasi and Sue Bird in their last go around?
Oh man, it's good. They were the leaders from start to finish, and with players like them, you can definitely appreciate just guiding you in the right way. And setting examples, too, going out there and proving it and walking the walk and talking the talk.
Chelsea Gray (Las Vegas Aces/Duke/Manteca, Calif.)
What does it feel like?
Man, I can't even put into words. It's like the pinnacle, the top of the top, like it's like you made it kind of feeling.
What do you think you're going to take from this experience?
The people I've did this with, this group. When you go to winning, you forget how hard it was to get over the screen. Sue (Bird) talked about it all the time. And so, just cherish those moments and the people you did it with.
Brittney Griner (Phoenix Mercury/Baylor/Houston, Texas)
General comments:
Given history, major moments, and then to it share with my teammates, being able to share it with Diana (Taurasi) and Sky (Skylar Diggins-Smith), it means a lot to me. A lot of people have put in a lot of hard work and dedication to get here to seven, and just to be a part of that, I'm honored.
What do you think are the secrets of this magnificent campaign you're doing? Seven gold medals in a row has to be something.
It's just I think it's the character of USA Basketball. I think it's a character for each and every lady that that comes here. You know, we put the game before ourselves, and I think you see that in how we play and just how much time we give up. So, I think that's what the key is, selflessness. 
How was this journey for you?
This journey has been amazing. Through everything, the naysayers, and COVID and everything that we've had to get through, to finally get to the gold game, get the gold, it's like the icing on the cake. It just washes away everything. I mean seven in a row, that's pretty amazing. 
You were saying the other day, how better how much more comfortable you were this time around compared to Rio. To have 30 points tonight, can you speak to that?
Credit to my teammates. You know, they got me the ball and amazing passes. They believed in me and in the coaching staff for leaving me out there. I have to just give credit to everybody else, I couldn't have done it without them. And you know, it's just you never know when it's going to be your night to step up, and tonight was my night I guess to kind of step up a little bit. 
How was it to be with Sue (Bird) and Diana (Taurasi) on the last go around for them?
Amazing. Anybody who knows anything about me, they know how much I look up to Dee (Diana Taurasi). They know how much I look up to Sue (Bird) and Sly (Sylvia Fowles) as well, and just to be a part of five for them two, I'm just honored to be a part of that history. 
Your connection with Diana, you can see that in many ways tonight. Can you just talk about that a little bit, just all these years you were playing together?
Yeah, I mean, from (Phoenix) Mercury, to overseas in Ekat (Ekaterinburg), USA Basketball, you know, she took the time to invest in me, and you know I wasn't going to shy away from that. I soaked in everything that I can, and I'm going to continue to soak in as much as I can from her. I've got the utmost respect for Diana. Like I always say, I'm always in awe, even still to this day on the court. I'm just like, 'yo, that's Dee right there.'
Jewell Loyd (Seattle Storm/Notre Dame/Lincolnwood, Ill.)
What does this mean to you?
It means a lot. You know, I think the thing that is always on my head, is, you know, this is for my city in Lincolnwood, my family and friends. Those are the people I called right away, the people who've been with me this whole time. So, it's a special feeling knowing that I could represent where I'm from and the people I grew up with.
What do you think this has done for you personally, or what will you take from this experience?
I mean, this is like the highest thing you can get as an athlete. And knowing that, you know, you put your body and mind through everything it can to be at a pinnacle like this, and, you know, it definitely gives confidence. It gives you appreciation for the grind. And I'm just really happy to be part of this.
Breanna Stewart (Seattle Storm/Connecticut/North Syracuse, N.Y.)
On winning gold:
It's really actually something you can't explain, but the fact that you were able to kind of feel these emotions beyond the podium with our teammates, celebrate this gold. The journey wasn't easy, but to be able to get here, get the gold, we took care of business.
What was it like to get a good start in the gold medal game against Japan:
It was huge. The fact that, you know, we wanted to get off to a good start, but also it was the gold medal game. There was only 40 minutes left of being here. So we wanted to make sure that we set the tone early. We know how Japan wanted to play and really try to get them out of their comfort zone.
A lot of the players on the team weren't alive the last time the USA women lost in an Olympic Games. Can you even comprehend that?
Yeah, that's kind of crazy. But it's the standard. It's the standard of USA Basketball. And having started when I was 14, and now continuing on to my second Olympics, it's always been, like I said, the standard. We want to come and we compete for golds and that's it.
You probably have a day off now before the WNBA Commissioner's Cup. I know you're not focused on that but it is coming up:
Obviously, not really focused on it right now. Just want to make sure that we get home, I take care of myself and whatever happens happens in that game.
What are you going to do on that plane?
We are going to party. We are going to party in the locker room, and we're going to party on the plane. There's no wifi, so that's all we're going to do is party.
What does it mean to be a part of Sue Bird's last Olympics and Diana Taurasi said she would be back for 2024 in Paris:
I have the great opportunity of playing with Sue (Bird) in the WNBA, but to be able to share the court with her and Dee (Diana Taurasi) for Team USA, it's different when you have USA across your chest. And what they've done for USA Basketball in our country has, you know, there's really no words for that. But just really appreciate them and want to help them get this gold medal, because they deserve it.
A'ja Wilson (Las Vegas Aces/South Carolina/Hopkins, S.C.)
You're now a gold medalist. What does that mean to be a gold medalist?
Oh, to be a gold medalist now, on my birthday, it's something that's so special. It's probably not going to hit me until I get back to the states. But this is something that I've dreamed of. l would have a birthday party on 08-08-08 and now to be playing in it, it's incredible, and on 08-08, it is truly something special. So, this is a great feeling.
Happy Birthday. How's that for a celebration?
Thank you! Man, I was just saying I thought my 21st was big, but this is a pretty good. This is a great feeling. To win this gold on my birthday is special, it really is. 
How important is it within this program you have people who have been doing this five times, four times, three times. How does that make it easier on you and does that impact your approach to wanting to do this two time, three times, four time?
Oh, yeah, for sure. I think it just lays the foundation down. USA has a standard, not just on the court, but off the court as well. The way we carry ourselves is something that goes into how we play. And of course, we have the best of the best and elite athletes loving what we do. But I think it just lays the foundation down for the young kids like me. I would sit in the locker room like, 'They really did this five times?' At Opening Ceremony, I was like, they did this five times? My feet hurt. But like, no, it's real. It makes you want to come back and continue to give and to continue to be that next, build for the next generation. I don't know if I have five in me, but we'll see.
You've had a lot of great moments in your life with Dawn, what does it mean to you that she coached you during these first Olympics.
It means the world. I remember when she got that head coaching job at South Carolina, and I didn't even think I could be a part of that team, so now to be a part of it and share this with her, to let her wear my gold medal, it's something that's so special. So, I'm happy for her. I tried to do my best for this for her this whole tournament.
One of the positive with all the other restrictions here because of COVID, one of the few positives seems like when you guys get to put the medals on each other, and it's sort of like putting a ring on it. And it just really seals that bond.
It does, it does. And it's funny, because I was like to Chelsea (Gray), 'this is a huge moment for us.' And then of course with Stewie (Breanna Stewart), we've literally played USA together since we were young. So, to have that moment with them, I like it. Hopefully we can keep it even if COVID kind of passes by, if it does. But it's a great moment to share with your teammates, and I just loved it.
What was it like today knowing that the game plan was going to be to run everything through you and Brittney. That's a lot of responsibility.
Yeah, I mean it really wasn't. You know, we just stick within our system. We knew Japan was going to make us play for the whole possession, and we just really needed to handle our job on the defensive end. And then offensively, it speaks for itself. That's our system. That's our game, it's inside out. Whether it's guards penetrating or getting it into the post. So, I don't think it was like pressure, but at the same time we knew on the defensive side we had to take care of business.
Tokyo Olympics Results
| Date | TIME  (ET) | TIME  (PT) | Game |
| --- | --- | --- | --- |
| Sat-Aug-07 | | | |
| | | | Bronze Medal Match - France 91, Serbia 76 |
| | | | Gold Medal Match - USA 90, Japan 75 |
| Previous Games | | | |
| Fri-Jul-23 | | | |
| | | | 3x3, Russia 21, Japan 18 |
| | | | 3x3, China 21, Romania 10 |
| Sat-Jul-24 | | | |
| | | | 3x3, Russia 19, China 9 |
| | | | 3x3, Japan 20, Romania 8 |
| | | | 3x3, Italy 15, Mongolia 14 |
| | | | 3x3, USA 17, France 10 |
| | | | 3x3, USA 21, Mongolia 9 |
| | | | 3x3, France 19, Italy 16 |
| | | | 3x3, Japan 19, Mongolia 10 |
| | | | 3x3, Italy 22, Romania 14 |
| Sun-Jul-25 | | | |
| | | | 3x3, Russia 21, Mongolia 5 |
| | | | 3x3, China 22, Italy 13 |
| | | | 3x3, USA 22, Romania 11 |
| | | | 3x3, Japan 19, France 15 |
| | | | 3x3, China 20, France 13 |
| | | | 3x3, USA 20, Russia 16 |
| | | | Preliminary Round, Group A, Spain 73, South Korea 69 |
| | | | 3x3, China 15, Japan 12 |
| | | | 3x3, Romania 22, Mongolia 14 |
| Mon-Jul-26 | | | |
| | | | 3x3, Russia 21, Romania 12 |
| | | | 3x3, Japan 22, Italy 10 |
| | | | Preliminary Round, Group A, Serbia 72, Canada 68 |
| | | | 3x3, France 22, Mongolia 18 |
| | | | 3x3, USA 17, Italy 13 |
| | | | 3x3, USA 21, China 19 |
| | | | 3x3, France 17, ROC 14 |
| | | | Preliminary Round, Group B, Japan 74, France 70 |
| | | | 3x3, Japan 20, USA 18 |
| | | | Preliminary Round, Group B, USA 81, Nigeria 72 |
| | | | 3x3, China 21, Mongolia 9 |
| Tue-Jul-27 | | | |
| | | | 3x3, France 22, Romania 12 |
| | | | Preliminary Round, Group C, Belgium 85, Australia 70 |
| | | | 3x3, Russia 17, Italy 9 |
| | | | 3x3, Quarterfinal - China 19, Italy 13 |
| | | | Preliminary Round, Group C, China 97, Puerto Rico 55 |
| | | | 3x3, Quarterfinal - France 16, Japan 14 |
| Wed-Jul-28 | | | |
| | | | 3x3 Semifinal, USA 18, France 16 |
| | | | 3x3 Semifinal, ROC 21, China 14 |
| | | | 3x3 Bronze Medal, China 16, France 14 |
| | | | 3x3 Gold Medal, USA 18, ROC 15 |
| | | | Preliminary Round, Group A, Canada 74, South Korea 53 |
| Thu-Jul-29 | | | |
| | | | Preliminary Round, Group A, Spain 85, Serbia 70 |
| | | | Preliminary Round, Group C, Belgium 87, Puerto Rico 52 |
| Fri-Jul-30 | | | |
| | | | Preliminary Round, Group B, USA 86, Japan 69 |
| | | | Preliminary Round, Group B, France 87, Nigeria 62 |
| | | | Preliminary Round, Group C, China 76, Australia 74 |
| Sat-Jul-31 | | | |
| | | | Preliminary Round, Group A, Spain 76, Canada 66 |
| Sun-Aug-01 | | | |
| | | | Preliminary Round, Group A, Serbia 65, South Korea 61 |
| | | | Preliminary Round, Group B, Japan 102, Nigeria 83 |
| Mon-Aug-02 | | | |
| | | | Preliminary Round, Group B, USA 93, France 82 |
| | | | Preliminary Round, Group C, China 74, Belgium 62 |
| | | | Preliminary Round, Group C, Australia 96, Puerto Rico 69 |
| Tue-Aug-03 | | | |
| | | | Quarterfinal - Serbia 77, China 70 |
| Wed-Aug-04 | | | |
| | | | Quarterfinal - USA 79, Australia 55 |
| | | | Quarterfinal - Japan 86, Belgium 85 |
| | | | Quarterfinal - France 67, Spain 64 |
| Fri-Aug-06 | | | |
| | | | Semifinal - USA 79, Serbia 59 |
| | | | Semifinal - Japan 87, France 71 |