USA crushes Serbia 79-59 in Olympic semifinals, seeks to win 7th gold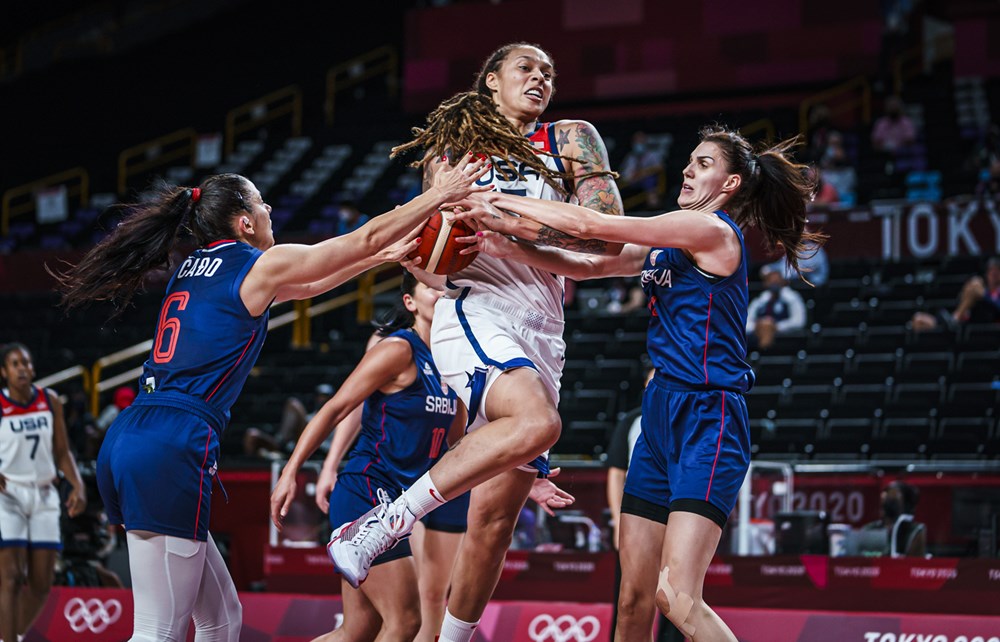 With a dominant performance and a balanced scoring effort, the U.S. senior women's national team beat Serbia 79-59 in the semifinals of the Tokyo Games to advance to the gold medal game. The victory marked the team's 54th straight win in Olympic competition and set Team USA up for a record seventh-straight gold medal, building on its status as an international dynasty in hoops.
Led by Brittney Griner, the U.S. dashed Serbia's hopes for a chance at gold by pulling away by double digits in the first quarter and never trailing after that. With a 12-2 run midway through the period, the USA led 15-6. Heading into the second frame with a 25-12 lead, the offensive pace slowed as both teams played great defense. Serbia held the U.S. to just five points for the first eight minutes, and former Texas player Yvonne Anderson shored up Serbia's offense, scoring 10 points to get her team within nine.
However, the U.S. retaliated quickly with contributions from A'ja Wilson, who scored a layup and got fouled in the process. With a double-digit lead again, the U.S. racked up points and went into the break with a 41-23 advantage.
Serbia finished the first two quarters shooting just 28% (10-36) from the floor compared to 53% (16-30) by the U.S. Anderson was the only player in double figures at the half.
The Serbs didn't let up in the last two quarters, but they could not manage to outscore the U.S. in either period, even with a more evenly matched contest after the break. At one point in the fourth quarter, the USA led by 27 points.
Griner finished with a double-double of fifteen points and 12 rebounds. Chelsea Gray added 12 points, and Breanna Stewart chipped in a double-double of her own with 12 points and ten rebounds.
Anderson led Serbia with 15 points and was the only player on her team in double figures.
Veteran USA point guard Sue Bird who is in the running for a historic fifth gold medal, gave her take on the game shortly after it ended.
"You know, I think, since we've entered the knockout rounds, we've come to each game with a little more focus. So you're seeing the results. And most of it's starting on the defensive end, and we're just carrying that with us onto the offensive end. But you know, as usual with USA Basketball, when we come together, we just try to get on a path…we're just getting better and better every day along the journey. And so I still think, you know, there's another level that we can get to, and I hope that's what happens in two days."
USA head coach Dawn Staley echoed Bird's sentiments.
I just feel like once we hit the quarterfinals, our players, they look different. There's a different focus. There's a different dynamic to them. We don't want to lose."
The U.S. will face the Japan vs. France semifinal winner on Saturday, August 7 at 7:30 pm P.T. Serbia will meet the loser of that contest in the bronze medal game.
54 consecutive Olympic victories

Just need one more for a historic seventh gold medal in a row ??????

?? #USABWNT x #Tokyo2020 pic.twitter.com/LJAzs37m27

— USA Basketball (@usabasketball) August 6, 2021