Cal poised for improvement over last season with a strong cadre of returnees and a heralded freshman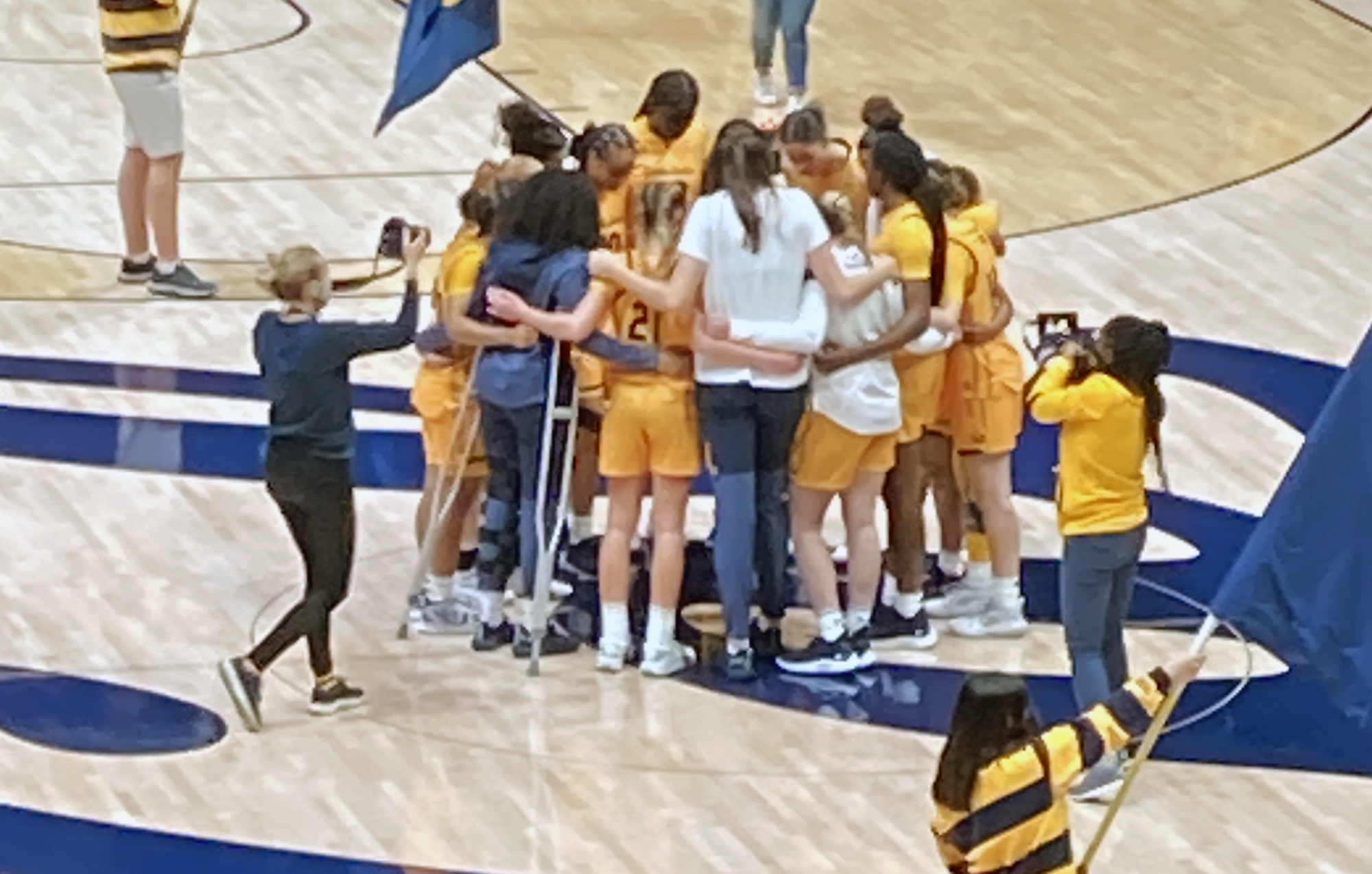 After a dismal 2020-21 season, beset by injuries and the challenges of navigating strict Covid-19 protocols, things can only get better for the California Golden Bears this year. Cal's 1-16 finish was just another mark symbolizing a bizarre college season as the Bears survived having three players out of action for most of the campaign competing in the nation's toughest conference.
Then-sophomore guard Jazlen Green (right knee) and 2020-21 newcomer guard Alma Elsnitz (right ACL tear) joined guard Cailyn Crocker on the season-ending injury list at the beginning of December 2020, just as the team was set to begin its Pac-12 schedule. A bright spot came late in the season, just in time for Senior Day, when the Bears defeated Arizona State in the final home contest at Haas Pavilion.
This fall, the team has only one player out for the season, one freshman, and the hard-scrabble experience of surviving a pandemic season in the Pac-12. Can Cal rise above the expectations of the league's preseason polls where they sit in last place?
The Newcomers and Expectations
Newcomers on the squad include:
Freshman Jayda Curry

Graduate student Jadyn Bush, a transfer from Harvard

Graduate student Karisma Ortiz, a transfer from Texas
Cal scored a gem in obtaining Curry, a heralded player from Corona, CA. She earned several awards for her stellar career at Centennial High School, including Ms. Basketball State of California and Max Preps California Player of the Year. Fans saw a glimpse of her talent in Cal's first exhibition game on Oct. 28 against the 2021 NAIA champion Westmont. Curry led the Bears with 23 points and seven rebounds and was perfect at the free-throw line.
"It felt amazing to be able to play. I was super excited," Curry said after experiencing her first outing in college. "I'm thankful for my teammates."
Bush, a Federal Way, WA native, returns to the West Coast. She sat out last season because the Ivy League canceled play. She averaged 10.9 points per game as a sophomore for Harvard.
Unfortunately, Ortiz will not see action this year after suffering a left knee injury last month. When asked who she expected to step up in Ortiz's absence, Cal third-year head coach Charmin Smith was succinct in her reply: "Every single person."
"That was part of the message after the game in the locker room, was that I don't want to be playing people 35 to 40 minutes a game. We've got to get past that. We need more people to be more ready, and they're working on it." She ended with "everyone has to step up."
With the team down to just nine players at some points during the last season, staying injury-free and spreading the minutes around will be crucial for Cal's success this season.
The Returnees
Smith is relieved to have Crocker back in action. She added 16 points in the exhibition against Westmont.
"She's our leader," Smith said. "She can score the basketball. She works her butt off on defense. She does it all. We're really happy to have her back."
In addition to Crocker, the team returns its leading scorer from last season, Dalayah Daniels, a 6-3 sophomore who put up 11.9 points per game, was third in rebounds on the squad, led in minutes played, and started all 17 games.
Junior guard Leilani McIntosh is also back. The wily guard led the Bears in assists and steals with eight outings in double figures. Spark plug Evelien Lutje Schipholt is also in the mix of players who are poised to lift Cal from the bottom half of the conference. The 6-2 junior forward brings an intense competitive demeanor on the court. She contributed 7.1 points per game last season, along with 6.8 rebounds per outing.
Ugonne (Michelle) Onyiah is also a player to pay attention to as the 6-3 forward tied with Lutje Schipholt in rebounding and led the team in blocks.
The Coaching Staff
With a new season also comes a new coaching staff. Smith added a veteran in the business to the team, Kelly Cole. In addition to seven years as the head coach at Northeastern in Boston, Cole also spent time as an assistant at Harvard and Boston College, where she was on the staff along with Smith. The Northwestern graduate has a degree in secondary education and English.
New assistant coach Paul Reed is Cal's recruiting coordinator. After spending four years at Washington, he arrives in Berkeley with ample experience in the Pac-12. The Langston University (Okla.) graduate has a degree in psychology.
Cal fans rejoiced over the announcement that one of their own returned. Eliza Pierre, who helped lead the Bears to the team's first-ever Final Four in 2013, came on board again after four years as an assistant at UC Santa Barbara. She majored in African American Studies at Cal.
The regular season for the Golden Bears begins Nov. 9 with a home game against Sacramento State with a 7 p.m. PT tip. The game will be aired as a free live stream on the Cal's Pac-12 feed.
#
Player
Pos
Ht
Yr
Notes
12
Bush, Jadyn
F
5-11
Sr.
Federal Way, WA – Graduate Student transfer from Harvard. Did not compete last season cancelation by the Ivy League. Last competed as a sophomore , started all games, averaged 10.9 points per game.
22
Crocker, Cailyn
G
5-9
Jr.
Cypress, CA – Did not play last season due to injury. As a freshman averaged 7.5 points per game, nine games in double figures, seven vs. Pac-12 opponents
30
Curry, Jayda
G
5-6
Fr.
Corona, CA – Led team in Oct. 28 exhibition vs. NAIA champs Westmont with 23 points and seven rebounds. Named Ms. Basketball State Player of the Year.
Named the MaxPreps California Player of the Year.
3
Daniels, Dalayah
G/F
6-3
So.
Seattle, WA – 2021-22 Preseason All-Pac-12 Honorable Mention. Team's leading scorer last season, 11.9ppg, third in rebounds, 6.7rpg, and first in free throws made. 2021 Pac-12 All-Freshman Honorable Mention Team. Played in and started all 17 games for the Bears in 2020-21 and led team in minutes played.
14
Elsnitz, Alma
G
5-11
So.
Stockholm, Sweden – Only played one game before suffering a right ACL tear. Led the team with 14 points in her collegiate debut. Most recently a member of the Swedish U19 National Team.
10
Green, Jazlen
G
5-11
Jr.
Upland, CA – Did not play last season due to injury. 2020 All-Pac-12 Freshman Honorable Mention.
32
Heide, Sela
C
6-7
So.
North Bend, WA – Played in nine games making one start her freshman season. Averaged 3.1 points per game, shot 50.0 percent from the field
24
Lutje Schipholt, Evelien
F
6-2
Jr.
The Hague, the Netherlands – Tied for lead in rebounding last season for the Bears, 6.8 rpg, fourth in scoring 7.1 ppg, six games in double figures, two double-doubles. 2020 All-Defensive Honorable Mention.
21
Mastrov, Mia
G
5-11
So.
Lafayette, CA – Enrolled at Cal early from nearby Miramonte H.S. Made her collegiate debut on Feb. 5 against Utah. Fourth in rebounding last season for the Bears, 4.3 rpg. Enrolled at Cal early and made her collegiate debut on Feb. 5 against Utah.
1
McIntosh, Leilani
G
5-5
Jr.
Phoenix, AZ – First on team in assists and steals, second in scoring (10.1 ppg) and minutes played last season. Started in all 15 games played including eight games in double figures, including one 20-point performance.
31
Muca, Ornela
G
5-7
So.
Athens, Greece – Played in 17 games last season averaging 2.6 ppg, a season-high 11 points in 16 minutes of action against Colorado.
0
Onyiah, Ugonne (Michelle)
F
6-3
So.
Eastvale, CA – Tied for lead in rebounding last season for the Bears, 6.8 rpg, third in scoring 8.9 ppg (eight games i6-3 n double figures). Played in all 17 games (11 starts) and led the team in blocks.
4
Ortiz, Karisma
G
6-0
Jr.
San Jose, CA – Graduate student transfer from Texas. Out for season due to suffering a left knee injury in October.
34
Richey, Sierra
G
5-10
Sr.
Camarillo, CA – Graduate student, appead in 11 games last season, 2.4 ppg.
33
Samb, Fatou
C
6-4
So.
Houston, TX – Played in 17 games last season with eight starts. Averaged average 2.9 ppg and 2.6 rpg.
Cal 2021-22 Non Conference Schedule
| | | | | |
| --- | --- | --- | --- | --- |
| Date | Day | Opponent | Site | Time (PT) |
| Oct. 29 | Fri | Westmont (exh.) | Berkeley | 7 p.m. |
| Nov. 4 | Thu | St. Martin's (exh.) | Berkeley | 7 p.m. |
| Nov. 9 | Tue | Sacramento State | Berkeley | TBA |
| Nov. 13 | Sat | vs. San Francisco# | San Francisco, CA | TBA |
| Nov. 16 | Tue | Utah State | Berkeley | 7 p.m. |
| Nov. 20 | Sat | at UC San Diego | San Diego, CA | TBA |
| Nov. 26 | Fri | Furman* | Berkeley | 1 p.m. |
| Nov. 27 | Sat | Ole Miss/San Diego State* | Berkeley | 1/3 p.m. |
| Dec. 2 | Thu | Fresno State^ | Berkeley | 11:30 a.m. |
| Dec. 5 | Sun | at Arkansas | Fayetteville, AR | TBA |
| Dec. 11 | Sat | McNeese State | Berkeley | TBA |
| Dec. 18 | Sat | Cal Poly | Berkeley | 3 p.m. |
| Dec. 21 | Tue | Saint Mary's | Berkeley | 1 p.m. |
2021-22 Pac-12 Weekly Matchups Schedule
Dec. 31-Jan. 2: at Washington/Washington State
Jan. 7-Jan. 9: vs. Oregon/Oregon State
Jan. 14-Jan. 16: at Utah/Colorado
Jan. 21-Jan. 23: vs. Stanford (home/away)
Jan. 28-Jan. 30: vs. Arizona/Arizona State
Feb. 4-Feb. 6: at UCLA/USC
Feb. 11-Feb. 13: vs. Colorado/Utah
Feb. 18-Feb. 20: at Oregon/Oregon State
Feb. 24-Feb. 26: vs. Washington/Washington State