Minnesota looks to ascend in Big Ten with high expectations for returnees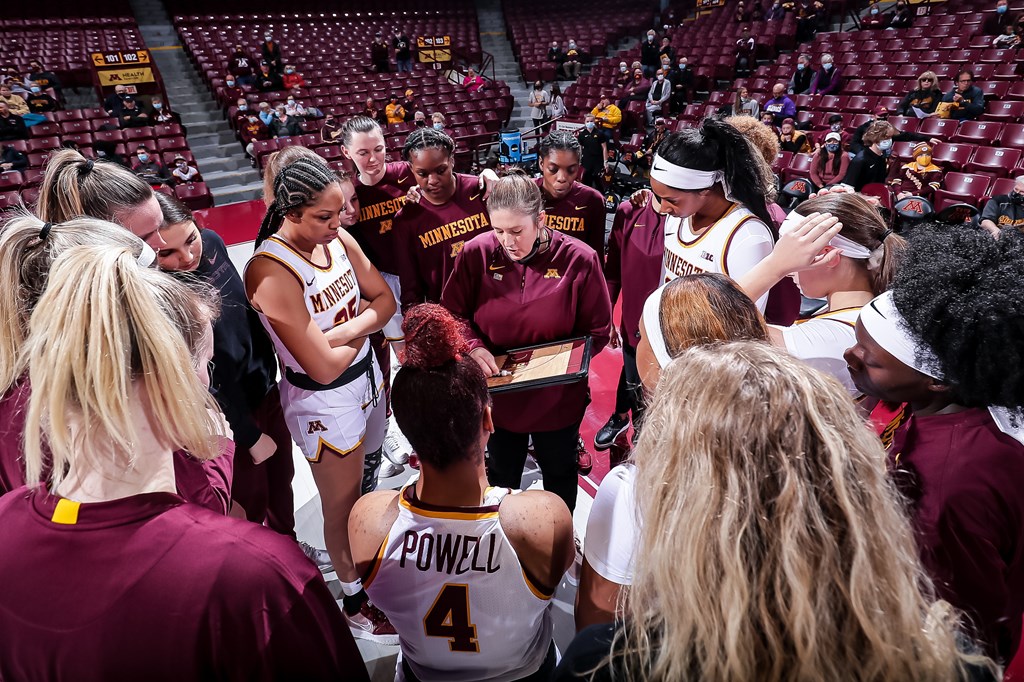 MINNEAPOLIS – Minnesota returns 12 players from last season and added four newcomers to its 2021-22 squad. The Gophers' lone exhibition game, a 78-33 win against Minnesota Crookston at Williams Arena October 31, was the first game played at The Barn with fans since late 2019.
"The fact that we haven't had fans now for two years, I want our players to have this experience, to go through the playing in front of fans, the lights are on, we haven't done that," noted fourth-year Minnesota head coach Lindsay Whalen told Hoopfeed after a recent practice.
After a tough season that ended 8-13 (7-11 Big Ten) Minnesota opens perhaps its toughest non-conference schedule in Whalen's tenure when they host Jacksonville Nov. 9. Nine of twelve teams scheduled posted .500 or better records in 2020-21, including UConn Nov. 20, the opening game of the Women's Battle 4 Atlantis tournament in the Bahamas.
"Being battle tested, getting ready to be in the conference," will be the advantage of having a challenging non-conference schedule according to the coach of a still relatively young Gopher squad with only three graduate students, three freshmen, four sophomores, three juniors and a senior.
Sixth-year player Gadiva Hubbard leads the team. The 5-9 guard has 1,249 career points and is third in school history in made three-pointers (206). Her coach gushes over the academic All Big Ten.
 "I love the fact that Diva came back," continued Whalen. "I know she wants to go out a lot differently than last year. I know she wants to have a different ending of her college career. She meant a lot to the program and meant a lot to our coaching staff."
Hubbard's leadership and experience, along with her scoring ability will be heavily counted upon if Minnesota is to make a serious ascent to the Big Ten's first division for the first time since Whalen took over in 2018.  Also asked to provide at least leadership this season are fellow graduate students: 6-0 forward Laura Bagwell Katalinich and Deja Winters, a graduate transfer from North Carolina A&T. The 5-11 guard was first team all MEAC and 12th last season in made threes per game (3.06).
Junior guards Jasmine Powell and 5-10 Sara Scalia are expected to be backcourt starters – the duo along with 6-2 redshirt junior forward Kadi Sissoko are Minnesota's returning double figure scorers. The team will also rely on sophomore guard Alexia Smith and 6-2 junior center Klarke Sconiers, who led Minnesota in field goal percentage (.542) and blocked shots (17).
The 5-6 Powell started 18 games in 20-21 but missed the season's final three games due to injury. She finished third in the Big Ten in assists, one of eight conference players to average 14 points (14.5) and five assists (5.4) and led Minnesota in free throw line trips: attempts (79) and makes (59).
Scalia, all Big Ten honorable mention, finished third in Big Ten three-pointers made and averaged 14.5 ppg and 3.5 rebounds per game. Sissoko had the conference's largest one-season increase from 2019-20 to 20-21 in rebounds (1.8 to 6.6) and second in scoring (3.2 to 12.6).
On Nov. 1 the team announced that sophomore guard Katie Borowicz will miss the season after undergoing surgery for a non-athletic related injury.
Among the first-year players, Whalen is high on 6-2 freshman forward Alanna "Rose" Micheaux, a four-star recruit from Wayne, Mich. She averaged a double-double per game in her senior year.
 "I think she's gonna be someone who's gonna find her way on the floor a lot," predicts Whalen.
Finally, when asked if she sees herself now as a seasoned veteran coach, "I don't know if I'd say that," admitted Whalen, who was named one of the WNBA 25 all time greatest players this summer. "I think [I] definitely got more experience. Four years go quick."
Minnesota 2021-22 Roster
| | | | | |
| --- | --- | --- | --- | --- |
| Jersey | Player | Position | Height | Year |
| 54 | Micheaux, Alanna | F | 6-2 | Fr |
| 5 | Czinano, Maggie | G | 6-0 | Fr |
| 30 | Sissoko, Kadiatou | F | 6-2 | Jr |
| 25 | Sconiers, Klarke | C | 6-2 | Jr |
| 14 | Scalia, Sara | G | 5-10 | Jr |
| 4 | Powell, Jasmine | G | 5-6 | Jr |
| 21 | Strande, Caroline | G | 5-11 | So |
| 1 | Smith, Alexia | G | 5-8 | So |
| 10 | Hedman, Erin | F | 6-3 | So |
| 43 | Cumming, Grace | F | 6-3 | So |
| 23 | Borowicz, Katie | G | 5-7 | So |
| 3 | Winters, Deja | G | 5-11 | Sr |
| 15 | Mershon, Kayla | F | 6-3 | Sr |
| 13 | Hubbard, Gadiva | G | 5-9 | Sr |
| 35 | Helgren, Bailey | C | 6-5 | Sr |
| 12 | Bagwell Katalinich, Laura | F | 6-0 | Sr |