Lexie Hull puts Sweet 16-bound Stanford "on her back" in 91-65 win over Kansas
This slideshow requires JavaScript.
Photos © Baranduin Briggs, all rights reserved
STANFORD, CA – Stanford senior guard Lexie Hull, in her coach's words, put the team "on her back" to lead No. 1-seeded Cardinal past No. 8 Kansas 91-65 (21-10) in the second round of the NCAA tournament Sunday evening at Maples Pavilion. A supportive, raucous crowd greeted Hull as she exited the floor for the last time, with about four minutes left in the last quarter. She had a monster outing, scoring a career-high 36 points along with grabbing six rebounds and earning six steals.
It was not all smooth sailing for Stanford (30-3) as Kansas put up a good fight for two and a half quarters until the home team began to pull away halfway through the third period.
"I think it really boiled down to, we had Lexie and they didn't, Cardinal head coach Tara VanDerveer said. "I mean, she was on fire. She played a great game."
While Kansas never led, the Jayhawks were close on Stanford's heels throughout the first and second quarters. Sixth-year guard Anna Wilson got the scoring going with a three-pointer. Kansas quickly returned the favor, and the game was tied after a balanced offensive effort from KU guard Holly Kersgieter, forward Ioanna Chatzileonti, and guard Zakiyah Franklin.
Heading into the second quarter, the Cardinal led 20-18. The offensive output on both sides was evenly matched in that period as the teams scored 13 points each. However, it was a battle in the paint as Stanford forward Cameron Brink and KU center Taiyanna Jackson fought for positioning and rebounds.
At halftime, Stanford had a slim 33-31 advantage. Hull was the only player in double-digits point with 11. KU's Chatzileonti was close behind with nine plus four rebounds.
The Turning Point
Franklin came out of the break strong for the Jayhawks, nailing a trey to tie the game up. The teams traded baskets until a second-chance three-point jumper from Hull began a 17-4 run for Stanford. That momentum-changing streak gave the Cardinal a 19-point lead entering the fourth quarter, 65-46. At that juncture, Hull had 25 points and five rebounds.
The last quarter belonged to Stanford as they dominated KU, outscoring the Jayhawks 26-19 en route to a strong win. Overall, 12 players scored for Stanford. With a double-double of 13 points, 12 rebounds, and four assists, Brink also had a solid game.
"I thought Cam had a great game, too," VanDerveer said. "She really battled in there. It was very physical."
The coach also praised Brink's poise in going up against Jackson and KU.
"I thought she was awesome. She stepped up to the challenge playing against Jackson. Jackson blocks shots. She's very athletic. She's physical. They're a very good basketball team."
Franklin led KU was 13 points, five rebounds, and four assists. Chatzileonti added 11 points and four rebounds.
Stanford's win propelled the team into the Sweet 16 for the 28th time in program history. The team is in the Spokane region and heads to Washington this week for the next round and the Elite Eight if they advance. The Cardinal will face No. 4 seed Maryland on March 25 at a time to be determined. The Terrapins defeated No. 12 Florida Gulf Coast 89-65 in the round of 32 to advance to the Sweet 16.
Hull Homecoming
Hull and her twin sister Lacie are from Spokane so trip holds special meaning to them.
"We knew it was over if we didn't win, so we didn't want it to be over," Lexie said. "We wanted to make it to Spokane."
She added: "I think everyone wants to get to Spokane. No one wants to be done. But for Lacie and I to be able to play at home one last time, meant a lot to us. Meant a lot to our family, meant a lot to our friends. There was that extra chip on our shoulder that it meant a little bit more for us."
Stats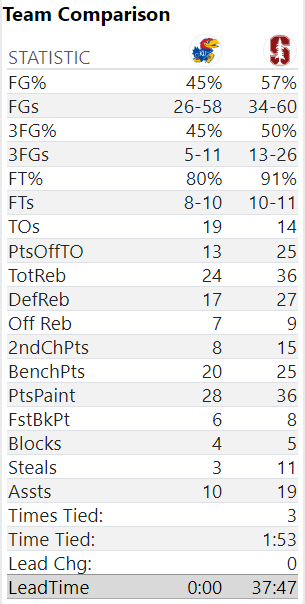 Social
Let's gooo! #MarchMadness pic.twitter.com/p6MJsIBmFo

— Hoopfeed.com ? (@hoopfeed) March 21, 2022