Atlanta selects Rhyne Howard as the top overall pick in 2022 WNBA Draft; Indiana provides surprises in first round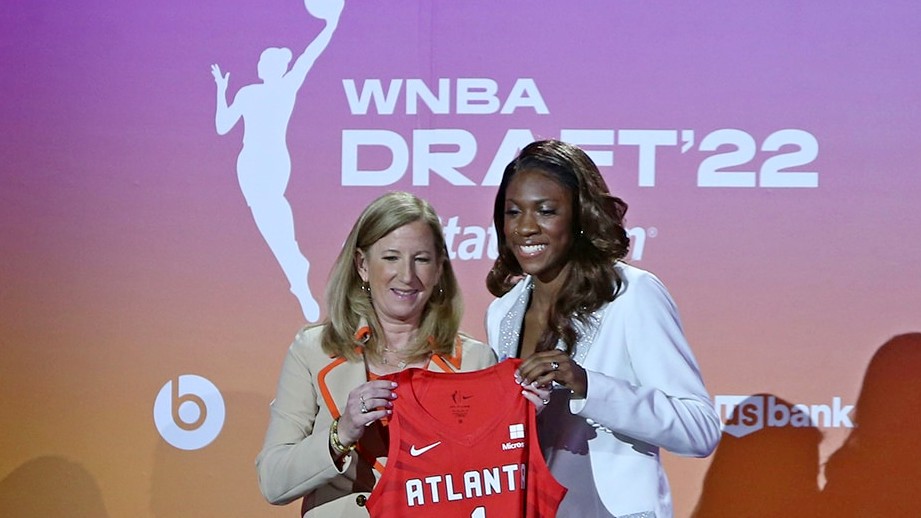 The Top Three Go as Predicted
Kentucky guard Rhyne Howard heard her name called as the No. 1 overall pick in the 2022 WNBA Draft Monday night in New York City. The Atlanta Dream selected the two-time SEC Player of the Year and Kentucky's all-time top three-point shooter.
"Rhyne is a versatile wing who can score the ball in a variety of ways," Dream general manager Dan Padover said. "Her athleticism and basketball IQ will be the backbone of her future success in this league. She's a great kid from nearby, and we think she will be a key piece for the future of this basketball team."
In her first interview as a pro, the 6-2 phenom said she wanted to bring her "competitive spirit and the will to never give up and always fight" to the Dream, as well as her ability to "maintain my composure and stay calm, cool, and collected."
"I think that's what really helped me to become successful, and I just really want to have an impact on the team, like when I get there, and just continue to make everyone better."
Over her college career, Howard averaged 20.1 points, 6.9 rebounds, 2.9 assists, and 33 minutes per game.
"Rhyne is a special talent with a multi-faceted skillset. She's going to be a great addition to our team," Dream head coach Tanisha Wright said. "She has a quiet competitiveness that I love, and I think the level of play in our league will bring something special out of her, which I'm really excited to see."
Smith and Austin Round Out the Top Three
The Indiana Fever chose Baylor forward NaLyssa Smith with their second overall pick. Smith, a two-time Big 12 Player of the Year, averaged 15.5 points and 8.3 rebounds per contest during her college campaign and 22.1 points plus 11.5 rebounds per game her senior year.
"NaLyssa will have an immediate impact on the Indiana Fever franchise," Fever Interim General Manager Lin Dunn said. "The All-American and two-time Big 12 Player of the Year will provide immediate scoring and rebounding for our team. Her versatility will be a key to our rebuilding process."
Smith was the first of seven picks by the Fever, tying the franchise record for the most players acquired in a draft. The team had three other first-round picks: Emily Engstler (Louisville) at No. 4, Lexie Hull (Stanford) at No. 6, and Queen Egbo (Baylor) at No. 10.
Ole Miss center Shakira Austin, a player that many consider to be among the most pro-ready in the draft class, went third in the draft to the Washington Mystics. At 6-5, Austin was a dominating presence at Ole Miss and led her team with 15.2 points per game plus 9.0 rebounds and 2.1 blocks per outing. The Fredericksburg, Virginia native will get to play close to home.
"It's just amazing, just knowing that the work I've put in," Austin said about her high draft selection. "To finally get to this moment and to play back home. I'll just be continuing to work and believe in the work that I've put in."
Mystics general manager and head coach Mike Thibault is counting on Austin to hit the ground running in helping the team.
"Shakira is a terrific talent that can play both post positions, and she can be a big part of our future," Thibault said. "She is one of the rare young players who can make an immediate impact on the defensive end of the court – she works at it, can block shots and rebound, and she is a great communicator. On offense, she can face up or play on the block."
Indiana and Las Vegas Provide the Surprises
The league invited 12 top prospects to participate in the draft in person in New York's trendy Tribeca neighborhood at Spring Studios. However, not all those prospects went in the first round. Consequently, some who watched the draft on television made it into the elite first-round group, while three in attendance had to wait until the middle of the second round to hear their names called from the podium by WNBA Commissioner Cathy Engelbert.
The Indiana Fever selected Stanford's Lexie Hull as the sixth overall pick. The sharpshooting and defensive-minded 6-1 guard impressed Fever GM Dunn and head coach Marianne Stanley.
"We felt like she was the best pure shooter with size in the draft, and she'd played at a high level, won a championship at Stanford, extremely gifted on both ends of the floor," Dunn said. "She defends. She rebounds. She can handle the ball—just a lot of things about her that were multidimensional. And so, we just didn't see anybody better if we wanted a great shooter. And to be honest with you, I think there were some other teams, had we not taken her at six, then we would have not gotten her at ten. So, maybe she was the surprise of the draft. But she wasn't a surprise to us."
Hull, a member of last season's national championship squad, is a three-time All Pac-12 selection and a two-time Pac-12 All-Defensive Team member. In college, she played alongside her twin sister Lacie and averaged 12.5 points and 5.1 rebounds per game her senior year.
Stanley expanded on Dunn's comments about Hull.
"I love her competitiveness," Stanley said. "And we're talking about a young lady who's very smart, who wants to win at everything, okay. And the fact that she's 6-1 at the guard position and can shoot, can run the floor, can defend – that combination was just too good to pass up. So, we're really excited that Lexie is joining us, and we know that she's going to bring her winning mentality to our team."
The Las Vegas Aces also had a surprise up their sleeve with the selection of Colorado forward Mya Hollingshed at No. 8. The 6-3 Hollingshed played five seasons for the Buffs and is the first Colorado player to be selected in the first round of the draft. She averaged team-highs of 14.1 points and 7.4 rebounds per game in the 2021-22 season.
The Fever selected Queen Egbo out of Baylor at number ten. Egbo, who was also not in New York City, joins her college teammate Smith at Indiana. Egbo averaged 11.0 points, 8.4 rebounds, 1.8 blocks, and a 49.8 field goal percentage in 23.6 minutes per contest during her senior season.
Stanley said that Egbo is a "player who has size, length, athleticism." She "can compete at the five and give us a great rebounder… She's one of those bigs that can really move her feet. So, she has the ability at the pro level, we think, to have an impact immediately on the defensive side."
Second-round Destinies
The players who attended the draft and who mock draft experts expected teams to pick in the first round: Michigan's Naz Hillmon, North Carolina State's Elissa Cunane, and South Carolina's Destanni Henderson.
The Atlanta Dream selected Hillmon as the 15th overall pick. The 6-2 forward was the 2021 Big Ten Player of the Year and a four-time Big Ten First Team member. In her final season, Hillmon averaged 21.0 points and 9.6 rebounds in 33.5 minutes per game.
Cunane, a 6-5 center, helped NC state win three ACC Tournament titles and was the tourney MVP over the last two seasons. The Seattle Storm picked her as the 17th overall pick.
"I know the WNBA is a very tough league to get into with the roster spots, so I was just looking forward to hearing my name called, which I did, and I'm excited to go to Seattle," Cunane said. "I didn't have a specific team in mind that I wanted to go to. So being picked up by Seattle is amazing.
Henderson is fresh off a breakout, career-high scoring performance in the national championship game in which she helped lead her team to the title. With Henderson still available midway through the second round, the Indiana Fever got a steal in acquiring the dynamic guard as the 20th overall pick.
"I wasn't really expecting anything," Henderson said about waiting to be selected. "I was just staying positive about the outcome, and whichever order that it went, it really didn't matter. I'm just very blessed and honored to be here and to be in New York and living the dream, living the moment that I've always dreamed of. Just hearing my name was my outcome, and I got that tonight."
The 26th season of the WNBA kicks off on Friday, May 6, with a slate of four games with the Washington Mystics hosting the Indiana Fever.
The Full Draft Board
First Round
Pick
Team
Player
School/Country
Position
1
Atlanta Dream
Rhyne Howard
Kentucky
G
2
Indiana Fever
NaLyssa Smith
Baylor
F
3
Washington Mystics
Shakira Austin
Ole Miss
C
4
Indiana Fever
Emily Engstler
Louisville
F
5
New York Liberty
Nyara Sabally
Oregon
F
6
Indiana Fever
Lexie Hull
Stanford
G
7
Dallas Wings
Veronica Burton
Northwestern
G
8
Las Vegas Aces
Mya Hollingshed
Colorado
F
9
Los Angeles Sparks
Rae Burrell
Tennessee
G/F
10
Indiana Fever
Queen Egbo
Baylor
C
11
Las Vegas Aces
Kierstan Bell
Florida Gulf Coast
G
12
Connecticut Sun
Nia Clouden
Michigan State
G
Second Round
Pick
Team
Player
School/Country
Position
13
Las Vegas Aces
Khayla Pointer
LSU
G
14
Washington Mystics
Christyn Williams
Connecticut
G
15
Atlanta Dream
Naz Hillmon
Michigan
F
16
Los Angeles Sparks
Kianna Smith
Louisville
G
17
Seattle Storm
Elissa Cunane
NC State
C
18*
Seattle Storm
Lorela Cubaj
Traded draft rights of Cubaj to New York for
New York's 2023 second-round pick.
Georgia Tech
F
19
Los Angeles Sparks
Olivia Nelson-Ododa
Connecticut
F
20
Indiana Fever
Destanni Henderson
South Carolina
G
21
Seattle Storm
Evina Westbrook
Connecticut
G
22
Minnesota Lynx
Kayla Jones
NC State
F
23
Las Vegas Aces
Aisha Sheppard
Virginia Tech
G
24
Connecticut Sun
Jordan Lewis
Baylor
G
Third Round
Pick
Team
Player
School/Country
Position
25
Indiana Fever
Ameshya Williams- Holliday
Jackson State
F
26
Phoenix Mercury
Maya Dodson
Notre Dame
F
27
Los Angeles Sparks
Amy Atwell
Hawaii
F
28
Minnesota Lynx
Hannah Sjerven
South Dakota
C
29
New York Liberty
Sika Koné
Mali
F
30
Dallas Wings
Jasmine Dickey
Delaware
G/F
31
Dallas Wings
Jazz Bond
North Florida
F
32
Phoenix Mercury
Macee Williams
IUPUI
F
33
Seattle Storm
Jade Melbourne
Australia
G
34
Indiana Fever
Ali Patberg
Indiana
G
35
Las Vegas Aces
Faustine Aifuwa
LSU
C
36
Connecticut Sun
Kiara Smith
Florida
G