Lindsay Whalen reflects on Naismith Hall of Fame selection and coaching in the portal era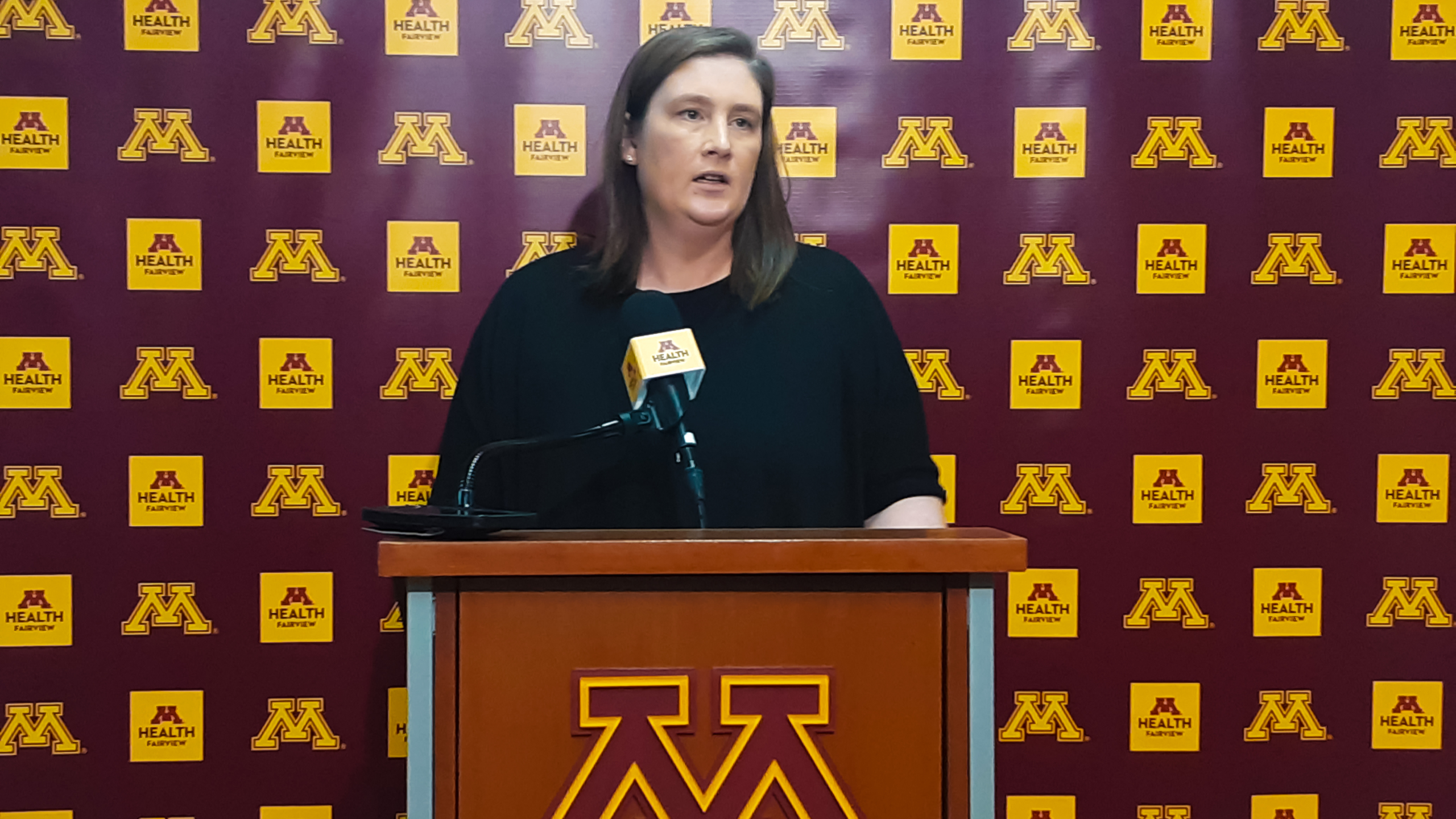 MINNEAPOLIS – A few days after being named one of the 13-member Naismith Basketball Hall of Fame Class of 2022, Minnesota Golden Gophers head coach Lindsay Whalen told local reporters that it is still sinking in that she received the call from Springfield.
"I'm just so excited to be a part of that class," Whalen told Hoopfeed after her 30-minute press conference, her first local public appearance since being named on April 2. She had planned to speak to the media before Sunday's NCAA championship game in Minneapolis, but she was grounded in New Orleans due to weather. "I made some really good friends" last weekend in Crescent City. New Orleans was the site of the Men's Final Four and HOF announcement.
Whalen made the final list on the first ballot. She led Minnesota, where she is now head coach, as a player to the 2004 Final Four, also staged in New Orleans, losing to eventual champion Connecticut in the national semifinals. The Hutchinson, Minn. native went on to have a stellar WNBA career – six-time All-Star, three-time first-team All-WNBA, the league's career leader in games won (307) playing for two clubs – Connecticut and Minnesota. For the latter, she was part of the Lynx's "Core Four" that won four league titles. She also made the WNBA 20th anniversary team in 2016 and the league's 25th-anniversary team in 2021. In addition, she played on two gold-medal U.S. teams at the World Championships (2010, 2014) and won two Olympic gold medals (2012, 2016).
The former Gopher great becomes the first U of M women's player headed to the Hall, joining former Gopher men's player Kevin McHale, inducted in 1999. The late Lou Hudson, who also starred at Minnesota, is part of the Class of 2022 posthumously.
"I was a good player," Whalen deadpanned. "I've had success on the floor. But I think I've persevered and persevered, and I've always tried to do as much as I can."
Tim Hardaway and Swin Cash are also headed to Springfield in September, along with Whalen. She waxed poetically on how the two former greats inspired her in her formative years.
 "I tried to perfect the Tim Hardaway crossover in my driveway," recalled Whalen. "I went as a sophomore – my aunt had tickets – to the Final Four. That year was Swin Cash's senior year [at UConn]. That was the greatest team I had ever seen before in person. I said at one of our dinners [last weekend] that I was able to see Swin perform at that level. That gave me a vision – I can do that if I work hard."
Wednesday also was the first time Whalen spoke publicly about the rash of transfers that hit her program: seven players, including one during the season, have opted for the transfer portal, leaving the Gophers currently with four rostered players. During her tenure, two talented guards: Destiny Pitts, who left midseason in 2019-20, and Jasmine Powell, who left midway this season and recently announced she will be attending Tennessee for her final two playing seasons, have departed Minnesota for elsewhere. Pitts finished at Texas A&M.
The Gopher head coach reminded reporters that what is happening to Minnesota isn't foreign: "It's not just a Minnesota thing. I think we're all navigating this new world. We're not happy with the amount of players that have left, but at the same time, we're navigating it like so many other schools are right now."
Whalen said she and her staff are working the portal, and Athletic Director Mark Coyle has given his support.
"We'll continue to work and see how we can be better and then continue to move forward," she concluded.
Note: Other members from the women's basketball community selected for the Hall of Fame Class of 2022 included pioneers of the sport:
Marianne Stanley – 45-year coaching veteran, NCAA national champion, WNBA Coach of the Year, current Indiana Fever head coach.
Theresa Shank-Grentz – Three-time AIAW National Champion and three-time All-American at Immaculata University from 1972-74.