Indiana Fever smash franchise rebounding record in 92-86 OT win at New York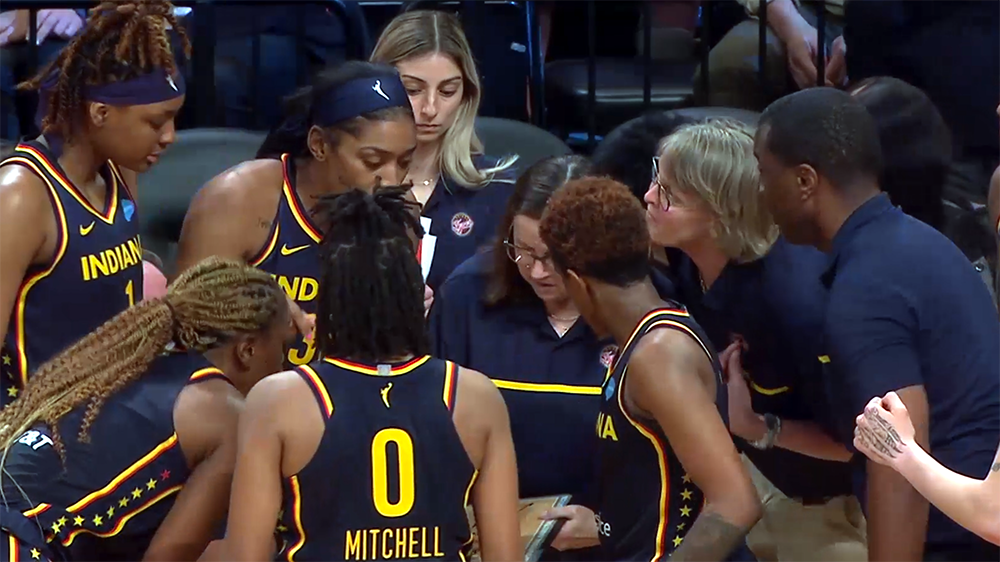 Indiana's Rookie Set the Stage for a Record-breaking Night
The Indiana Fever (2-2) survived a gritty overtime battle against the New York Liberty (1-2) Friday night, 92-86. The win came down to a rebounding edge as two of Indiana's rookies accounted for 31 of the team's 57 rebounds. Forward NaLyssa Smith grabbed a game-high 17 rebounds along with 12 points. Her fellow Baylor alumna, center Queen Egbo corralled 14 rebounds and scored eight points. Their total rebounds are the most earned by two rookies on the same team in a game in league history. 
"Our rebounding saved us a lot tonight," said Fever head coach Marianne Stanley. Her team outperformed the Liberty on the boards 57-33, setting a new franchise single-game record, breaking the old mark of 50 (2009, vs. the Detroit Shock).
Even though it was a close game and included an extra period, Stanley was pleased with her team's effort from the opening tip.
"We wanted to be much more aggressive to start the game, and I thought we were. I thought our energy level from the opening tip was what it should be all the time. We've had trouble starting games the last few times out, and it just wasn't up to par. Some of it is just youthful inexperience, not understanding what this level of play is all about. I mean, this was a war out here tonight. It was a very, very physical game. And we just made a decision game day to be much more aggressive at the point of attack, on pick and rolls, and it helped us."
A Back and Forth Battle
At the outset, it was a tight battle with no team able to gain a clear advantage before the halftime. At the break, it was a tie game, 41 all. Liberty guard Sabrina Ionescu led all scorers with 16 points. Unfortunately for New York, guard/forward Didi Richards suffered a right hamstring injury late in the second quarter and never returned.
The Fever had a breakout third quarter, outscoring the Liberty 17-7. Three Fever players were in double figures (Victoria Vivians, Kelsey Mitchell, and Smith), while Ionescu was the only Liberty player in double digits with 19 points. Heading into the last frame, the Fever looked to close out the contest, leading 58-48.
New York began the fourth period on a 21-11 run to tie the game up, 69 all. The Fever managed to amass a five-point lead with 1:17 left, but the home team began chipping away at the deficit. Ionescu, who scored 10 points in the quarter, made a three-pointer with 14.4 seconds remaining in regulation to tie the game up again, 76 all.
Veteran guard Danielle Robinson, who just returned from overseas play in Turkey with no time for rest before reporting to Indiana, got things rolling in overtime with a trey. Smith, the fearless rookie, followed up with a putback layup. Ionescu was not ready to give up and drained a three-pointer with one minute left in overtime to knot the game up again. Another tie was in the store before the Fever could end the game on a 4-0 run in the last 25 seconds for the win.
Mitchell led Indiana with 24 points. Vivians added 20 points, and Robinson finished with 17 points and eight rebounds.
Ionescu had a game-high 31 points plus seven assists and four steals. Betnijah Laney scored 16 points and grabbed seven rebounds. Stefanie Dolson contributed 12 points.
Up Next
The Fever return home to host the Atlanta Dream for a pair of home games on Sunday and Tuesday. The Liberty stay home to host the Dallas Wings on Sunday.
Stats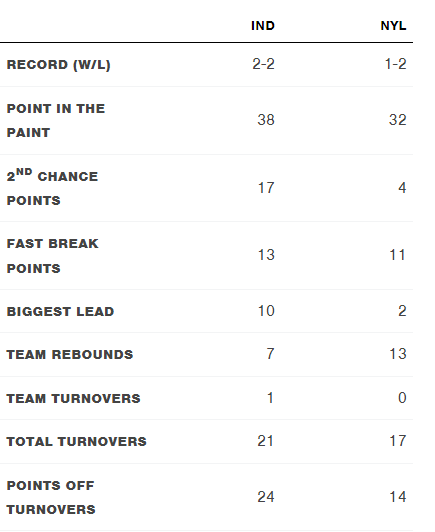 Shot Charts