WNBA Daily 5/11/22: Game Threads: Atlanta, Chicago, and Phoenix Win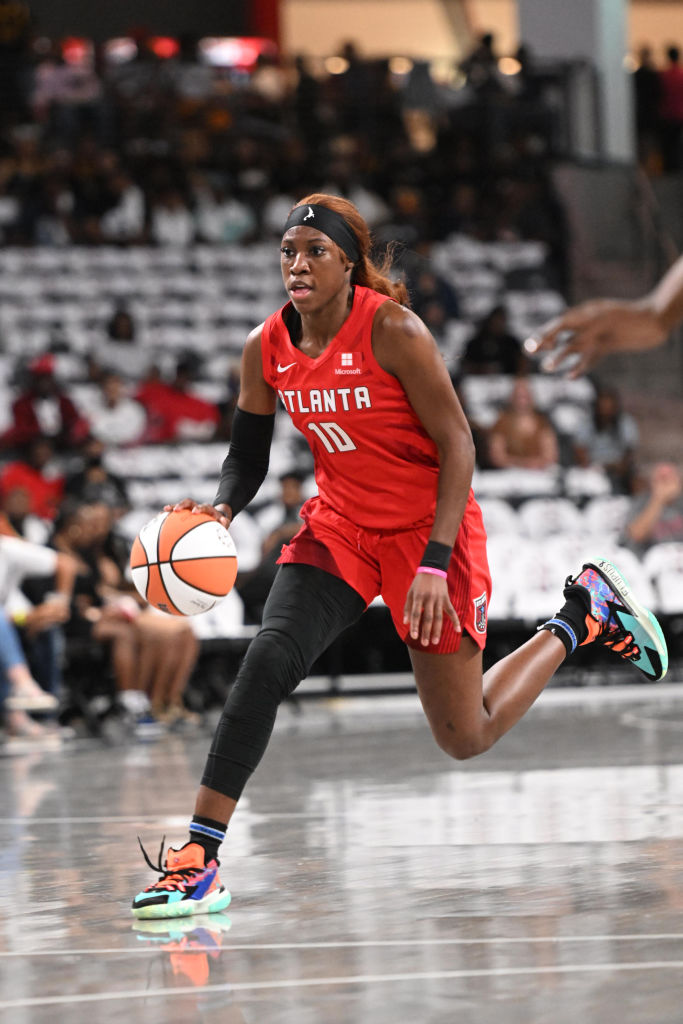 Wednesday, 5/11/22 Results and Game Threads
Atlanta 77, Los Angeles 75
Chicago 83, New York 50
Phoenix 97, Seattle 77
---
Atlanta 77, Los Angeles 75
The Atlanta Dream (2-0) took down the visiting Los Angeles Sparks 77-75 in front of a sold-out crowd at the Gateway Center Arena in College Park. Led by this season's No. 1 draft pick, Rhyne Howard, the Dream handed the Sparks (2-1) their first loss of the season. Atlanta held the Sparks to just 75 points, the fewest Los Angeles has scored through three games this season. The Dream also outperformed the Sparks from the three-point line, shooting 43.3% (13-30) compared to 31.6% (6-19) by Los Angeles.
Top Performers
Atlanta
Rhyne Howard 21 points, 8 rebounds
Megan Walker 11 points
Cheyenne Parker 10 points, 5rebounds
Kristy Wallace 10 points
Erica Wheeler 9 points, 7rebounds, 5 assists
Los Angeles
Jordin Canada 19 points, 6 rebounds
Nneka Ogwumike 17 points, 15 rebounds
Liz Cambage 16 points
Chicago 83, New York 50
The Chicago Sky (1-1) set a franchise record for margin of victory (33) in an 83-50 win over the New York Liberty (1-1). New York's 50 points mark the least amount of points the Sky has given up in franchise history.
Chicago guard Rebekah Gardner made her WNBA debut and finished with 14 points, four rebounds, and two steals on 6-for-9 shooting. A product of UCLA, Gardner has spent her pro career playing in Spain after going undrafted in 2012.
Top Performers
Chicago
Dana Evans 15 points, 4 rebounds
Rebekah Gardner 14 points, 4 rebounds
Candace Parker 11 points, 6 rebounds, 4assists
Emma Meesseman 10 points, 6rebounds, 4 assists
New York
Han Xu 10 points
Jocelyn Willoughby 9 points
Phoenix 97, Seattle 77
Former WNBA player and Phoenix head coach Vanessa Nygaard earned her first pro coaching victory when her team beat the Seattle Storm 97-77. Five Mercury (1-1) players finished in double figures.
The Storm (1-1) played without starting forward Breanna Stewart and Epiphanny Prince. Both missed the contest due to league health and safety protocols.
Diamond DeShields made her debut as a member of the Mercury. Brianna Turner made her first appearance this season and was in the starting lineup. Both Turner and DeShields recently arrived after playing overseas in Italy.
Nygaard on the win: "I'm just happy to see our team make progress. For myself as a coach, I learned a lot during the game and to have our two players that were gone for most of the preseason back in the rotation. It definitely wasn't perfect, but it was just good to have some success."
Top Performers
Phoenix
Tina Charles 22 points, 11 rebounds
Skylar Diggins-Smith 19 points, 7rebounds, 6 assists
Diana Taurasi 15 points, 4 assists
Diamond DeShields 12 points, 4 assists
Shey Peddy 10 points, 6 assists
Seattle
Jewell Loyd 26 points, 5 rebounds
Sue Bird 14 points, 6 assists
Ezi Magbegor 11 points, 5 rebounds