Sue Bird announces retirement, 2022 will be her final WNBA season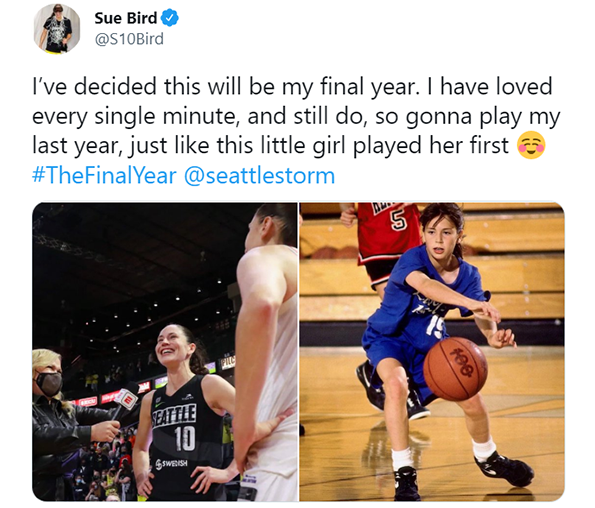 Sue Bird Retires; 2022 Will Be Her Final WNBA Season
In her 21st season, Seattle Storm point guard and WNBA legend Sue Bird announced her retirement as a player in the league. The 41-year-old Syosset, NY native, leaves the WNBA with a long list of accolades. The league's all-time assist leader and five-time Olympic gold medalist spent her entire WNBA career with the Seattle Storm. Overseas, she played in Russia for three different teams between 2004 and 2014. Her other honors include:
A member of each of WNBA's milestone teams: the All-Decade Team (2006), Top 15 Players (2011), Top 20@20 (2016)
Four WNBA championships
Two NCAA Championships
Five EuroLeague titles
The only player to play in at least 500 WNBA games, starting in each of her 559 career games played
Ranks second in career three-pointers made (965), fourth in steals (700), and seventh in points (6,639)
First overall pick in the 2002 WNBA Draft
There are only nine home games left in the Seattle Storm season. The Storm is on the road and will return home on Thursday, June 23, to host the Washington Mystics.
College Greatness
Bird, a graduate of women's basketball powerhouse UConn, won two national championships with the Huskies. She was a three-time Nancy Lieberman Award winner for the best point guard in college. During her senior year in 2002, she won several national player of the year awards, including the prestigious Wade Trophy and the Naismith Award. 
UConn head coach Geno Auriemma on Bird:
Obviously everyone knew this day was coming sooner rather than later. Sue was close the last couple years to making this decision and she felt that this was the absolute best time for her to step away from the game.

There certainly isn't anything that Sue left undone or to prove. There's going to be a lot of stories written and comparisons made about her and everything she's done. It really is no exaggeration to say, I don't think in our lifetime of watching basketball, that we've seen anyone play that position at a higher level and for a longer period of time than Sue has.

There's a lot of things that have been accomplished and people will say, 'That record will never be broken.' The things Sue has done, the accomplishments she's earned – I feel pretty good that that's never going to be done again. And if it is? Well, I wouldn't bet on it.