WNBA players and teams speak out after Supreme court ruling overturns abortion rights
In a landmark court ruling (Dobbs v. Jackson Women's Health Organization), the Supreme Court removed federal protections for those seeking an abortion. For nearly a half-century seeking an abortion was legal nationwide. In recent years, states sought to place severe limits and, in some cases, outright bans, on the medical procedure, including Texas, the site of next year's Women's Final Four.
Furthermore, Justice Clarence Thomas, who voted to overturn 1973's Roe v. Wade, indicated that he would seek to upend other Supreme Court rulings that protect same-sex marriage, same-sex sexual relations, and the use of contraceptives. As of now, nearly a dozen states will no longer allow doctors to perform abortions.
The WNBA has a long history of supporting women's health. In addition, many players identify as members of the LGBTQ+ community. Last year, when Texas enacted a near-ban on abortion, the Women's National Basketball Players Association (WNBPA), the union representing the league's players, took out a full-page ad in the New York Times criticizing the Texas decision. The organization reiterated its stance today.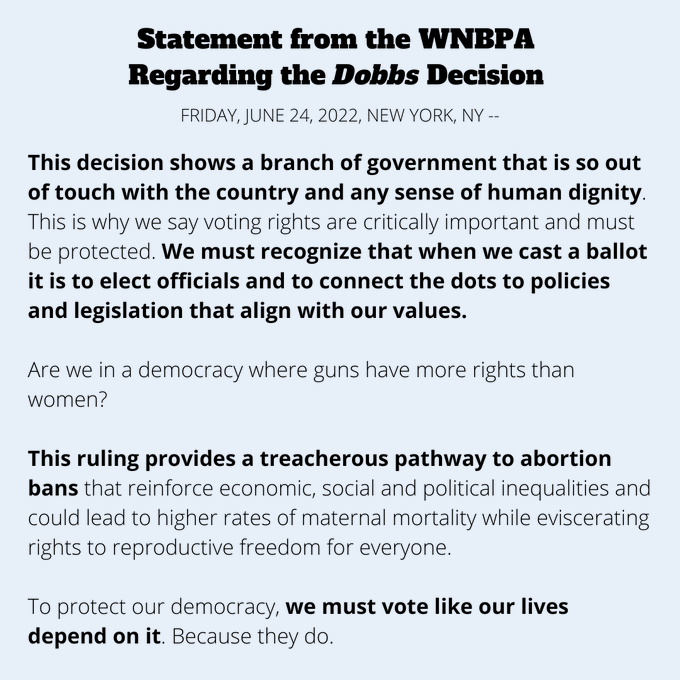 After the ruling, the league, the player's union, some teams, and many players posted their opinions on today's Supreme Court ruling via social media.
NBA Commissioner Adam Silver and WNBA Commissioner Cathy Engelbert issued the following statement:
"The NBA and WNBA believe that women should be able to make their own decisions concerning their health and future, and we believe that freedom should be protected. We will continue to advocate for gender and health equity, including ensuring our employees have access to reproductive health care, regardless of their location."
Nothing has changed but the date… gut-wrenching and disgusting with the overturning of Roe v. Wade. Yesterday was the 50th anniversary of Title IX and yet today women wake up with less rights than they had before. Our bodies, our choice! pic.twitter.com/paffAH5V25

— Breanna Stewart (@breannastewart) June 24, 2022
Most people know me and I don't always say much, but my thoughts are always going, but to live in this country and witness the injustice and the lack of basic human rights is heartbreaking. To watch kids get shot and murdered in schools because we need stricter gun laws.

— Bria Hartley (@Breezyyy14) June 24, 2022
Furious and ready to fight. pic.twitter.com/6fdEHUd4pM

— Seattle Storm (@seattlestorm) June 24, 2022
June 24, 2022
June 24, 2022