Jackie Young's commitment to growing her game leads to All-Star selection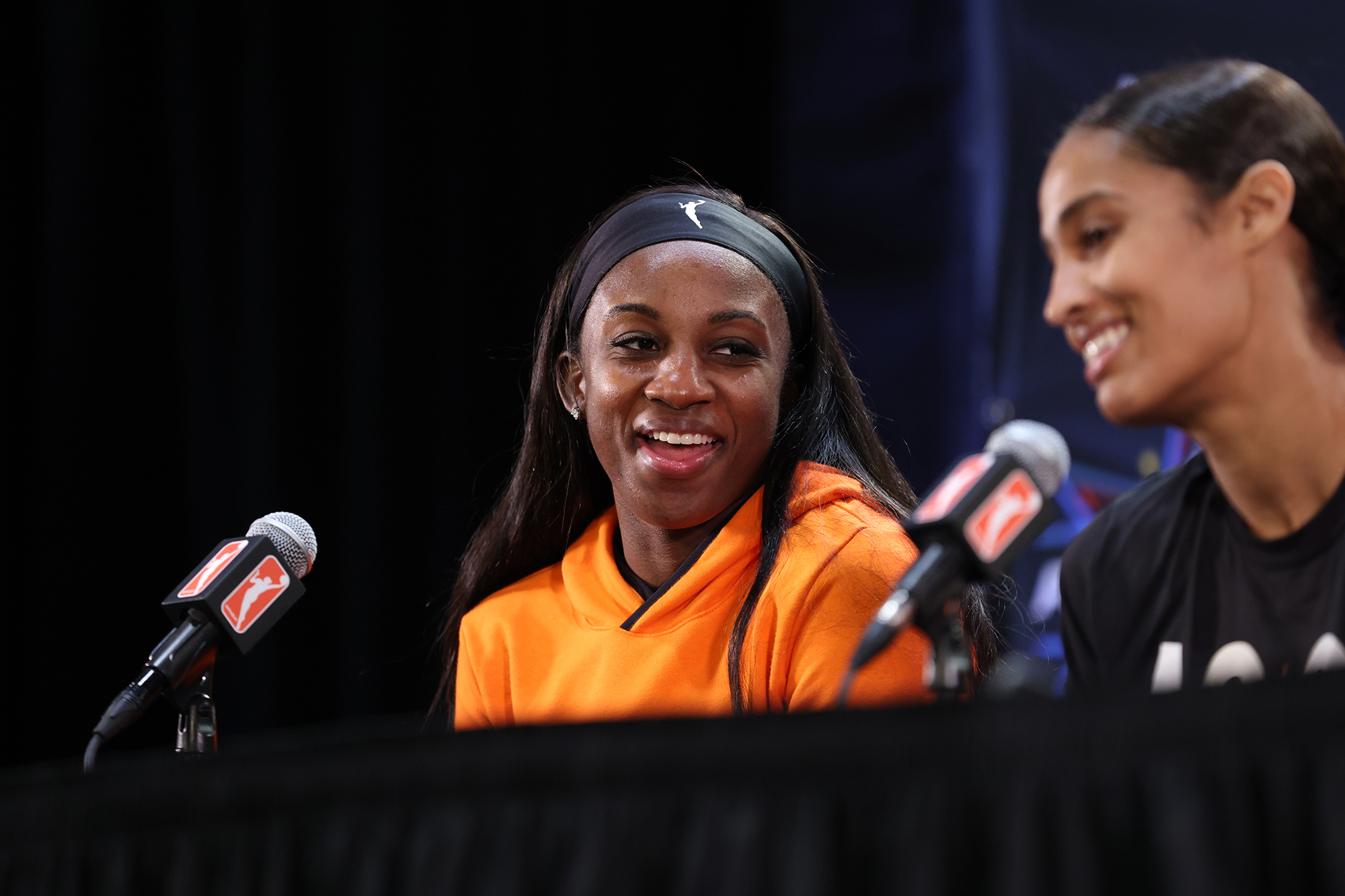 CHICAGO – Las Vegas Aces guard Jackie Young is one of four first-time 2022 WNBA All-Stars. Her teammates Kelsey Plum, A'ja Wilson, and Dearica Hamby are also on All-Star game rosters.
"Yeah, it was a blessing to be named an All-Star," the third-year guard from Notre Dame told Hoopfeed when asked Saturday whether she was shocked or surprised of being named to the game. "I just get to experience it with my friends, my family, so I'm really looking forward to that."
Since being drafted by Las Vegas in 2019, the six-foot guard has been on a steady incline as far as her scoring numbers are concerned – from around seven points per game her rookie year, to 11.0 ppg in 2020, and to 12.2 ppg in 2021. This season Young is averaging 17.1 ppg (third on the team in scoring and ninth in the WNBA. She also leads the team in three-point shooting percentage (46.9%). Other than missing two games earlier in the season due to an injured ankle, Young has been a member of the Aces' Big Three, which includes Plum and Wilson. All are averaging double figures this season.
Thus far this season, Young has had three 20-plus games, including a season-high 26-point effort against Connecticut – she also poured in 23 points against Chicago and recorded a 20-point game against Washington.
Seeing Young flourish should not surprise anyone – she was among the top five guards in the nation her senior year at Notre Dame.
"I've just tried to really grow my game each year, come back a better player, and this year expanding my range out to the three has helped a lot, just for me in general and for the team," Young said about her evolution.
Opponents this season certainly are noticing Young as well: Seattle forward Breanna Stewart, an All-Star team captain, picked her as a starter in Sunday's contest at Wintrust Arena.
"I picked Jackie for a number of reasons," Stewart told reporters. "Obviously, she's having an amazing year. She's just really finding her confidence and understanding what she can do, especially stretching to the three and knocking that down consistently."
"They're not bringing doubles off me and stuff like that," the soft-spoken Young said of her opponents. "I just really tried to come out and be a better player, just be more aggressive and assertive to start the season."
"To see her come into (her own as a player), it's been fun to watch," marveled Hamby – she and Wilson will have to play against their teammate on Sunday.
Charles Hallman is the longest-tenured Minnesota Lynx beat writer.