WNBA Commissioner Cathy Engelbert addresses media before All-Star Game; says the league will offer charter flights for the Finals
"For the WNBA Finals we're going to provide charter flights to our players, so for all Finals games, that'll happen."
Ahead of the 2022 WNBA All-Star Game, the league's commissioner, Cathy Engelbert, told the media that charter flights would be available for all Finals games. While the league has offered charter flights during the Finals before, players travel via commercial flights during the regular season, mostly in coach seating.
Under the current labor agreement with the player's union, teams cannot offer charter flights as doing so provides an unfair competitive advantage. Traveling on cramped commercial flights and tight schedules have been a cause of consternation and frustration among players for years.
Below are some of Engelbert's comments during her pre-game presser at All-Star weekend.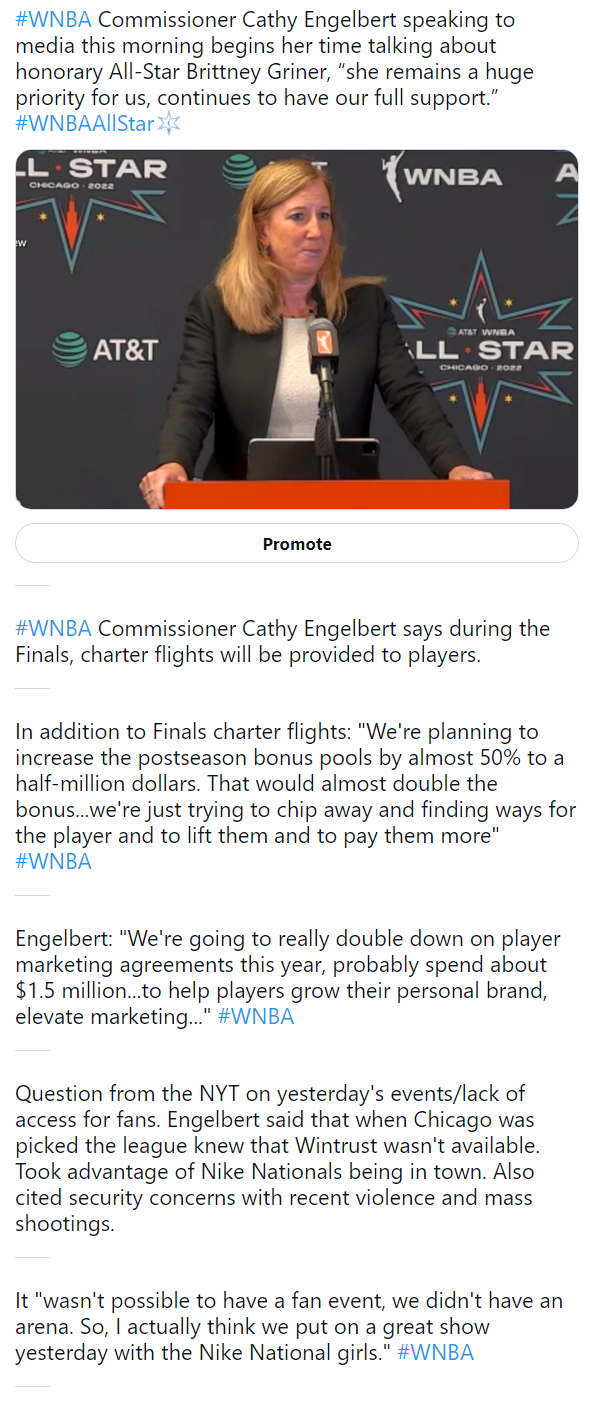 Full Transcript WNBA Commissioner
Cathy Engelbert's Q&A
CATHY ENGELBERT: Well, it's great to be here in Chicago, All-Star 2022. Really appreciate you all being here. The coverage has been great this weekend so far. It's great to be in Chicago, and Mother Nature has brought us some great weather this weekend, so really thankful to the city of Chicago, the mayor. The lieutenant governor of Illinois was here the other night and will be here today, I believe, and thankful to Michael Alter and John Rogers and the whole Sky team who have worked tirelessly to be our host this weekend. There's nothing like Chicago in the summertime, so really excited to be here.
I really want to just start and just reiterate, obviously, we're thinking of Brittney Griner at this time. She remains a huge priority for us, continues to have our full support. Fully focused on getting her home safely and as soon as possible of course, and as you know she was named an honorary starter today for the game. We'll have her initials and number on the court and also on the players' warmup shirts on the back. She's always with us, and our thoughts are with her this weekend.
This year you might have seen across the street we incorporated a new event at All-Star, WNBA Live, so it is, it was our first foray into an outdoor festival. Obviously, with all the events happening in the world today and COVID still out there, we tried to do the best we could, but it was exciting to see fans taking part in the event yesterday with WNBA players. WNBA legends were around. I think Tamika Catchings was here for like two hours signing autographs. Great to see Tamika back. Just a variety of activations. I lost in a foul shooting competition, by the way. Just AT&T and Deloitte and Dick's Sporting Goods and Google and Mountain Dew just to name a few of our partners stepping up. Merch was flying off the shelves yesterday and our WNBA iconic ball, as well.
Then we moved on to the Three-Point Competition yesterday and our Skills Competition. We had a four-peat from hometown hero Allie Quigley. That was great. When she walked on to the court, I said, Allie, here we meet again at center court to give you the trophy for three-point.
Great, and obviously the Nike Nationals are going on this weekend into this week, and we were able to integrate some of the Nike National girls as part of the skills competition alongside WNBA players.
I love that because that's showcasing the next generation of talent. Someone said to me, you couldn't tell the difference between the Nike Nationals and the W players because the Nike National girls were so elite, and obviously, Sabrina took home with Nike National winner Zoe Brooks, who happens to hail from Philadelphia where I'm from, so that was kind of fun.
All of these events are around our growth plan to try to grow our fan touch points, to grow and put the WNBA on a bigger stage than ever before. Obviously, with the amazing All-Star Game we're going to have today, you saw our format changes, so we're excited about that for this game, and we have two of the best leading the teams, co-captains A'ja Wilson and certainly Breanna Stewart, and they'll be joined by, I think you might have read, Sue Bird and Sylvia Fowles, who have both announced this is their last season. They'll be the co-captains for today's game.
Just reflecting on Sue and Sylvia, it's so amazing, I haven't been in the league that long — it'll be three years next week — but they were voted as starters this year in their last year. This is kind of symbolic with Sue and Sylvia kind of passing the torch to the younger stars like A'ja and Stewie and Jonquel Jones, our reigning MVP, and we have first-time All-Stars in Kelsey Plum, Jackie Young, Sabrina Ionescu of the Liberty, and we also have rookie Rhyne Howard, who was the No. 1 overall pick in the draft this year.
We have nine former No. 1 overall picks named today, so it's just great to see kind of the generational talent that we're building here in the league.
We also have four players representing Chicago and the Chicago Sky with Candace Parker as a starter and Kahleah Copper, Emma Meesseman and Courtney Vandersloot as reserves. It'll be great to see Coach Becky Hammon and Coach James Wade coach the teams today, the All-Star teams, and then they'll be back here in two weeks coaching their teams in the Commissioner's Cup championship, so I think there's a great storyline, as well.
Just on the business side, we continue to work really hard on the transformation of the business to improve the player experience, so we're going to implement a couple things because I feel confident in how we're doing at the league level. A couple things to help with the player experience for the rest of the season.
For the WNBA Finals we're going to provide charter flights to our players, so for all Finals games, that'll happen. In the spirit of finding other ways to compensate our players, we're planning to increase the postseason bonus pools by almost 50 percent to a half-million dollars. That would almost double the bonus for each player who wins the championship, so we're just trying to chip away and find ways for the players and to lift them and to pay them more.
Then we're going to really double down on player marketing agreements this year, probably spend about $1.5 million, planned to be spent this year to help players grow their personal brand, elevate marketing, help the league market because it's all-around exposure and marketing as we set forth on this transformation. We're seeing tremendous interest in the game, evidenced by viewership, and everything from draft on to today.
Our response to that also is to continue to try to grow, and we want to grow our footprint. Beginning next season, we're going to play 40 games. This year we're playing an all-time high of 36 games, next year we're going to play 40 games. We have a great footprint next year with no Olympics and no FIBA World Cup, and it will just give us more opportunities for fan touch points, brand partnership, awareness, continue to grow the game, and I think we're looking at exposure elevating, and you all are so helpful in that as well as our media partners, et cetera.
We need to have a more substantial season, so we'll do that next year.
With that, thank you all again, and I'm happy to answer any questions.
Q. A lot of stuff you just mentioned is good to hear. I'll touch on a subject you did not address when you talked about growth. The expansion question. I asked this last month, but is there a better timetable when you'll be able to say, hey, at the end of the season we'll be able to have the datapoints in order to know these are the places we want to expand, or is it going to be next year? When do you think you'll be able to start that process?
CATHY ENGELBERT: Yes, thank you for that question on expansion. I think I said we're working hard on data analysis. We have about 100 cities through a lens of psychographics, demographics, arena, NCAA fandom, current WNBA fandom, merch sales, viewership.
It's pretty interesting now that we have so much capability around data because of the people we've hired, so that analysis — and we have a lot of interest. I'd say probably 10 or 15 cities very interested in hosting a WNBA team. So we're meeting here and there I'll call it with interested ownership groups. We're looking for the right ownership groups with the right commitment, the right arena situation, the right city to support a WNBA franchise.
Yes, I'm hoping that it'll be a couple teams by no later than '25, but I'd love it in '24, but probably looking out to that kind of timeline, and again, lots of cities interested. That's the good news, and now we have to find the right ownership groups with the right commitment and financial wherewithal to really be committed to standing up a WNBA team in their city.
Q. Fifty percent of the hired coaches this season are Black in a league that's majority Black and the highest since 1998. Can you please comment on the growing diversity among coaching but also hoping to see that grow into other areas, as well?
CATHY ENGELBERT: Yeah, thanks. That has been a real focus of ours. We start every part of our Board of Governors meeting with an update on the diversity in our ranks, whether it's the GMs, head coaches, in our staff, both at the league and the team level.
We've got the A on the report card, but we're never satisfied. Bethany Donaphin has been leading our diversity in coaching initiative at the league level, and certainly proud that when I came into the league, we only had a couple people of color in roles, now as you mentioned we have six out of 12, and now we have seven out of 12 women and there were only a couple when I came into the league, so I think we're looking at diversity broadly, both gender and race.
Very proud of the owners of this league for the significant advances we've made there, but we're never done, and we'll continue to work on that, and also we continue to work on our diversity initiatives for medium and small businesses; not only our players are entrepreneurs but also who we want to do business with, so we continue to work hard on that.
Q. With the overturning of Roe v. Wade, what's the league's stance on expanding to cities where women's rights have been taken away and could be taken away and also hosting events in these cities and states?
CATHY ENGELBERT: Yeah, thank you for your question. Obviously, we continue to advocate for gender and health equity, especially in communities of color and access and reproductive healthcare. Really important. You saw our strong statements we put out, both on the leak of the opinion and the final issuance of it, so that's an important aspect of that.
When we do our analysis of those hundred cities and run it through our psychographics and demographics, that comes through as a very important element as to how diverse the city is, what the support is around the city and state. That's why the players were so smart this year is they picked their Social Justice Council pillar of voting rights, and more importantly to me, civic engagement, because we need to be more civically engaged, not just at the federal level but at the local and state level of who our elected leaders are in the states in which we play and certainly in every state.
I think our players have a big voice in that. They have a big platform in that, and certainly as it relates to expansion, the data is showing those states that are really going to — I think it's natural that are going to be supportive of a diverse women's league like the WNBA, but we certainly will continue to advocate for women's rights, reproductive rights, choice and all of that, so we'll continue to be leaders on that, and we'll evaluate those kind of things when we're looking at cities.
Q. Access has been an ongoing issue for fans, whether it's being able to watch on TV, fumble their way through the app, and then even yesterday for the three-point and skills event, I know it was outside, a lot of fans came assuming that they'd be able to see it. What would you say to them to assure — how can the league assure them that you guys are working on this issue?
CATHY ENGELBERT: Yeah, well, when we picked Chicago as a place for the All-Star Game, we knew we weren't going to be able to have Wintrust Arena yesterday. It was already committed. So given that then we found out Nike Nationals were going to be here, we took this great opportunity to integrate the elite youth sports into our three-point and skills competition.
So the competition was not outside, it was indoors on a Nike National court. Actually, we laid the Chicago Sky court down there and invited all the Nike National girls in. There's also a lot going on around security, and even having an outdoor festival at this very crazy time, as you see shootings and people driving into restaurants with outdoor diners and things like that.
As we were planning this by the way last fall we were trying to find the best thing to do to try to stand up at least a little bit of an outdoor festival to try to have a fan festival element in addition to the game. Last year you remember we didn't even have a separate Three-Point or Skills competition, and we still have COVID out there. I see many of you in masks which I appreciate, so cobbling together everything that's going on, coming off two tough COVID years and not having Wintrust available yesterday, it just wasn't possible to have a fan event. We didn't have an arena to have it in here in the city of Chicago.
I think we actually put on a great show yesterday with the Nike National girls not only participating but in small bleachers around the court, and if you go over to McCormack during Nike Nationals there's a lot of basketball being played and a lot of courts laid down. I think it turned out, again, a nice little integration with youth basketball.
But understand the fans are frustrated not attending that, but again, last year we didn't have it, the year before we didn't even have an All-Star Game, so we're kind of just trying to build what All-Star Weekend will look like.
This year, again, planning it back in October, Omicron came and we're like, oh my gosh, should we have this festival or not, so we just tried to do the best we could with the cards we were dealt this year.
Q. I don't know if you've been able to check social media, but to piggy-back off that, the frustration from the fans was kind of like things seemed to be a little haphazard with it being planned a little later. I know with the NBA we know the next two, three locations already; is there a way to announce similar — where the locations are for the next All-Star Game, and what exactly is going to be done to enhance the fan experience, because I know a lot of people were frustrated that there weren't a lot of events open to the public besides the live and the parties and things of that nature were kind of invite only. Piggy-backing off that, what else can be done to enhance the fan experience?
CATHY ENGELBERT: Yeah, we're going to be looking at that. We appreciate all that fan input. We're definitely going to be looking at different ways to bring more fans in. Hopefully we're a little more out of COVID next year. Again, remember we were planning this October through this weekend certainly.
I think we will be announcing much sooner next year's All-Star location. We're not going to announce it today. We're not in a position yet. But we did go out to all of our teams and cities and ask who wanted to host it over the next three years. It was the first time we actually had that ask out for '23, '24, '25. Hopefully we'll announce it well in advance, we just weren't prepared to do that today.
Q. Can you expand on the decision to expand the regular season next year to 40 games? Why now and why 40 in particular? Have you received feedback from players on if that's something they're looking forward to, playing more games?
CATHY ENGELBERT: So even before I came into the league there was a lot of discussion between the owners and the players through the collective bargaining cycle in 2019 into 2020 around playing more games, expanding the season. Again, it will probably be in the same footprint we normally have. This year was a challenge because of the FIBA World Cup on the back end, so this year was the most challenging. Last year we had a break for the Olympics. Next year we don't have either of those two, so we're still playing the 40 in that same footprint, so we're not expanding the number of days, we're just going to be able to play at a nice cadence.
In the collective bargaining agreement, it's up to 44 games, and I think everyone can have their opinion, but when you're trying to grow the longest tenured women's professional sports league in the country, you need to play more games. You need to have more fan touch points, you need to have more ability to have more on media platforms, things like that, more storytelling, more rivalry building, and the more games you play, the more you have to build that.
So I think there was always a plan to play between 36 and 44 coming off, so because we have this great footprint next year that we didn't have this year, that's why we're going to 40 next year.
Q. There was a Chance the Rapper concert yesterday. I'm curious if you could take us through how that came together, what his involvement does for the growth of this league, and if looking in the future, is this something you'd like to promote, like a concert with a big name a little bit more ahead of time?
CATHY ENGELBERT: Yeah, we would have loved to have opened that up to the public. Because of security concerns given dating way back to Mandalay Bay, dating back to other things that have happened here in Chicago and Uvalde and Buffalo and there's a lot of concern about outdoor events right now unfortunately in our country, so we were just trying to do the best we could. We always wanted to have WNBA Live be music and basketball and music and culture and food and art, things that bring culture and pop culture together. This has been planned for quite some time. It was just because of all the security concerns across this country that we couldn't open it totally to the public.
Again, it was more than just Chance the Rapper. Chance's brother was there, Latto was there, so it was a success. We were able to bring, again, some of the youth basketball players in for that, some of our corporate partners, players, but next year we're hoping that we can blow that out more into — a real fan festival element is music. Music is part of what the WNBA players love and how we can put that on display. Chance being such a huge fan of the Chicago Sky and being a Chicagoan and just — he was a good choice for our kind of first.
But again, understand the frustrations that the general public couldn't be invited, but next year hopefully we're in a different time. We've got a different perspective around how to secure everything. But this year because we wanted to do it right across the street in McCormack Place, consulted with security experts, Chicago PD, our WNBA security experts, that was what we decided to do this year.
But again, just saw the joy on the young people's faces, and AT&T did livestream it, so anybody could have watched it, but just again security concerns had it limited to on the actual live crowd that could be there.
Q. I had three things I wanted to check on. You mentioned going to the charter flights for WNBA Finals. Is that something you discussed with the union or is the league able to sort of make that decision, like you said, based on financials? Does everything stay the same in terms of teams being able to charter earlier in the Playoffs if they have a tight turnaround and it's multiple time zones? Lastly, does the 40 games stay as is? I know it can go up to 44, but does it stay at 40 in years with Olympics or World Cup?
CATHY ENGELBERT: So I'll take on the charter flights. Yes, we discussed that with the PA. I think we'll look for other opportunities to do charters like we have in the past. People don't know we did a bunch of charters during last year's Playoffs when we had a west to east with challenging one day's rest or no days' rest, so we'll continue to look for those opportunities should our budget allow it.
But we wanted to start kind of chipping away and do WNBA Finals. This is again the longest-tenured women's professional sports league and we're feeling good about where we are.
On the 40 games, I would love to do that consistently every year. I'd like to go to 44 at some point when we have a good footprint to do that. We'd like to do it, but we're going to have to make decisions with our owners around the Olympic break.
Now in '28, the Olympics will be here in LA. Maybe that's a little easier to fit everything in. Paris may be okay because it's not that long of a trip for a lot of our players who have national team commitments, but we're globalizing our player base. We now have I think 23 players from 12 or 13 different countries playing in the WNBA outside the U.S.
Again, we have to be respectful of all the National Team commitments, not just of the USA team.
Really something that I'd love to play 40 games consistently, and now we'll have another four years before the next FIBA World Cup, so I don't even think it's been named where that's going to be yet. Obviously, this year being in Australia, almost as far as you can go, we had to accommodate a much shorter backdrop of the season to almost end a month earlier this year to respect those national team commitments.
Q. I wanted to ask you a little bit about experiences either at All-Star or activations that the WNBA potentially is thinking about, not just regarding fan experiences but more so opportunities for players and coaches or people in basketball to network and negotiate different jobs and deals. We know that that happens in a lot of other professional leagues, and I'm just curious if the WNBA, especially knowing your background in business and how you've been able to foster opportunities for women throughout your career, if that's something that you've given any thought to.
CATHY ENGELBERT: Yeah, it's a great question because it's one of the reasons quite frankly I took the job is I saw — someone told me when I came in the average tenure of a WNBA player is six years or less, and obviously we have players like Sue and Sylvia playing much longer and others shorter, and I said, okay, all right, so they are 22, and now they're 30 on average, and what do they do for the next 30 years. I had this great 33-year career that I was able to build.
Yeah, so we have internship opportunities. We've had several players do those. Then because they're so amazing, then the companies love that, and obviously Nike has stepped up and does a bunch of development programs for retired WNBA players which have been a huge success, and Nike has been such a great partner on that kind of thing.
But whenever we talk to companies around partnerships, we add that in. We add in that our players are entrepreneurial, they're smart, they're college graduates, they want opportunities. But I will tell you our players are really focused on playing basketball because they know, again, their bodies won't hold up for too long and that they want to play as much basketball as they can.
But I think there are many of them that know they want to build their skill set for the future, both for coaches and for — we're particularly focused on players and giving them opportunities in the offseason, not only through the player marketing agreements as you mentioned but also through internships and opportunities with companies.
We had a couple players under player marketing agreements and then they'll get ultimately endorsements from individual companies, and that's what we want to do. We want to grow the ability for players to have additional compensation but also grow their skill sets so when they are done playing basketball, they're ready for the world out there.
Again, I've been so impressed with their entrepreneurial nature, too. They've started up businesses, and to the extent we can help with that and our owners can help with that, that's what we've been focused on.
Q. Following up on what was asked about earlier in the presser, a few years back we saw the WNBA move the All-Star Game out of Charlotte in the wake of the HB2 law. Would the WNBA be prepared to move an All-Star Game if a state had a restrictive abortion law or had at least take into account a state's restrictive policy when deciding on a future site of an All-Star Game?
CATHY ENGELBERT: Yeah, I think it's certainly something, if you look at the cities, many of the cities in which we play, as you even looked at COVID, most of our arenas didn't have fans last year. They weren't one of the more open states and things like that.
But it's certainly something we would take into consideration, but I also think WNBA players have such a strong platform that could they effect change, and like don't just run away from a state but also help effect change in a state where we might be playing or ultimately if we selected a state that had those restrictive laws for an All-Star Game or some tentpole event, et cetera.
I think the players, we want to sit down after the season — the players carry a heavy burden on their shoulders from everything that happens in this country, whether it's the gun violence, whether it's the Roe v. Wade Dobbs decision, whether it's all the other social justice and racial injustice things that happen, I think they carry a huge burden on their shoulders, and I think — I always call our Social Justice Council work player-led but league facilitated, so it is our job to make sure that where they want to use their platform — and again, this year they've picked civic engagement and voting rights, and especially smart in advance of the midterms that they are learning that because they're not necessarily schooled on political and social activism and things like that but they're just so good at it.
So using their platform to maybe effect change in states, and that's why civic engagement is so important. Know who your local and state legislators are, know how they vote, know what they support, find the values match with the values you have with the elected leaders that you'll support, and the players are learning that's how you do it, how you become an advocate, go from athlete to advocate.
Q. You mentioned the increase in viewership, and obviously you've got a media rights contract coming up in a couple of years. I'm sure you saw the deal that Emma last did with Apple. What are your thoughts looking ahead to that, and how much does the changing landscape like the deal with Apple benefit you guys as you are seeing increasing viewership?
CATHY ENGELBERT: Yeah, great question because other than getting Brittney home safely, this is my top business priority is to work on — and you can't just say let's wait for the media deal to be negotiated. There's a lot of disruption going on in the media landscape today. Obviously, the linear and households using TVs and people using TVs is going down, and yet streaming is going up, but now the streamers are being disrupted.
We need to find the right package more broadly for the WNBA. We need to make it easier for fans to watch our games, to know where our games are.
We have 160 games on national platforms this year, a record for the WNBA, which is great. We're getting exposure, but I think our fans get frustrated, where do you find those games. Some of them are on Twitter, Facebook, obviously ESPN and ABC being great partners, nine ABC games this year in addition to the All-Star Game, which is great for us, and we also have to look at our fan base and find the right media packages.
You look at we skew more urban, socially conscious, we skew more women compared to the men's leagues, and with our viewership going up and the potential for that, and looking at certainly studying, looking at some consultants helping us to determine what is going on in the media landscape and also determining the MLS deal and MLB deal, NHL deal because when you look at our viewership versus the NHL, MLS, NASCAR and things like that, some ways on cable were at or above them are social platform and stuff; how do you get these qualitative metrics as part of the next media deal negotiation, so we'll take the algorithm that media companies use, so this is one of my major focuses.
When less than five percent of all media coverage covers women's sports, we're going to change that narrative. The denominator is huge, but we've got to bring a significant media deal in the next round. So this is my No. 1 business objective is to not wait in a couple years; it's to do all the work now such that it's successful negotiation in a couple years when we have the big media contract up.
Q. With regard to merchandise, I know there's been some issues with regards to obtaining merchandise and having to go through some hoops just to purchase WNBA gear, and then my second is has the front office looked more into what can be done so that these players don't have to go overseas, they could actually rest and actually play and be a part of preseason here in the States?
CATHY ENGELBERT: Good questions. On merch, I think if you saw, there was merch in my hotel like you see at a Final Four or Super Bowl, there was merch over at WNBA Live that was flying off the shelves. We are working hard on that.
We're also trying to set up WNBA.com and transform that so it's kind of like watch, here's where you watch, play, bet and buy, basically rep, but buy, so we have a more central portal for where you can buy WNBA stuff because I have fans all the time talk about I can't find the orange hoodie or I can't find this jersey, and then I go in the WNBA store and it's right there. I'm like, okay, and even in sizes. Now, I realize youth sizes and maybe some women's sizes aren't stocked as much, but we've been working with our retail partners. I think Dick's Sporting Goods coming on as a partner late last year has been an enormous success for hopefully them and us.
So we're still working on that. We never rest on merch because we know how important it is to the brand, but we're still working on opportunities and then partnering with small and medium-sized businesses like Playa Society and others to come up with different merch, and I've seen so much merch walking around here today, I'm like, wait, I didn't even see that, or that sweatshirt looks really cool. So still working on that.
Working on — we mentioned the player marketing agreements. Again, one of those is an element of if you do this player marketing agreement we'll pay you substantial dollars but you don't go overseas because it's all about having the WNBA marketed and talked about year-round, not just during our short four-and-a-half-, five-month season. So that's an important way to keep players in market.
I think giving them opportunities, again, should they want them around internships, around other things, community activities, we are seeing more and more players want to stay home, obviously the impact of Russia on all this, we'll see what happens. I know some players have already signed in Turkey but we've signed some players to player marketing agreements who usually play overseas.
We're going to chip away and work at that, but we're not going to preclude players from playing overseas. They want to play basketball. They want to play basketball, some of them year-round, although we can do the best job we can. That's why we're trying to find additional ways to pay them through these marketing agreements, through the player bonus pools, through the half million dollar Commissioner Cup prize pool.
We're trying to cobble together, and we're tripling the top players — the top player now can make $650,000 with all the bonuses and everything. We're chipping away at that to make it more attractive to stay here but we're not going to say you can't go play overseas because players want to play basketball. That's one thing I've learned that I didn't know when I came in. They would pick basketball over a corporate job right now because they know they only have so many years to play.
Yes, for some it's significant money. But we're chipping away at that. I think team marketing money is available, too, and again, I think the more we can get them to partner with businesses and corporate sponsors and the more they can market themselves, the more endorsements they'll get, and now we'll have players coming in with NIL deals who will have significant income in addition to their WNBA income. They love the game. So it's all going to play out over the next couple years, but we're really chipping away to make this a more economic decision for players to stay.
But we know players are still going to go overseas and play because we've already been working with a few of them who say, I really want to go play, I want to keep playing, and I want to get better, and there are players also that don't get significant playing time in the WNBA who need to hone their game overseas.
Q. One of the things that I remember in 2007 is that the NBA did an All-Star Weekend I believe it was in Vegas before they had a team. The fact that the All-Star Game has expanded to so many cities, Seattle, Minneapolis, Las Vegas a couple years, now Chicago, has there been any thought of hosting an All-Star Weekend, especially with all the conversation around expansion, hosting an All-Star Weekend in a city that currently does not have a WNBA team?
CATHY ENGELBERT: Yeah, I think we're always thinking about what I'll call neutral sites or sites where we don't have. We thought about that for Commissioner's Cup Championship. We thought about that certainly for All-Star or other tentpole event, preseason games, as well. If we're going to globalize the game, we might think about a Global Games like the NBA has done so beautifully. We're always thinking about looking at cities where we don't play today and seeing what the fandom would be.
I think we're more apt to do it kind of in a preseason game and maybe an All-Star Game. We want to have our cities that our owners who are supporting the W benefit from bringing fandom in for an All-Star Weekend, but certainly something that we'd consider, and we do consider, and we look at other cities I think in the future. I'd love to think about that and test some cities out for WNBA fandom.
Q. A question about a place you know pretty well and that's your hometown. Where is Philadelphia in the WNBA expansion race right now, and where would you like it to be?
CATHY ENGELBERT: Yeah, so obviously people who don't know this, I'm from the Philadelphia area, my father was actually drafted into the NBA in 1957 by the Detroit Pistons after playing for St. Joe's University for Naismith Hall of Famer Jack Ramsay, so I know Philly, and I know it's a great basketball city. Obviously you have Villanova who's won a couple National Championships over the last couple years.
Definitely see the potential in Philly for a market. We have to evaluate whether is it a good market for women's basketball. Obviously we have players in Dawn Staley who's coaching South Carolina from Philly and Natasha Cloud and others.
We're definitely — Philly is definitely on a list. Again, I said we had 100 cities on a list so I could name probably 15 where we think we've narrowed the list down to, and Philly is on that list.