After Dismantling Gonzaga in NCAA First Round, Ole Miss is Confident Ahead of Matchup Vs. Stanford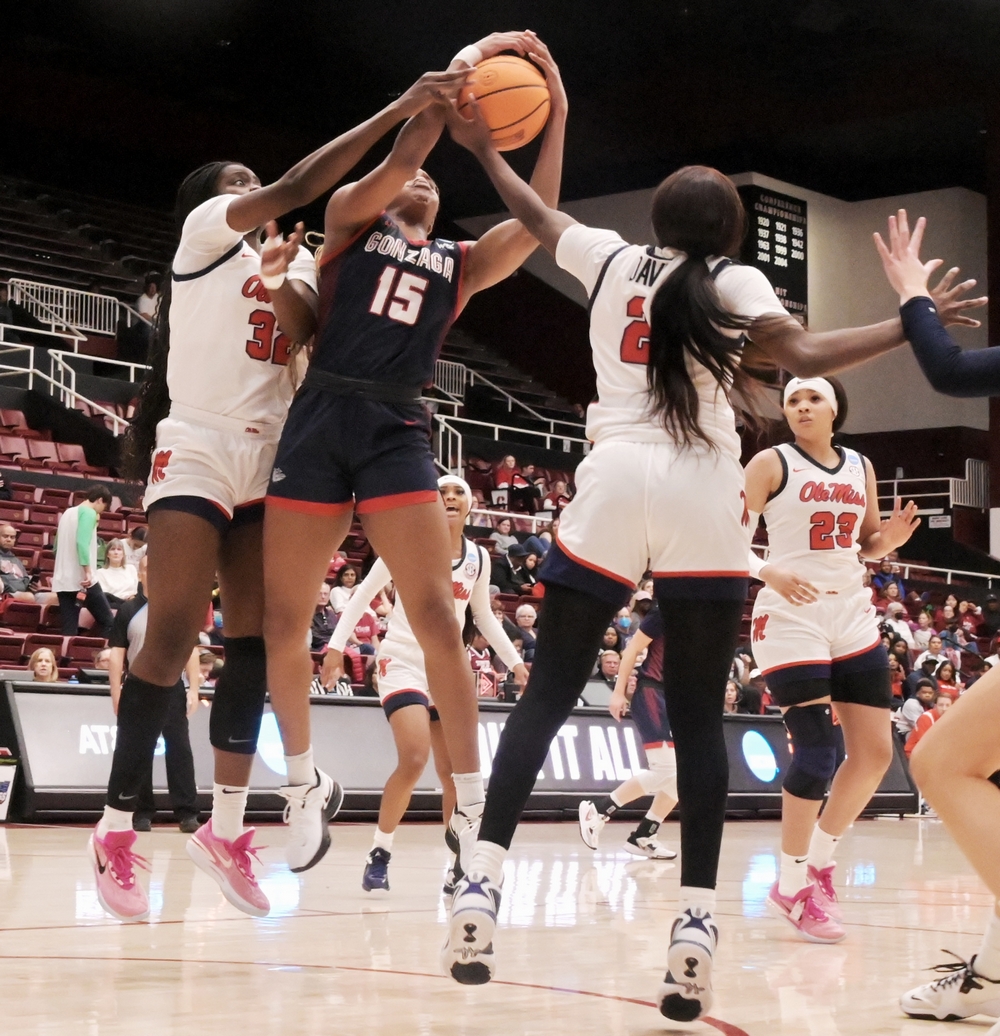 No. 8 Ole Miss Rebels (24-8, 11-5 SEC) vs. No. 1 Stanford (29-5, 15-3 PAC-12)
6:30 p.m. PT, Maples Pavilion, Stanford, CA
TV: ESPN (Roy Philpott, Brooke Weisbrod)
After dominating Gonzaga in the first round of the NCAA tournament, the Ole Miss Rebels are primed for what should be an exciting contest against No. 1-seeded Stanford. The defense of the Rebels helped them shut down the Zags, who led the nation in made three-point shots this season. Gonzaga shot a paltry 1-of-17 from beyond the arc.
In addition, three Ole Miss players scored in double figures, as they also held Gonzaga to under 50 points with a final score of 71-48. With the first-round victory under the belt, Ole Miss turns their attention to the No. 5 team in the country as they advance to the second round of the NCAA Tournament for the first time since 2007.
A Mutual Admiration Society
Since the start of the tournament, the head coaches of Ole Miss and Stanford have expressed admiration for each other even as they prepare for a battle.
As a young, dynamic coach, Ole Miss' Yolett McPhee-McCuin discussed how she relishes the moment facing Tara VanDerveer but also focuses on the task at hand.
"It's incredible," she said about the opportunity to face Stanford's Hall of Fame coach. "I grew up being a student of the game, so obviously, Tara is someone that I have admired. I've had time to meet with her a couple of times. But I think this is the first time she like knows who I am," she laughed.
Given the positive comments VanDerveer made about McPhee-McCuin, it's clear she knows exactly who the Ole Miss coach is and admires her as well.
"Well, I saw Coach Yo as she was coming on the court, and she's done a fabulous job," VanDerveer commented about seeing her opponent for the first time this week.
She compared her trajectory in bringing Stanford to national prominence to that of the Rebels coach.
"[A] little bit, I think, similar to me coming to Stanford, she took over a program that was — and like Dawn Staley – taken a program from the outhouse to the penthouse. Dawn is definitely in the penthouse. Coach Yo is looking to do the same thing."
However, some factors were not in play in women's basketball when VanDerveer arrived at Stanford 37 seasons ago.
"I think things are different now with…the portal, the NIL, and everything," VanDerveer said when comparing her journey. "But I think it's great that she's keeping it real. That, whether it's community service things or just coaching. Really, coaching is not just giving candy to players. It's making corrections. It's helping them reach their potential. Seems like she's doing a great job. It was fun to just visit with her, even though it was a very short visit."
The Return of Cameron Brink and a Sleepless Night
Stanford played without starting forward Cameron Brink in their 92-49 rout of No. 16-seed Sacred Heart Friday night. As the program's career leader in blocked shots, Brink is a critical component of Stanford's defense. She averages 9.5 rebounds per game, along with 14.9 points per contest.
With or without Brink, McPhee-McCuin knows Sunday's game will be a monumental challenge.
"You know, we just have a lot of respect for them. They are just super talented," she said. "I know Cameron didn't play tonight, but we'll expect her to be there on Sunday. They are just a really solid team."
For VanDerveer, Ole Miss presents a difficult test early in the tournament.
"I didn't sleep last night," she said when asked about her preparation for Ole Miss after beating Sacred Heart. "They're really good. They're a very experienced group. Looking through, I didn't see any freshmen even on their roster in terms of the people that play. They play a very aggressive style. They really took Gonzaga apart yesterday. We are going to have to play very well."
Head-to-Head Comparison
The teams last met in the 1990 NCAA tournament during the Sweet 16 when the Cardinal won 78-65. Stanford won its first national title that season. The winner of Sunday's game will advance to the Sweet 16 and head to Seattle for regional play next week.
This season the two teams are the only programs in the country to take undefeated No. 1 South Carolina into overtime. They are also the only teams to beat Gonzaga by a margin of 20-plus points this season.
Ole Miss
Stanford
National Rank
Value
National Rank
Value
Scoring Offense
98
69.3
21
76.9
Scoring Defense
26
56.5
44
58.3
Scoring Margin
22
12.8
6
18.6
Winning Percentage
T-38
75
T-11
85.3
Steals Per Game
207
7.3
321
5.7
Blocks Per Game
11
5.2
2
7
Field Goal Percentage
110
42.1
19
45.8
Free Throw Percentage
285
67.1
109
73.1
Three Point Percentage
240
29.4
45
34.6
Assists Per Game
T-188
12.7
T-23
16.6
Free Throws Made Per Game
137
12.47
95
13.09
Three Pointers Per Game
259
4.8
86
7
Turnovers Per Game
94
14.4
33
13.2
Free Throw Attempts Per Game
86
18.59
122
17.91
Three Point Attempts Per Game
T-261
16.5
121
20.2
Field Goal Percentage Defense
11
35.3
3
32.9
Turnover Margin
92
2
269
-1.91
Three-Point Percentage Defense
3
24.8
127
30.3
Fouls Per Game
265
18.2
76
15.2
Rebound Margin
18
7.9
3
13.6
Rebounds (Offensive) Per Game
22
14.6
32
14
Rebounds (Defensive) Per Game
59
27.4
2
31.9
Rebounds Per Game
19
41.97
5
45.88
Assist/Turnover Ratio
135
0.88
16
1.26
Turnovers Forced Per Game
141
16.38
348
11.29