Ole Miss takes down No. 1 seed Stanford in historic win to advance to the Sweet 16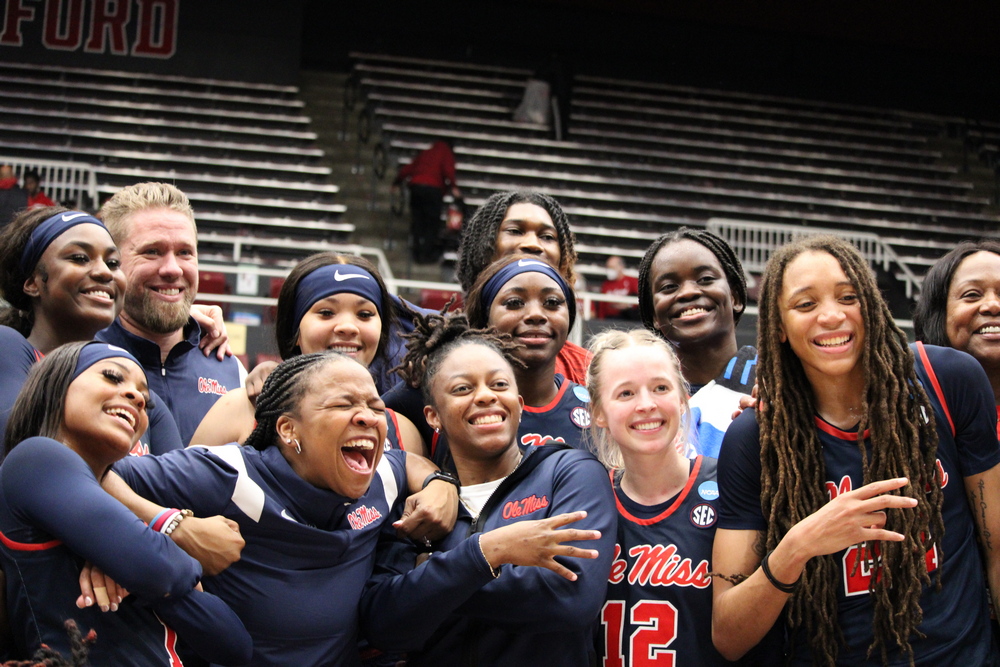 STANFORD, CA – Eighth-seeded Ole Miss (25-8, 11-5 SEC) made history Sunday night with a 54-49 victory over powerhouse and No. 1 seed Stanford (29-6, 15-3 PAC-12) in the second round of the NCAA tournament. The win broke Stanford's streak of 14 consecutive Sweet 16s. The last time the Cardinal lost a game in the tournament's first two rounds was in 2007. That year was also the last time the Rebels made it to the Sweet 16.
"We have been battle tested all year," Ole Miss senior guard Angel Baker said. "We've fallen short, and it was finally our time to step into that moment and come out on top. I feel like we walked in with confidence, and we knew who we were from the jump."
The Rebels indeed showed no signs of fear or intimidation from the moment the game started, with Baker getting things started with a pull-up jumper. While the game was tied three times, Ole Miss never trailed and held their own for 40 minutes with tenacious defense and prolific shot taking. Defensive pressure from the Rebels rattled the Cardinal, who missed shot after shot that they would typically make, including easy bunnies and mid-range jumpers. The Ole Miss defense also led to 12 first-half turnovers by Stanford, and they also gave up 12 offensive rebounds to the visitors.
The Rebels had an 18-13 lead heading into the second quarter and continued to outscore the Stanford as halftime neared. At the break, Ole Miss led 29-20. Baker and freshman guard Ayanna Thompson had nine points each for the Rebels, while senior guard Haley Jones had eight points for Stanford.
The second half was a gritty affair as both teams made some gutsy plays, and players began to get a little testy. With a raucous crowd and the continued dominance of Ole Miss, it was a tense atmosphere on the floor.
Stanford had a late-game run that tied the game up with 1:16 left, but the Rebels were not to be denied and finished the game on a 5-0 run powered by free throws.
"I thought our team really battled in the second half," Stanford head coach Tara VanDerveer said. "We kind of dug ourselves a hole, but you know, we battled back. We tied it up, and we had an opportunity to win the game. I think Mississippi, they are a very experienced and very determined team. They made plays down the stretch that we didn't make."
Three Ole Miss players finished in double digits, led by Baker with 13 points plus four rebounds. Senior guard Marquesha Davis scored 12 points and pulled down four rebounds. Junior forward Madison Scott contributed 11 points and five rebounds.
Junior forward Cameron Brink, who missed the first-round game due to a non-Covid illness, paced Stanford with 20 points, 13 rebounds, and seven blocks. Senior guard Haley Jones added 16 points and eight rebounds. VanDerveeer also revealed the plans of Stanford's seniors postgame.
Stanford senior plans:
Hannah Jump is returning, Haley Jones and Ashten Prechtel are going pro, Fran Belibi is going to grad school at Harvard. #ncaaw

— Hoopfeed.com ? (@hoopfeed) March 20, 2023
Overall, Ole Miss outrebounded  Stanford 44 to 39. They also helped themselves to 20 offensive rebounds.
The Rebels shot only 30% from the floor compared to 33% by Stanford. However, the Rebels took 64 shots compared to 52 by the Cardinal. Of those shots, five were treys. Stanford finished 2-of-7 from beyond the arc.
Ole Miss heads to Seattle to face either Louisville or Texas. In the meantime, they can savor the moment.
"I'm incredibly grateful to be in this position," said Ole Miss head coach Yolett McPhee-McCuin."
"I told my team, like, I just love them so much. I don't want to stop having this feeling, so who knows, maybe we end up in Dallas."