With a disappointing Pac-12 tourney behind them, Stanford enters the NCAA tournament with a No. 1 seed and high hopes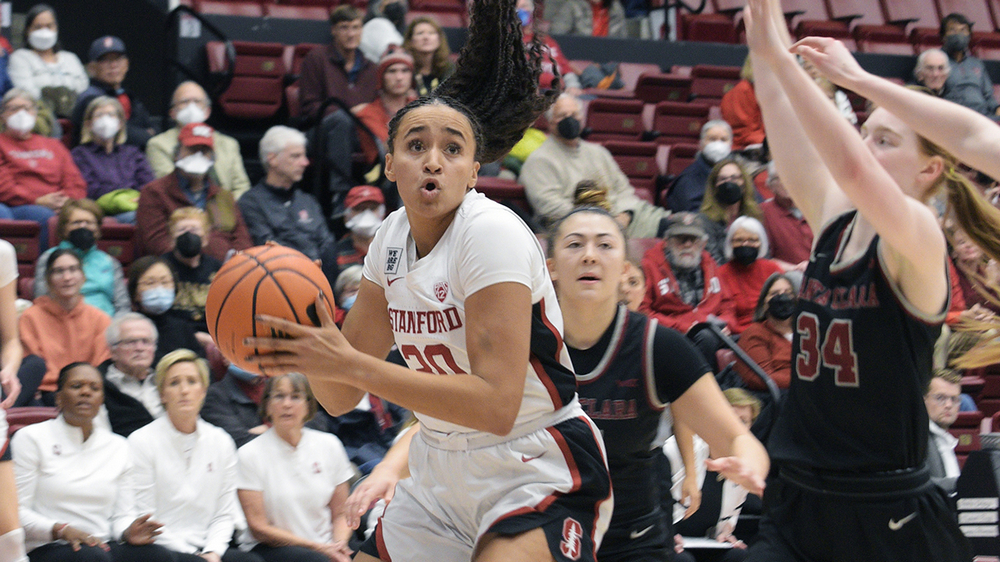 Stanford, CA– After a disappointing finish in the Pac-12 tournament, losing in the semifinals to UCLA, Stanford (28-5) is rested and itching to begin competing in the NCAA tournament.
The fifth-ranked Cardinal learned the team's seeding during Sunday's Selection show.
No. 1 Seed Three Years in a Row
For the third consecutive year, Stanford earned a No. 1 seed. The other top seeds are the overall No. 1 South Carolina (32-0), Indiana (27-3), and Virginia Tech (27-4). This season the tournament has a two-site regional format with teams competing in Greenville, SC, and Seattle, WA. Stanford is in the Seattle 4 region and will await the winner of a play-in game on Wednesday to begin its quest for a 16th Final Four appearance and a fourth national championship.
Southern University and Sacred Heart, two No. 16 seeds, will compete in a First Four game at Stanford on Wednesday, March 15, at 6 p.m. PT (TV: ESPNU). The winner will face the Cardinal on Friday, March 17, at 4:30 p.m. PT. The game will be televised on ESPN2.
The other teams competing in first and second-round action at Maples Pavilion are No. 8 seed Ole Miss (23-8) and No. 9 seed Gonzaga (28-4). The second round game is Sunday at a time to be determined. Ole Miss and Gonzaga will compete in the first round at 7 p.m. PT on Friday (TV: ESPNU).
Lessons Learned From the Season
After 17 wins in the Pac-12 tournament, UCLA snapped Stanford's win streak in a 69-65 victory during the semifinals, with Bruins freshman Kiki Rice leading the way. The youngster scored 22 points as Stanford surrendered a 16-point lead in the second half, getting outscored 29-15 in the last quarter.
"We really just didn't do what we needed to do in the second half," Stanford coach Tara VanDerveer said about the late game lapse.
The early exit gave Stanford time to rest and reflect in preparation for the NCAA tournament. After the Selection Show, VanDerveer and team members met with the media.
"All the brackets are extremely competitive," VanDerveer said. "So, there's no easy going from here on out."
In the week or so since the Pac-12 tournament, junior forward Cameron Brink talked about lessons learned and revisited including not taking "anyone lightly."
"I don't think we do, but just really coming into every game really prepared. We're going to play with a chip on our shoulder, not let anyone bully us, not let the refs control the game or anything like that. I think we're just going to put people at our will. And, you know, I'm really confident we're going to do that."
VanDerveer addressed what she felt were the key factors to help her team succeed going forward.
"I think the most important thing that we can do right now is keep people healthy. And really do our drills and do our scrimmages and keep them fresh. I think that's the best thing and be very specific about what things we need to do versus each team we're playing and give them a great plan. We have the experience. We have the leadership. We have the skill. I mean we have great talent."
Coaching Tree Success
It's been a wildly successful season for UNLV head coach and former Stanford player Lindy La Rocque who spent time as an assistant for the Cardinal before heading to her hometown of Las Vegas.
The Lady Rebels finished the season 31-2 and undefeated at 18-0 in the Mountain West Conference. Under third-year coach La Rocque, No. 11-seeded UNLV will face No. 6 Michigan in the first round of the tournament in the Greenville 2 Region.
"I'm really very excited for Lindy and her team and the great job that she's done," VanDerveer said of La Rocque.
Parity in Full Effect
The rise of teams like UNLV and those that orchestrated conference tournament upsets shows that parity is increasing in the women's game. Several teams produced upsets in conference tournaments, including the Pac-12's Washington State beating UCLA in the final. The Cougars join Saint Louis, East Carolina, Gardner-Webb, Monmouth, Norfolk State, Southeastern Louisiana, Southern, Portland, and Southern Utah in programs that created waves in the past couple of weeks.
The full interactive bracket can be viewed here. Fans can also download a printable bracket.