Kiki Iriafen and freshman Nunu Agara lead No. 15 Stanford in 87-40 rout of Hawai'i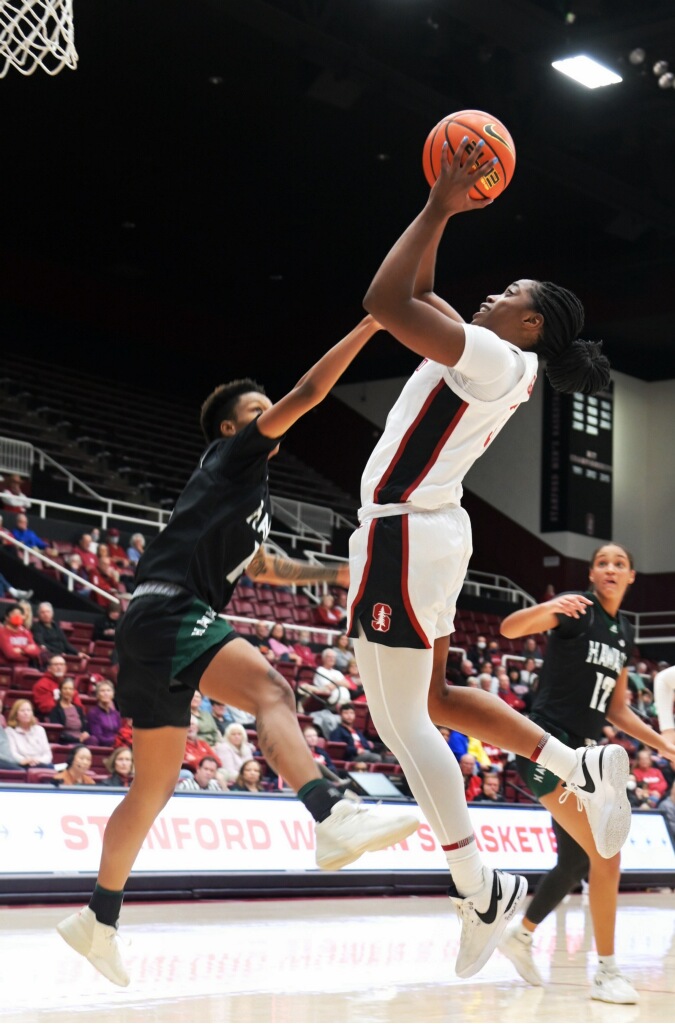 STANFORD, Calif. – No. 15 Stanford flexed its versatility in a home opener 87-40 rout of Hawai'i Wednesday night at Maples Pavilion. With a cast that includes seasoned upperclassmen and three talented freshmen, the Cardinal had too much speed, height, and scoring prowess against the Rainbow Wahine, the two-time defending Big West champion.
Freshmen Expected to Log Many Minutes
Stanford's three freshmen, who have given themselves the moniker Tree-o, had the opportunity to play at least 12 minutes each, giving them valuable experience early in the season. At points in the game, all three were on the court together.
"I don't even think of them as freshmen," Cardinal head coach Tara VanDerveer said, and added, "They really know what they're doing." She made it known that the freshman will be playing a lot of minutes this season.
"I give credit to our upperclassmen who recognize the fact that we need we need our freshmen to play and not be, quote, freshmen."
Iriafen on Fire Offensively
Junior forward Kiki Iriafen set the tone early, scoring first and tallying six points quickly in the first period as her team raced out to a 10-2 lead within the first three minutes. The trend continued as the home team finished the first frame leading Hawai'i 24-12.
Stanford kept a foot on the gas pedal in the second quarter, outscoring the visitors 22-10 with Iriafen continuing to showcase her offensive skills scoring nine before the half. Heading into the break, the Cardinal had a comfortable 46-22 advantage. At that point, Iriafen led all scorers with 17 points plus nine rebounds. She was the only player in double figures after 20 minutes. However, six other players on her team were also in the scoring column. No player for Hawai'i had more than six points at halftime.
The third quarter was a dismal one for the Rainbow Wahine. With just eight points in the scoring column, compared to Stanford's 20 in the quarter, they went into the last period with a 36-point deficit as Stanford led 66-30.
Nunu Time in the Second Half
VanDerveer used the massive advantage to give her first-years playing time in the second half. Forward Nunu Agara (Hopkins/Minnetonka, MN) who had six points in the first half, exploded in the second and finished with 18 points plus six rebounds. Her performance marked the highest point total for a Stanford freshman in a season opener since Candice Wiggins scored 24 at Utah in 2004.
"We've been working very hard in the offseason, and kind of what you saw today from Kiki and Nunu is things I've been watching every day in practice," VanDerveer said. "Kiki has been just a woman out there, just taking the ball in the basket scoring, playing great defense, rebounding. And you know, she really only played about half the game."
First-year forward Courtney Odgen (Westminster/Atlanta, GA) played 12 minutes and scored seven points. Unfortunately, she also fouled out with 4:33 left in the game. Guard Chloe Cardy (Conway/Conway, AR) played 15 minutes and pulled down three rebounds.
Iriafen was the game's leading scorer with 23 points plus 13 rebounds. Junior forward Brooke Demetre added 12 points plus eight rebounds. Junior guard Elena Bosgana in her first start, contributed 10 points plus eight rebounds. Senior forward Cameron Brink, who averaged 15.1 points per game last season, had eight points plus eight rebounds and five assists.
"We've been working very hard in the offseason what you saw today from Kiki and Nunu is things I've been watching every day in practice," VanDerveer said about the leading scorers.
Next Up
Brookly Rewars led Hawai'i with eight points and three rebounds. The Rainbow Wahine are on a road trip that will take them to nearby Santa Clara next for a game on Saturday.
Stanford remains at home to host VanDerveer's alma mater, Indiana, on Sunday at 2 p.m. PT. The game will be televised on ESPN.