Upset-minded Duke nearly topples No. 6 Stanford in OT, Cardinal survives 82-79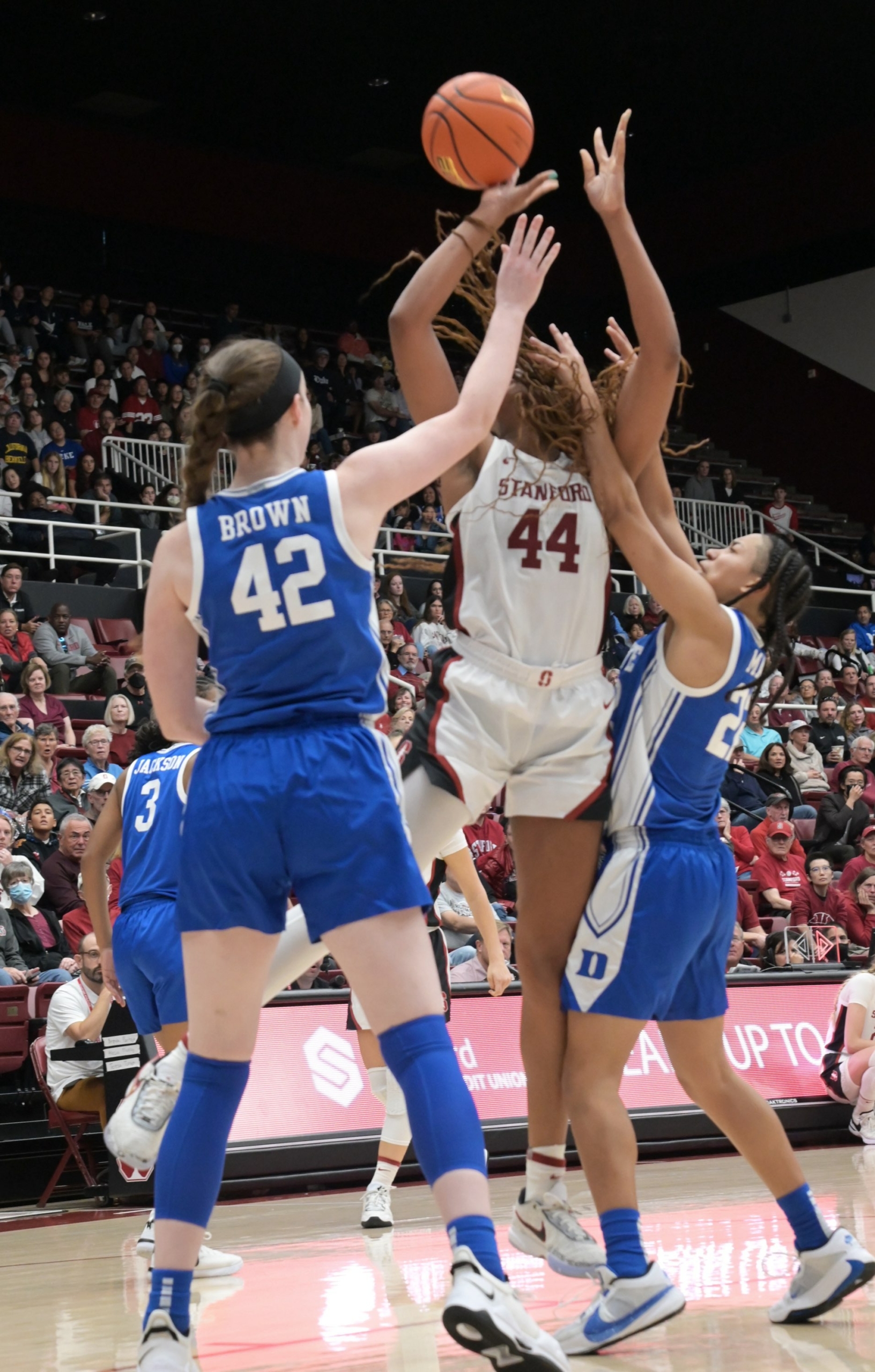 STANFORD, Calif. – After three games of routing opponents including a top ten squad, No. 6 Stanford (4-0) faced its toughest contest this season, surviving a tenacious Duke (3-2) in an overtime game, 82-79 at Maples Pavilion Sunday afternoon.
They were very physical, I think they gave us all we could ask for and more," Cardinal head coach Tara VanDerveer said of the Blue Devils. "What a great early season game to be playing them, and for them to come out here. Just want to compliment them and their staff on a great, great preparation and obviously the game could have gone either way but I think we really showed some real toughness."
Coach by former WNBA and Olympic champion Kara Lawson, Duke recovered from a dismal first quarter to outperform Stanford in the third and fourth quarters. Junior forward Kiki Iriafen, who is having a breakout season, got things started with four points early. The Cardinal had a double-digit lead halfway through the first quarter, 14-2. Iriafen finished the period with 12 points and her team had a 30-17 lead heading into the second period.
Duke clawed back in the second quarter as both teams were sluggish offensively in the second ten minutes. The defense of the Blue Devils stymied the Cardinal and the visitors outscored the home team 18-13 before the half with a balanced effort from sophomore guard Ashlon Jackson, sophomore guard Taina Mar, freshman forward Delaney Thomas, and freshman guard Oluchi Okananwa.
At halftime, Stanford held an eight-point advantage, 43-35. The Cardinal shot 54% (15-28) from the floor in the first half while Duke's field goal percentage was 42% (14-33).
A rejuvenated Blue Devils group began the third quarter going toe-to-toe with Stanford. After two treys from Jackson and a driving layup from graduate student forward Camille Emsbo, the visitors were within one point of the home team, 51-50. With 47 seconds left in the period, Jackson hit another three-pointer to tie the game. After getting fouled by Stanford freshman forward Nunu Agara, Jackson went to the line and made two free throws to give Duke its first lead of the game.
With a 55-53 lead, Jackson and her teammates continued their pursuit of a possible upset in the fourth stanza. While Stanford outscored Duke 18-16 in the last ten minutes of regulation, it was only enough to tie things up.
With the score at 71 all and after a timeout by Duke, Jackson attempted a trey for a possible game-winner but failed. Cardinal senior forward Cameron Brink kept her team in the mix in the last quarter with a scrappy mix of defense and offense, blocking shots and making power moves in the paint.
The overtime period was a back-and-forth contest with Stanford unable to pull away until the last 1:32, finishing with three free throws to end the contest. Alas, for the young Blue Devils, the more experienced Cardinal bested them 11-8 in the extra five minutes for a hard-fought victory.
Brink led all scorers with a career-high 29 points, 11 rebounds, and six blocks. Iriafen was not far behind with 27 points and nine rebounds. Grad student guard Hannah Jump, who was prolific from beyond the arc in the first half, finished with 15 points and five rebounds.
Duke had five players in double figures led by Jackson who put up 22 points that included three treys. Thomas added a career-high 14 points, and Okananwa and Emsbo had 12 each plus nine and four rebounds, respectively. Mair added 11 points and six rebounds.
"We feel really good about our program," Lawson said postgame about her team's promising future. "You know, we've been building for a little bit now and bringing in players, young players from high school. A couple of years ago, our sophomores were a top ten class." The fourth-year coach added that her rebuilding of a storied program must be done "the right way."
As for her team's effort in taking a top ten team to the brink: "We've got to learn how to compete in these environments. And now, we've got to learn how to win in these environments. And that's a big difference."
Duke heads home to face MEAC foe North Carolina Central to face on Nov. 26 followed by a contest at the SEC's Georgia on Nov. 30.
Stanford will spend the Thanksgiving break in Las Vegas competing in the Ball Dawgs Classic. The Cardinal face Belmont on Nov. 22 followed by a game against Florida State or Northwestern on Nov. 24.