Atlanta Dream signs unrestricted free agent Carla Cortijo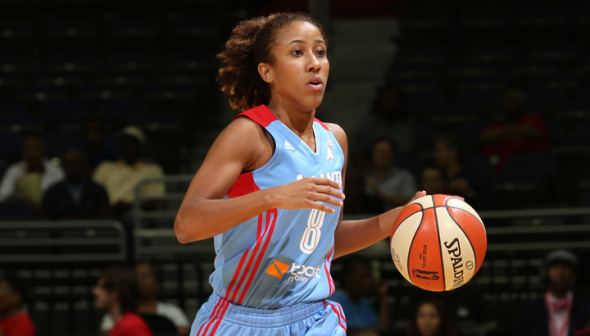 The Atlanta Dream signed unrestricted free agent Carla Cortijo. Per team policy, terms of the contracts are not disclosed.
From the team:
"I have a list of things to accomplish and signing this contract with the Atlanta Dream goes under the accomplished category," Cortijo said. "I am just happy that this organization showed the interest since you don't see a lot of players from Puerto Rico go to the WNBA or NBA. Being the first woman born and raised in Puerto Rico to earn this opportunity is quite the honor. I can't tell you how grateful I am for this experience and thankful to coach (Michael) Cooper and the coaching staff for believing in me."
Cortijo became the first Puerto Rican-born player in WNBA history after signing with the Dream late last season.
The 5-8 point guard appeared in the last two games of 2015 for Atlanta, highlighted by a 13-point effort on 5-of-8 shooting in the regular-season finale at Washington.
"We had always known that Carla was a talented player and were excited by what we saw her bring to the table late last season," Atlanta head coach Michael Cooper said. "We are excited to have her in for the start of training camp and I expect to see more good things from her moving forward."
Cortijo spent the beginning of the offseason playing for Gigantes de Carolina in Puerto Rico. She led Gigantes de Carolina to a 3-0 sweep over Mayaguez in the league's championship series and was named the most valuable player of the finals following a 36-point performance in the decisive game-three victory.
A native of San Juan, Puerto Rico, Cortijo moved to Houston, Texas, to attend Bellaire High School. She finished her prep career at Bellaire as one of the most decorated prep players in the state of Texas, and was named one of the 10 Naismith High School Player of the Year finalists, a Parade All-America third team choice and a Street & Smith's All-America honorable mention.
She went on to attend the University of Texas and was the starting point guard for the Longhorns during the majority of her tenure (2005-09).
The Dream will open the 2016 regular season at the San Antonio Stars on Saturday, May 14. Atlanta's home opener at Philips Arena will take place on Sunday, May 22 vs. the Chicago Sky in a 3 p.m. ET tip.