Mississippi State warms up with annual Maroon and White scrimmage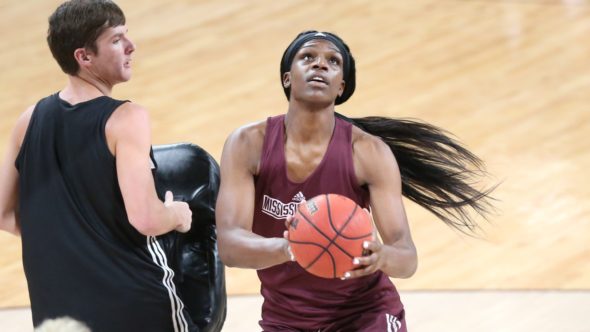 STARKVILLE – Eager fans took a midweek trip to Humphrey Coliseum Tuesday night for a first look at the 2018-2019 Mississippi State women's basketball program.
The evening's scrimmage was split into a practice session of Maroon vs White and a full team practice against their practice squad.
Familiar players like centers Teaira McCowan and Chloe Bibby along with guards Jordan Danberry and Jazzmun Holmes will take the spotlight this season as the new leaders of the Bulldogs.
McCowan, the SEC's Preseason Player of the Year, finished with a double-double of 19 points and 18 rebounds. Newcomer guard/forward Xaria Wiggins added an impressive 17 points. Forward Anriel Howard, a transfer from Texas A&M, tallied 13 points and pulled down nine rebounds. Danberry and Holmes scored 13 points each.
Andra Espinoza-Hunter a sophomore guard transfer guard from UConn, should add to Mississippi State's perimeter shooting. She went five-of-five from three-point range, collecting team-high 29 points
Head coach Vic Schaefer added transfer Promise Taylor from archrival Ole Miss during the offseason as well. Taylor had a prominent role in Ole Miss' backcourt last year, averaging 8.3 points and six rebounds per contest and earned a spot on the All-SEC Freshman after the regular season.
Schaefer welcomes back former assistant head coach Elena Lovato to the bench. She returns from Division II member, Arkansas Fort-Smith, where she served as the head coach.
"It was good to see us out competing," Schaefer said. "We had some young kids play really well at times on offense. Jessika (Carter), Xaria and Andra really had some stretches where they did some nice things."
"Anriel is still trying to get comfortable," he continued, "but she always plays hard and rebounds hard. She's only been with us for a short time, so she's trying to find her way and she will. I'm very happy with how hard she plays, and I love the smile on her face and how eager she is to go out and compete."
Preparation for the 2018-2019 season continues with an exhibition game next Friday, November 2 against Central Missouri, a Division II team, at 6 p.m. CT back in the Hump. The home opener against Southeast Missouri State tips for the Bulldogs November 9 at 7 p.m. CT. Both games will be televised on SEC+.