No. 11 Stanford recovers to take down No. 3 Baylor 68-63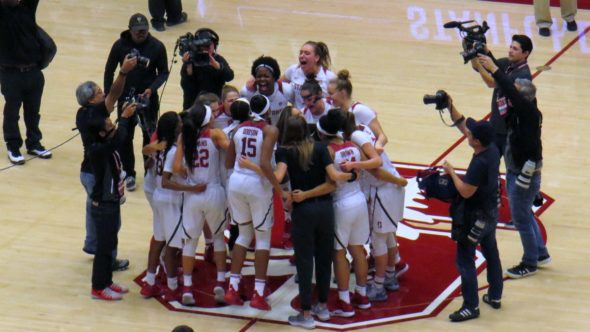 Notes  || Postgame Video || Team Statistical Comparison || Social Media Recap
STANFORD – No. 11 Stanford (7-1) handed Baylor (8-1) its first loss of the season in Maples Pavilion with a 68-63 victory in a battle between two celebrated Hall of Fame coaches. The game was the only matchup between two ranked programs this week.
After a slow start with both teams under 10 points at 3:45 in the first quarter, Stanford took over and never looked back. Sophomore guard Kiana Williams nailed a trey for the Cardinal at 3:27 to give her team a 10-9 lead late in the quarter. Stanford led 17-13 after the first period.
"This was a great win for our team," said Stanford head coach Tara VanDerveer on the triumph. "Baylor has an outstanding team. Kim [Mulkey] does a great job with her team.
"We had to make plays down the stretch," she continued. "I thought our team worked really hard, especially defensively guarding their leading scorers [Kalani] Brown and [Lauren] Cox."
The statement victory is the first game for the Cardinal after losing at Gonzaga on Dec. 2, a point that VanDerveer addressed.
"It gives us a good bounce back from two weeks ago," she said about Saturday's win, "and we're real excited to keep it going."
After the sluggish first ten minutes, the second quarter saw the Cardinal dominate their opponent, outscoring Baylor 24-11 led by Williams and Alanna Smith. At halftime, the Stanford lead had swelled to 41-24.
Baylor guards, junior Juicy Landrum and graduate student Chloe Jackson, helped their team begin to close the gap in the third quarter. In the last period, the Bears had help from freshman forward NaLyssa Smith to get within seven points with about four minutes left. However, key shots, including a three-point dagger from Stanford senior center Shannon Coffee kept the Bears at arm's length.
Smith led Stanford with 21 points plus eight rebounds while Williams added 13 points plus five assists. Junior guard DiJonai Carrington scored 10 points and pulled down six rebounds.
Coffee's season-high nine points came at crucial moments in the game to help Stanford stymy Baylor's attempts at gaining momentum. Baylor head coach Kim Mulkey joked that Stanford should whisper "Baylor" into Coffee's ear when she's on the court to motivate her to hit big shots.
"You know Shannon made some really big plays," VanDerveer said. "This has probably been the best game of her career and she couldn't have picked a better time. There was plenty of time on that shot clock for that three."
VanDerveer's reference to a three-pointer and the clock was due to an official review of Coffee's late-game trey that put Stanford back into a double-digit lead after Baylor's run.
The freshman forward Smith paced Baylor with 15 points plus nine rebounds. Jackson added 15 points. Stanford held Baylor senior center Kalani Brown to just five points. Coming into the game, she averaged 16.4 points per contest. The game against Baylor broke her two-game streak of scoring at least 20 points.
In addition, Baylor junior forward Lauren Cox, who previously averaged 12.3 points per game and 6.8 rebounds per contest was held to just two points and one rebound.
"We were not very good today…we had a lot of players that didn't show up," Mulkey remarked about her team's performance. "Unfortunately it was too deep a hole to overcome."
She cited a lack of energy and effort as contributors to the team's dismal outing. "We didn't have a lot of energy and communication," Mulkey added. "It was uncharacteristic of several of our players to play the way they did today."
Stanford hits the road to face another ranked team, No. 9 Tennessee on Tues. Dec. 18. Baylor has a long holiday break before facing Texas-Rio Grande Valley on New Year's Eve at noon.
Notes
Stanford shot 38.3 percent from the floor compared to 34.9 percent by Baylor
Baylor outrebounded Stanford 43-30, making it 78 out of the last 81 games that the bears have outrebounded their opponents.
Baylor still leads the all-time series between the two teams 4-3. The teams first met at Stanford in 1983 and the Bears won 63-59.
Team Stats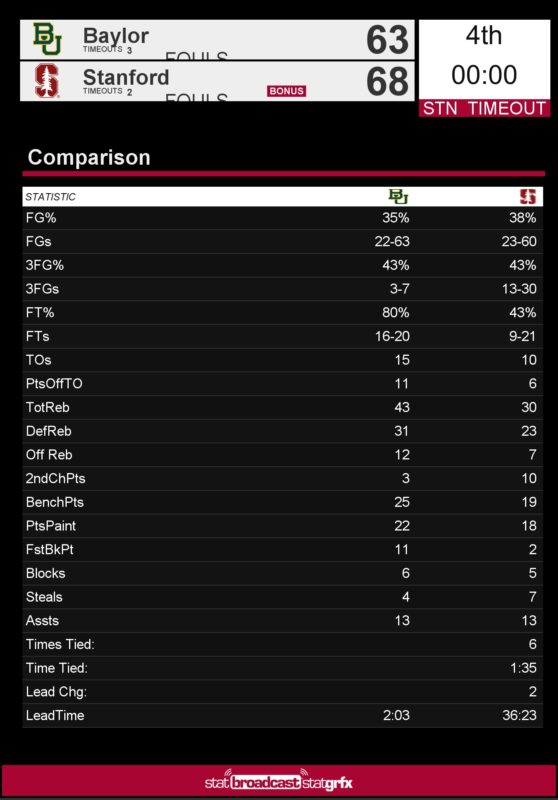 "Play hard."@StanfordWBB's Coach VanDerveer knows this matchup will be a test.

Watch: https://t.co/ZhZuI5ezsa pic.twitter.com/NUCDCbHDYX

— Pac-12 Network (@Pac12Network) December 15, 2018
Defensive-minded Baylor and Stanford in a tight one early on, lots of free throws in the scoring mix, teams tied at 5 apiece halfway thru 1Q. #ncaaw

— Hoopfeed.com ? (@hoopfeed) December 15, 2018
DiDi Richards & Moon Ursin with back-to-back mid range jumpers & Baylor on top of a see-saw battle, 9-7 | 4:08 1Q#SicEm ?? | #GoHeavy ?

— Baylor Lady Bears (@BaylorWBB) December 15, 2018
First timeout at 3:45 in 1Q: Baylor with a slight lead over Stanford, 9-7. Offense sluggish on both sides, shotting through mud. #ncaaw

— Hoopfeed.com ? (@hoopfeed) December 15, 2018
Stanford's Kiana Williams comes out of the timeout with a trey, 10-9 Cardinal, 2:51, 1Q. #ncaaw

— Hoopfeed.com ? (@hoopfeed) December 15, 2018
Stanford on an 8-0 run, now leading Baylor 15-9 with 2:18 to go in 1Q. 2 treys (Smith and Lexie Hull) and a layup from Nadia Fingall. #ncaaw

— Hoopfeed.com ? (@hoopfeed) December 15, 2018
Maya Dodson shooting FTs, missed her 2nd but there was a lane violation so she gets another chance and makes it. Few secs later, DiDi Richards ends the drought for Baylor. 17-11 Stanford, 49.2 secs left in 1Q.

— Hoopfeed.com ? (@hoopfeed) December 15, 2018
Maya Dodson and DiJonai leading the way w/ 5pts apiece. Stanford doing a solid job thus far on Kalani Brown (2 pts, 1-3fg). Brown had 28 on 12-16fg in Baylor's 81-57 win over the Card last year in Waco

— Kevin Danna (@kevo408) December 15, 2018
End of 1Q: Stanford 17, Baylor 13 #ncaaw pic.twitter.com/FVi7bXiXHk

— Hoopfeed.com ? (@hoopfeed) December 15, 2018
Baylor center Kalani Brown goes to bench at 8:21 in 2Q with her second foul, Stanford on a roll since the end of 1Q, now with a 10pt. lead, 23-13 #ncaaw

— Hoopfeed.com ? (@hoopfeed) December 15, 2018
It's raining threeeeeees in Maples and @StanfordWBB has a 31-16 lead over Baylor at 5:11 in 2Q. DiJonai Carrington at the line for two to possibly extend lead for the Cardinal. #ncaaw

— Hoopfeed.com ? (@hoopfeed) December 15, 2018
This is the only matchup of ranked teams this week, two hallowed programs in the game but Hall of Famer VanDerveer with the upper hand over Hall of Famer Mulkey at the moment. #ncaaw 32-18 Stanford, 4:45.

— Hoopfeed.com ? (@hoopfeed) December 15, 2018
32-18 Stanford in control 4:45 to go 2nd qtr. Kiana Williams with a stepback 3 that elicited a "don't do 'em like that!" from yours truly. Alanna Smith 10pts on 3-5 3fg as well

— Kevin Danna (@kevo408) December 15, 2018
It's all about them threes for Stanford now, wow, leading Baylor 35-19 with 3:59 to go in 3Q, Kiana Williams and Alanna Smith going to work. Williams with 11pts and Smith with 10.

— Hoopfeed.com ? (@hoopfeed) December 15, 2018
Baylor looking a bit out of sorts, unforced turnovers making them appear sloppy on offense. Stanford pouncing on every single error. #ncaaw

— Hoopfeed.com ? (@hoopfeed) December 15, 2018
Stanford's weakness now is free throws. They can't seem to put a 2-of-2 trip at the line together. Missing one just about each time. #ncaaw

— Hoopfeed.com ? (@hoopfeed) December 15, 2018
After a free throw from DiJonai Carrington, Stanford has their biggest lead of the game, 39-21 at 2:15 in 2Q #ncaaw

— Hoopfeed.com ? (@hoopfeed) December 15, 2018
Queen Egbo at the line for Baylor with a half minute to go in 2Q as her team looks to recover during halftime. She only made 1. #ncaaw

— Hoopfeed.com ? (@hoopfeed) December 15, 2018
Halftime: Stanford 41, Baylor 24 #ncaaw Not a single Baylor player in double figures. For Stanford: Kiana Williams 13pts, Alanna Smith 10pts/6rebs pic.twitter.com/w4JFWvuFXe

— Hoopfeed.com ? (@hoopfeed) December 15, 2018
Stanford is holding Baylor to 19% shooting (7-36), @Kiana__W (13p, 3a) and Alanna Smith (10p, 6r) leading the way. #GoStanford

— Stanford Women's Basketball (@StanfordWBB) December 15, 2018
Shoutout to @StanfordWBB great @JayneAppel Marinelli in the house with her family, featured on the Jumbotron in 1Q to loud applause by fans! #ncaaw #wnba pic.twitter.com/HmwOQWcBFp

— Hoopfeed.com ? (@hoopfeed) December 15, 2018
Would love to know what Baylor coach Kim Mulkey's message to her team was at halftime, down by 17 at the break vs. Stanford. #ncaaw pic.twitter.com/6UnDAJ29dO

— Hoopfeed.com ? (@hoopfeed) December 15, 2018
Baylor on a 5-0 run to start 3Q, DiJonai Carrington makes a trey to get the Cardinal into it, 44-29 Stanford at 6:41 in 3Q #ncaaw

— Hoopfeed.com ? (@hoopfeed) December 15, 2018
Baylor's 6-7 center Kalani Brown getting absolutely out-hustled in the paint, yikes. #ncaaw

— Hoopfeed.com ? (@hoopfeed) December 15, 2018
Stanford leads 49-32 4:36 3rd qtr. Maya Dodson with a beautiful headfake and mini-spin move on baseline for the layin. She's up to 9pts 4reb. Baylor had cut it to 12 at 41-29 before this 8-3 Card spurt. Stanford has been trying hard to get a 3rd PF on Kalani Brown to no avail

— Kevin Danna (@kevo408) December 15, 2018
Looks like it's up to the Baylor guards to get the Bears back into it. Juicy Landrum with a trey at 5:09 in 3Q, but Stanford barely missing a beat as Maya Dodson makes a layup right after. Timeout at 4:36 in 3Q. #ncaaw

— Hoopfeed.com ? (@hoopfeed) December 15, 2018
Just makin' it ?? at Maples.@shanncoff with the three.

Watch: https://t.co/0ypBe58wUI@StanfordWBB | #Pac12WBB pic.twitter.com/q6BgyVsGUy

— Pac-12 Network (@Pac12Network) December 15, 2018
3:10 3Q | @shanncoff again from downtown! This is her 2nd career game with multiple 3 pointers…any guesses who the other was against? ?

?: 52
?: 37#GoStanford pic.twitter.com/dhvvWEwYTg

— Stanford Women's Basketball (@StanfordWBB) December 15, 2018
Even the reserves getting in on the 3pt action for Stanford as Shannon Coffee nails one at 3:19 in 3Q. She gets called for a foul a few secs later as fans go boooo b/c they didn't agree with the call.

— Hoopfeed.com ? (@hoopfeed) December 15, 2018
With Chloe Jackson and Juicy Landrum working hard, Baylor making up a little ground in 3Q but the Bears still trail by 16 as the period winds down. #ncaaw

— Hoopfeed.com ? (@hoopfeed) December 15, 2018
End of 3Q: Stanford 58, Baylor 42 #ncaaw Chloe Jackson the only player in double figures for Baylor. pic.twitter.com/WC9Rtzoj6x

— Hoopfeed.com ? (@hoopfeed) December 15, 2018
Tara VanDerveer being liberal with the substitutions with about 7 minutes to go in 4Q, Stanford still holds a double-digit lead over Baylor #ncaaw

— Hoopfeed.com ? (@hoopfeed) December 15, 2018
And here comes Baylor. Lady Bears on an 8-0 run thanks to 2 transition layups, and Stanford's lead is down to 60-52 w/ 6:03 to go in the 4th

— Kevin Danna (@kevo408) December 15, 2018
Well, those subs gonna ride the pine right now as Baylor scores consecutive baskets to build on a 10-2 run and VanDerveer calls a timeout. It is an 8pt game, 60-52 Cardinal with 6:03 left. #ncaaw

— Hoopfeed.com ? (@hoopfeed) December 15, 2018
Baylor was down by 18 at 3:19 in 3Q. Chloe Jackson and NaLyssa Smith putting them back within striking distance. #ncaaw 6:03 4Q, Stanford 60, Baylor 52

— Hoopfeed.com ? (@hoopfeed) December 15, 2018
Familiar refrain…"Alanna Smith for threeeeee", Stanford up 63-52, 5:17 4Q #ncaaw

— Hoopfeed.com ? (@hoopfeed) December 15, 2018
Hard not to ponder what this score would be if people were making their free throws.

— baranduin briggs (@bbamok) December 15, 2018
Kalani Brown with a layup, only has 5pts and 5rebs in the game. She averages 16.4ppg/6.7rpg. Stanford has shut her down. Timeout at 4:37 in 4Q, Stanford leads 63-54 #ncaaw

— Hoopfeed.com ? (@hoopfeed) December 15, 2018
Stanford's Shannon Coffee really feeling the afternoon hoop vibes. with a trey at shot clock buzzer but the officials are reviewing. As of now at 3:08 in 4Q, the Cardinal lead 68-58. Verdict: "Shannon Coffee for threeeee"

— Hoopfeed.com ? (@hoopfeed) December 15, 2018
Juicy Landrum to the rescue for the Bears again with a trey, 68-61 Stanford at 2:11 in 4Q. Still plenty of time for this game to go either way. #ncaaw

— Hoopfeed.com ? (@hoopfeed) December 15, 2018
21 points for @StanfordWBB's Alanna Smith and she takes the @OpusBank #12Best moment. pic.twitter.com/XMbq16Afkg

— Pac-12 Network (@Pac12Network) December 15, 2018
No. 11 @StanfordWBB takes down No. 3 Baylor, 68-63 at Maples Pavilion. The Cardinal recovered from the loss at Gonzaga by beating a Big 12 power. #ncaaw pic.twitter.com/eVMuboqk53

— Hoopfeed.com ? (@hoopfeed) December 15, 2018
For Stanford in the win vs. Baylor: Alanna Smith 21pts/8rebs, Kiana Williams 13pts/5asts, DiJonai Carrington 10pts/6rebs. Plus a team comparison. #ncaaw pic.twitter.com/R9Y02x2DDA

— Hoopfeed.com ? (@hoopfeed) December 15, 2018
.@StanfordWBB head coach Tara VanDerveer meets with the media following the Stanford's 68-63 win over No. 3 Baylor. https://t.co/F183cWPD7M

— Pac-12 Network (@Pac12Network) December 15, 2018
Baylor coach Kim Mulkey on the loss vs. Stanford: "We were not very good today…we had a lot of players that didn't show up." She also quipped that Stanford should whisper "Baylor" into Shannon Coffee's ear during games because of her performance and big shots in key moments.

— Hoopfeed.com ? (@hoopfeed) December 15, 2018
Tara's greatest strength, IMO, is making you beat them with something/someone that isn't your "wheelhouse." You better come with your 2nd or 3rd options clicking. #SomeToughDefensesinthePac

— Lindsay Gottlieb (@CoachLindsayG) December 15, 2018