Championships for Divisions I, II and III to be combined events in Dallas for the 2023 NCAA Women's Final Four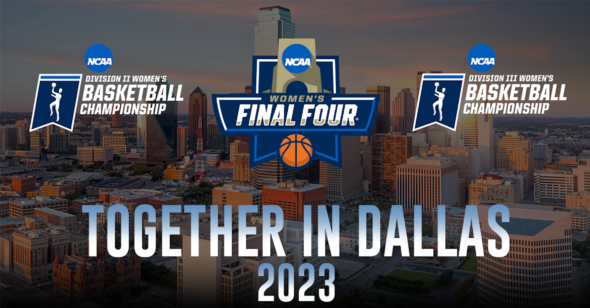 The NCAA announced that the national championships for Divisions I, II and III women's basketball will be celebrated as combined events in Dallas as part of the 2023 NCAA Women's Final Four. It will be the second time that the championships for all three divisions will be held in the same city. The three national championships took place at Bankers Life Fieldhouse in Indianapolis in 2016.
From the NCAA:
The 2023 Women's Final Four games will take place March 31 and April 2, with the Division II and III national championship games played April 1. All games will be at American Airlines Center in Dallas, which was the site of the 2017 Women's Final Four. ESPN and ESPN2 will broadcast the Women's Final Four. CBS Sports Network is scheduled to broadcast the Division II national championship game, with coverage of the Division III game a possibility, as well. The Big 12 Conference will serve as host for the 2023 Women's Final Four.

…

In 2016 at Bankers Life Fieldhouse in Indianapolis, all three women's divisions played their championship games under the same roof April 3-5, with each divisional champion celebrating undefeated seasons in the process. UConn (38-0) claimed the Division I crown with an 82-51 win over Syracuse. Lubbock Christian (35-0) defeated Alaska Anchorage 78-73 for the Division II title, while Thomas More (33-0) defeated Tufts 63-51 to emerge as the champion in Division III.  Attendance for the Women's Final Four was 29,741 fans, while 6,403 attended the Division II/III championships doubleheader April 4. The attendance was the highest ever recorded for the Division III championship, while the Division II title game attendance was the eighth highest for that championship.

"We received a tremendous amount of positive feedback from schools following the combined championships in 2016 in Indianapolis, and it's something that we have been looking for the right time to re-create ever since, with Dallas in 2023 serving as a great host city for the celebration," said Rhonda Lundin Bennett, chair of the NCAA Division I Women's Basketball Committee and senior associate athletics director at Nevada.